Smart political drama with fine performances from Isabelle Huppert and Reda Kateb opens Venice Horizons 2021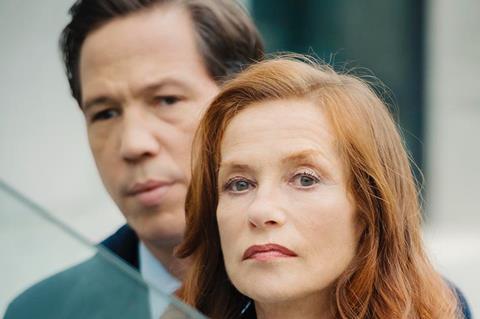 Dir: Thomas Kruithof. France. 2021. 98 mins

Ambition is the ruin of many a good politician. Thomas Kruithof's smart, cautionary drama Promises follows a French mayor whose reputation for integrity is tested by the possibility of holding high office. The moral failings of elected officials should strike a chord in most societies and the commercial appeal of this satisfying, well-rounded tale is further enhanced by a fantastic ensemble cast led by Isabelle Huppert, Reda Kateb and various alumni of the Netflix hit Lupin.
What shall it profit a woman, if he she gains the whole world but loses her own soul?
Director Thomas Kruithof co-wrote Promises with Baron Noir's Jean-Baptiste Delafont and it should appeal to followers of that television series but also any lovers of Aaron Sorkin-style political dramas.
Isabelle Huppert stars as Clemence Collombet, the mayor of a deprived town on the outskirts of Paris. She is renowned for being a woman of her word and a passionate champion of an area beset by poverty, unemployment and poor housing. She promised to only serve two terms and is now nearing the end of her time in office. Kruithof reflects her integrity through the attitudes of those closest to her. Chief of staff Jazid (Kateb) is her tireless Man Friday and conscience. He is clearly devoted to her and Reda Kateb's expressive performance in the role is full of fond glances and admiration that needs no words. Her deputy and preferred successor Naidra (Ayadi) declares: "I'd follow you blindly."
Collombet's pet project for the past decade has been securing the funding to renovate a sprawling, rundown housing estate called Les Bernardins. It is where Jazid grew up. Sealing a €63 million deal with France's Prime Minister would be a fitting legacy. At this point, Collombet is discreetly offered the chance to become a Minister in the Government and "leave a mark on the history of France". It ignites an ambition in her that threatens to derail everything she might have achieved.
Promises is cleverly plotted and captures a sense of the wheeler dealing, glad-handing and backstabbing that are part of a politician's life. It also teases out the various players with something at stake in the future of Les Bernardins, from greedy slumlords to incompetent administrators and long term residents weary of being offered hope that never results in change.
Promises is a tale of contrasts - the idealism of Jazid brushing against the pragmatism of Collombet and the cynicism of those in the highest offices. The plot has a certainly familiarity to it, but as the pace quickens and the compromises and betrayals mount up it starts to assume Shakespearean proportions and carry Biblical echoes. What shall it profit a woman, if he she gains the whole world but loses her own soul?
Production design is effective at matching the character contrasts. Collombet's professional world is one of concrete and steel. Her home life is bathed in soft light and marked by expensive art and plush furnishings. Les Bernardins consists of cramped, overcrowded flats, running water, leaking pipes and dangerous wiring.
Promises may seem a little old-school and conventional but it builds into a rousing tale. Huppert is an implacable political fighter but the acting honours go to Reda Kateb who makes Jazid a smooth operator in the political arena, but with a mix of righteous anger and human warmth that is hard to resist. It is his actions that guarantee at least one politician's promises still matter.
Production companies: 24 25 Films, Wild Bunch, France 2Cinema
International sales: Elle Driver, alexis@elledriver.eu
Producers: Thibault Gast, Mathias Weber
Screenplay: Jean-Baptiste Delafont, Thomas Kruithof
Cinematography: Alex Lamarque
Editing: Jean-Baptiste Beaudoin
Prod des: Olivier Radot
Music: Gregoire Auger
Main cast: Isabelle Huppert, Reda Kateb, Naidra Ayadi.