Kim Bartley spends three years on Wyoming's Wind River reservation for a poignant study of Native American life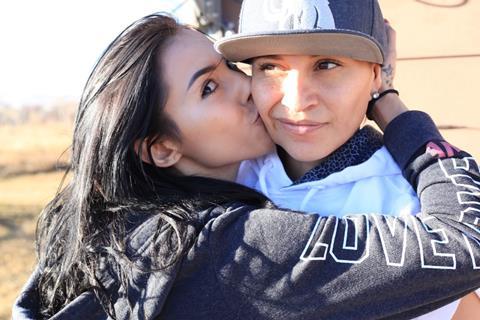 Dir/scr: Kim Bartley. Ireland. 2021. 88mins
"It's God's country up here," enthuses a young Native American man at the start of Kim Bartley's documentary Pure Grit. "No man's land." It's the perfect opening for a film which explores how the wild natural landscapes of rural Wyoming shapes those who call it home — particularly the women determinedly making their mark in a traditionally masculine environment. Bartley spent three years with a Shoshone family on the Wind River reservation, largely fixing her lens on twentysomething bareback riding champion Sharmaine, and the result is a poignant study of the challenges and triumphs of lives lived on the fringes.
A richly textured portrait of family life
Bartley — who co-directed Chavez: Inside The Coup with Donnacha O'Briain — has a talent for getting under the skin of her subjects and knowing where to put her focus, an instinct which serves her well here. Making its debut at Galway Film Fleadh, the film should find a home with other documentary festivals, or those with a focus on marginalised communities. While Wyoming's stunning vistas deserve the big screen treatment, streaming or broadcast platforms will also provide a solid berth.
Given its subject matter, comparisons with features like Chloe Zhao's The Rider and Nick Rowland's Calm With Horses are unavoidable, and the film also follows in the well-trodden footsteps of other extreme sporting documentaries like Riding Giants and The Crash Reel. But while the narrative arc may be familiar — underdog Sharmaine has to overcome physical, familial and societal challenges to achieve her ambitions both on the horse track and off it — Bartley's intimate, balanced tone and her subject's pragmatic candour shed genuine light on this cloistered part of the world.
Wyoming's Wind River reservation was, of course, the titular setting of Taylor Sheridan's bleak 2017 murder mystery, and Bartley doesn't avoid touching on the same uncomfortable issues surrounding the experiences of indigenous people. This is a place with limited options, where young people turn to escapist pursuits of drink and drugs. Beyond the casinos that are becoming a somewhat tainted lifeblood, opportunities in the wider world seem virtually non-existent.
Yet Bartley doesn't dwell on these aspects, largely because Sharmaine and her family refuse to accept this as their fate (although Sharmaine's younger brother Kashe is prone to bouts of anger and depression, the camera never lingers on his pain). When we met Sharmaine, she she hasn't been on a horse for a year — not since her sister Charity was badly injured and left disabled during her first race — but is doggedly determined to become a bareback champion, even if it means accepting a regular security job in Denver to save up the money for her own horse.
But then Sharmaine is already something of an outlier, as one of the few lesbians on the reservation; although she won't let that define her. During the years of filming, Bartley watches as Sharmaine's relationship with the Denver-born Savannah initially flourishes and is then put under strain by their differing goals. At 27, Sharmaine wants to work hard to put down roots and maintain the Shoshone traditions; 21-year-old Savannah is more interested in partying and dying her hair. Elsewhere, Sharmaine's bonds with her brothers Brendan and Kashe wax and wane, while the ghosts of her abusive past continue to cast shadows. Editor Paul Mullen stitches together these years of footage into a richly textured portrait of family life, always keeping the charismatic, down-to-earth Sharmaine at the centre.
Much like Sharmaine herself, Bartley (who also serves as cinematographer) keeps a cool detachment and a level head. Her style is largely fly-on the wall observation, and lovely overhead drone shots — tiny black horses making tracks in the snow, the sprawling reservation in the dust of the summer — establish the natural rhythms and expansive wilderness which determine the lives of the Shoshone people. In marked contrast to the wide shots and traditionally-inspired score which track Sharmaine's time on the reservation, her life in Denver is established by a frenzied, tightly-framed montage set to 'Who's Your Girl' by all-female rock group The Mysterines. And sequences of Sharmaine in colourful native dress, set against the magnificent Wyoming backdrop, are a neat reminder of the history that defines her; one that, rather than railing against, she is determined to keep alive.
Production companies: Underground Films & Frontline Films
International sales: Bankside Films films@bankside-film.com
Producers: Kim Bartley & Rachel Lysaght
Cinematographer: Kim Bartley
Editor: Paul Mullen
Music: Kevin Murphy & Stephen Shannon