Dreamworks' animated feline hero returns to the big screen in an underwhelming action sequel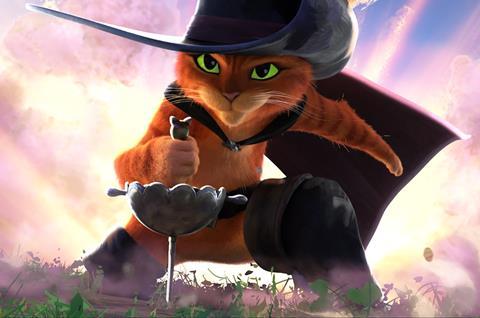 Dir: Joel Crawford. US. 2022. 101mins
In Puss In Boots: The Last Wish, Shrek's sly feline friend goes searching for a magical star that will extend his life; a fitting quest for a spinoff franchise hoping to revive its commercial viability. This belated sequel feature to the 2011 original is highlighted by dazzling animation and muscular action-adventure sequences, even if the film leaves the viewer with the sense that this fairy-tale world isn't as fresh as it once was.
Audiences may ultimately crave a film whose storytelling is as inventive as the vibrant images
Universal unveils The Last Wish on December 7 in France, with the film opening in the US two weeks later. (A UK release is planned for early February.) The 2011 picture, which marked Puss's first standalone feature after being part of Shrek 2 and its two follow-up films, grossed roughly $550 million worldwide, a haul that may be hard to duplicate. Still, Antonio Banderas returns to voice the swashbuckling cat, joined by a starry cast that includes Salma Hayek Pinault, Florence Pugh, Olivia Colman and John Mulaney.
When the first Shrek opened in 2001, the animated sensation introduced the clever conceit of a mythical land populated by fairy-tale characters. Making his debut in Shrek 2, Puss In Boots proved to be a popular supporting character, with Banderas doing a playful riff on his suave performance in live-action 1998 hit The Legend Of Zorro. Since 2011's Puss In Boots, Puss has been featured in a multi-season Netflix series – although without Banderas' involvement – so there should still be considerable audience interest in this daredevil kitty.
As the film begins, Puss (Banderas) remains as cocky as ever, confident in his skills with a sword and endlessly impressed by his own bravery. But after dying during a showdown with a mighty beast, he discovers that, like all cats, he only has nine lives — and he's just used up his eighth. Suddenly forced to face his own mortality, Puss learns of the existence of a Wishing Star hidden deep in the Black Forest: if he acquires this mystical star, he can wish for more lives. Joined by former flame Kitty Softpaws (Hayek Pinault) and an adorable, not-too-bright dog named Perro (Harvey Guillen), he embarks upon this odyssey — all the while being chased by those who want the star for themselves, like the vain, evil Jack Horner (Mulaney).
Director Joel Crawford (The Croods: A New Age) juxtaposes Puss's cockiness with his growing realisation that his bluster is based, in large part, on his incorrect belief that he doesn't have to worry about dying. (Puss thought he still had about five lives left, blithely forgetting to keep track of how many times he has perished.) As a result, The Last Wish proves to be a paean to appreciating the life we have, as well as a commentary on what constitutes real courage. Puss finds himself experiencing genuine fear now that he knows his next death will be his last, especially once he's pursued by relentless bounty hunter The Big Bad Wolf (Wagner Moura).
The film's production design (overseen by Nate Wragg) and visuals are often wondrous, with the animators occasionally creating surreal, hyper-vivid realms where Puss battles different nefarious foes. Unfortunately, the unveiling of new fairy-tale characters within the Shrek universe is, by this point, a bit tiresome. (Pugh voices the calculating "Goldi," who is accompanied by The Three Bears Crime Family, with Mama and Papa portrayed by Colman and Ray Winstone.) But The Last Wish's colourful, evocative look is at least compensation for the story's lack of imagination.
Banderas and Hayek Pinault have decent chemistry as these feline exes whose coy verbal sparring is appealingly flirtatious. And Banderas has some nice moments undercutting Puss's purring bravado, revealing hints of vulnerability within this brash outlaw who slowly realises that his own selfish needs may not be as important as those of his friends.
Still, The Last Wish feels fairly perfunctory in both its humour and life lessons. Even the film's quest narrative is shopworn, sending the characters on a familiar treasure-map search for an ancient power. The one consistently funny supporting player is Mulaney, who wields his cutting comedic edge as snobby, spoiled Jack – a master of the snide putdown. But more often, as with Guillen's one-note lovable dog, the side characters aren't especially memorable. Although this action-adventure moves briskly enough, audiences may ultimately crave a film whose storytelling is as inventive as the vibrant images that splash across the screen. But as Puss will learn, some wishes don't come true
Production company: DreamWorks Animation
Worldwide distribution: Universal Pictures
Producer: Mark Swift
Co-director: Januel P. Mercado
Screenplay: Paul Fisher and Tommy Swerdlow, story by Tommy Swerdlow and Tom Wheeler
Production design: Nate Wragg
Editing: James Ryan
Music: Heitor Pereira
Main voice cast: Antonio Banderas, Salma Hayek Pinault, Harvey Guillen, Florence Pugh, Olivia Colman, Ray Winstone, Samson Kayo, John Mulaney, Wagner Moura, Da'Vine Joy Randolph, Anthony Mendez