'Uncut Gems' breakout star Julia Fox dominates this unconventional, satirical love story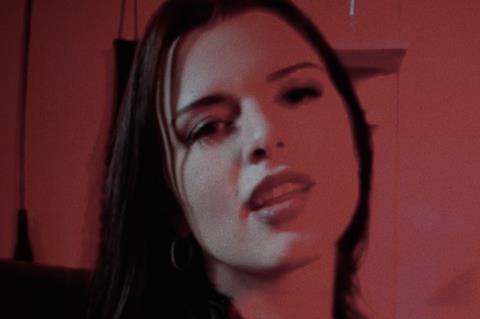 Dir/scr. Ben Hozie. US. 2020. 81 Mins.
Any doubt about the star potential of Uncut Gems breakthrough talent Julia Fox should be laid to rest by her effortlessly eye-catching turn as a sex cam dominatrix in PVT CHAT. She plays Scarlett, the focus of an all-consuming obsession for professional online gambler Jack (Peter Vack). When Jack becomes convinced that he has seen Scarlett, who claims to live in San Francisco, shopping for groceries in Manhattan's Chinatown, he tries to make a deal with her – if he can get photographic proof that she's in New York, she must accompany him to Paris for a romantic trip. Of course, the concept of romance is subjective when a relationship is filtered through several layers of deception and a computer screen, and consists of one party paying the other to virtually stub out cigarettes on his tongue.
Bratty attitude and abrasive energy to spare
Written, directed, shot and edited by Ben Hozie, better known as the frontman and co-founder of the NYC art punk band Bodega, the film could be viewed as a thematic companion piece to Bodega's debut album, 'Endless Scroll'. Both satirise a moment in time in which all connections are mediated by a digital screen, both have bratty attitude and abrasive energy to spare. The film's hip credentials extend beyond Hozie and Fox: another Safdie brothers alumni, Buddy Duress, gets a memorable cameo, and the score is by Austin Brown, of Parquet Courts. Deliberately unpolished in its approach, and cheerfully uninhibited when it comes to niche sexual practises – not so much mumblecore as mumblehardcore – the film should generate interest beyond the festival circuit. Given its themes, it is particularly well-suited to a VOD platform, but arthouse distribution is not out of the question.
The film's main challenge – and one that it doesn't entirely meet – is to make a somewhat sympathetic central character out of Jack, who is a sleazy saddo with no boundaries, a compulsion to lie and an inclination to take poorly judged risks. He is not, as it turns out, a particularly good gambler. But Vack just about gets away with it, investing the character with a disarmingly hapless goofiness which manifests itself in inept boasts - "That's why they call me Blackjack Jack!" - and a gauche need for approval from Scarlett. Meanwhile the character of Scarlett sidesteps the darker aspects of sexwork: she has agency, self respect and, it seems, a healthy degree of job satisfaction, dealing out punishment and humiliation to her online slaves. Fox, who herself worked as a dominatrix, is a magnetic screen presence.
But while terrific individual scenes, like the banter that spirals into a brawl between Jack and Larry (Duress) at a gallery opening, and the moment when Scarlett realises that her boyfriend's play is based on her life, have a snarling authenticity, they don't always flow together into a coherent whole. There's a ragged, on-the-hoof quality to the storytelling, and to the scrappy handheld camerawork, which evokes the hand-to-mouth high and lows of Jack's daily life.
Does the film have anything new to say about virtual connections? Probably not. But while it might not be the most conventional love story, it does leave us with the possibility that, despite all the lies, the stalking and the fraud, there is ultimately an honesty in the relationship between Scarlett and Jack which neither have achieved with other partners.
Production company/international sales: Pretorius Pictures, pretoriuspicturesnyc@gmail.com
Producer: Oliver David
Cinematography: Ben Hozie
Editing: Ben Hozie
Production design: Kit Sheridan
Music: Austin Brown
Main cast: Julia Fox, Peter Vack, Buddy Duress, Nikki Belfiglio, Kevin Moccia, Keith Poulsom