An amnesiac man finds anyone who comes near him drops dead in this intelligent Canadian sci-fi.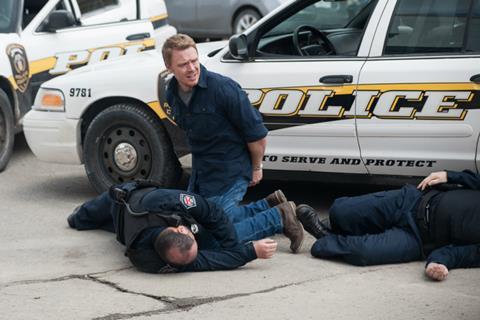 Dirs/scr: Caroline Lábrèche, Steeve Léonard. Canada. 2017. 93 mins.
The second feature from Canadian writer-director team Caroline Lábrèche and Steeve Léonard, following the French language Lost Cause, Radius is a science fiction suspense film which follows its ingenious premise through with unusual rigour. Often, stories with terrific narrative hooks run out of steam, but Lábrèche and Léonard keep coming up with satisfying plot twists which take the film into unexpectedly deep emotional waters.
Radius has a decent grasp of the nuts and bolts of its Twilight Zone premise
It's not quite a two-hander, but the whole movie depends on the lead performances of Canadian-born TV regulars Diego Klattenhoff (The Blacklist) and Charlotte Sullivan (Rookie Blues) in complicated (essentially multiple) roles. The pair play characters who literally don't know who they are and acquit themselves admirably, with Klattenhoff, usually a blandly handsome nice guy, projecting a Michael C. Hall-like intensity as the unwitting grim reaper.
Stumbling away from the site of a rural traffic accident, amnesiac Liam Hartwell (Klattenhoff) discovers that any living thing which comes within a fifty yard radius of him drops dead, with eerie whitened eye. He holes up in a farmhouse and tries to establish the limits of his condition, suffering agonies of guilt when people approach and are felled – until a woman (Sullivan) appears and is able to withstand his killing influence, though she is also suffering from a loss of memory.
Not only is the Jane Doe immune to the effect, but when she is inside the radius she mitigates it. Both have flashes of memory, and piece together a backstory which involves a 'cosmic event' and the specific circumstances in which Liam and Jane – strangers to each other – were in a car crash together. The authorities label Liam a terrorist and search for him, while Jane's supposed husband Sam (Brett Donahue) appeals for her to come home; although though she can't remember him, or why she left in the first place.
The opening stretches of the film recall Village of the Damned or The Quiet Earth as Liam walks through the depopulated countryside and comes upon a small town populated by white-eyed corpses. Birds drop from the sky whenever he passes. With the arrival of Jane, several interlocking puzzles are unravelled; the third act delivering some surprising answers and also getting to the thematic meat of living as a blank slate with a deadly condition that might be inflicted in return for past sins.
The script is nicely detailed, with tiny details – like the mindwiped Jane's disbelief that in her former personality she didn't like pizza – that pay off. Underneath the fantastical premise, there's a story about a couple who want to sort out their complicated relationship but keep getting distracted by other people, who intervene and cause mini-massacres.
Radius has a decent grasp of the nuts and bolts of its Twilight Zone premise, and stages several suspense sequences around the possibility that Liam and Jane will be separated, such as when she is unable to get in a crowded hospital lift with him and has to run down the stairs to protect bystanders. The finale, coming after a shattering revelation, puts Liam in the position of being tempted to use his power deliberately, and then faced with a possibly redemptive, drastic course of action that might or might not set things straight.
Production companies: EMA Films, Peripatetic Pictures, Title Media
International sales: Epic Picture Group sales@epic-pictures.com
Producers: Benoit Beaulieu, Jean Du Toit, Anne-Marie Gélinas
Executive producers: Stéphanie Trépanier, Patrick Ewald, Shaked Berenson, Anouk Whissell, François Simard, Yoann-Karl Whissell, Diego Klattenhoff, Giles Daoust, Catherine Dumonceaux, Betsy Hamlin
Cinematography: Simon Villeneuve
Production Design: Maryam Decter
Editor: Steeve Léonard
Music: Benoit Charest
Main Cast: Diego Klattenhoff, Charlotte Sullivan, Brett Donahue