A sober, non-judgemental portrait of a sociopath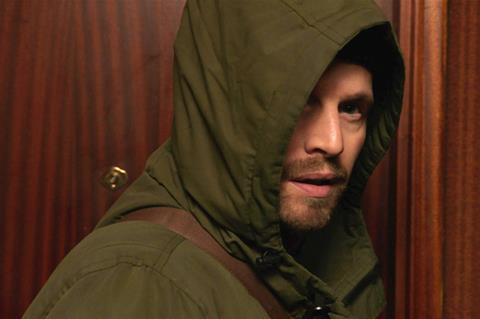 Dir/scr: Peter Dourountzis. France. 2020. 96 mins
Both the title and the central character practise to deceive in Rascal. Peter Dourountzis' debut feature might suggest something playful or incorrigible, but the reality is a sober, non-judgemental portrait of a sociopath. Although the smooth charm of Pierre Deladonchamps keeps the character intriguing, audiences may find it difficult to discern whether they should feel sympathy for this rascal or merely observe the contradictions of his life.
Dourountzis and cinematographer Jean-Marc Fabre make Paris after dark a city where danger lurks.
Rascal is a feature-length version of Dourountzis' short Errance (2014), in which Paul Hamy played Dje. Now, Deladonchamps portrays the enigmatic drifter who arrives in Paris penniless and homeless. Lacking identity papers or driving license, he leaves no mark on the world. We know he is fresh out of prison, but we never learn his past crimes. His hooded green parka and hunched shoulders only underline a need to keep his head down and pass undetected.
Dje proves to be a resourceful fellow. He lives on his wits, finding a bed for the night, inveighing his way into a conversation, earning a crust, stealing when required, working when he can. He constantly provokes strangers but generally walks away unharmed. We admire his brass neck. When he starts to take control of a situation, the camera moves a little closer, directing you to watch this master at work.
Deladonchamps' boyish features and the twinkle of amusement in his eyes makes Dje a blithe spirit. He always seems to attract the kindness of strangers. Can a little charm take him a long way? If so, how far would he be willing to go? A good half hour has passed before the spell starts to falter.
Dourountzis takes a very measured approach to revealing other aspects of Dje's nature. We see signs around Paris that a killer is on the loose. Bus shelter adverts warn women to be vigilant and take extra care. There are awkward encounters with random females and lucky escapes in which Dje's surface charm fades and those twinkling eyes become devoid of life. His true colours are those of someone much creepier.
All of Dje's serious crimes are kept off camera. There is menace in his presence but discretion in the depiction of what he does. Dourountzis and cinematographer Jean-Marc Fabre make Paris after dark a city where danger lurks. The flashing neon shop signs and amber street lighting provide meagre relief from shadowy doorways and gloomy side streets where Dje can be who he wants and do what he likes.
Dourountzis seems determined to explore how Dje's life balances the banal (where to sleep, how to eat, how to fit in) and the unthinkable. Dje finds a kindred spirit in Maya (Ophelie Bau from Mektoub, My Love). She is a glamorous graffiti artist and social-aid volunteer who shares a squat with others escaping the pressures of mainstream society. Like the viewer, she is both drawn to Dje but wary of someone she really doesn't know that well.
The possibility of a romance with Maya is like a ticket to a life that we assume Dje has never known. It still seems insufficient for him to control the instincts of the killer inside him.
Production companies: 10.15! Productions, Tripode Productions
International sales: Kinology, gmelin@kinology.eu
Producers: Sebastien Haguenauer, Guillaume Dreyfus
Editing: Valentin Durning
Production design: Nicolas Lefebvre
Cinematography: Jean-Marc Fabre
Music: Constantin Dourountzis
Main cast: Pierre Deladonchamps, Ophelie Bau, Sebastien Houbani