Disney's adventure breathes fire into the animation world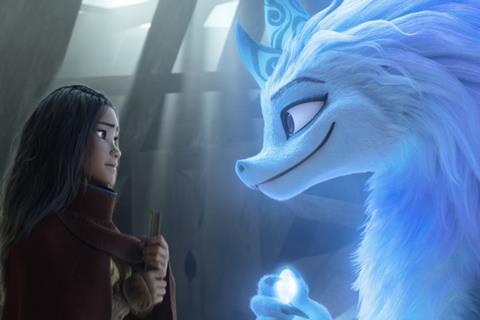 Dirs: Don Hall, Carlos Lopez Estrada. US. 2021. 108mins
A marvellously colourful and emotional adventure, Raya And The Last Dragon compellingly argues that the world is a dark place — but the only way to heal it is to hold onto hope. Drawing from Southeast Asian culture for its depiction of a magical realm which has descended into tribalism and sorrow, Disney's latest animation follows a pragmatic young warrior on a journey to reunite a fractured land, teaming up with a dragon who helps her work through her trust issues as she seeks out the pieces of a powerful gem. Kelly Marie Tran and Awkwafina are delightful company, and even if the quest-narrative elements are familiar, the poignant finale more than delivers.
One of Disney's most visually resplendent films in recent memory
Raya arrives on Disney+ March 5, although it's a shame that audiences won't be able to appreciate this picture's epic scope on the big screen. Nonetheless, families starved for entertainment in the midst of the pandemic will no doubt switch on in droves.
Tran voices Raya, who lives in idyllic Kumandra, where humans and dragons once existed side by side. But after a malevolent force called the Druun tried to turn all living creatures to stone, the dragons banded together, creating the Dragon Gem which banished the Druun and restored humanity — although it meant sacrificing themselves.
Unfortunately, different factions within Kumandra have started fighting for control of the mystical Dragon Gem, splitting the land into rival camps. As the daughter of Chief Benja (Daniel Dae Kim), the most noble leader of the five lands and the keeper of the Gem, Raya is determined to ensure it doesn't fall into the wrong hands. But after she's betrayed by Namaari (Gemma Chan), a warrior from one of the other camps who pretends to be her friend, the Gem is accidentally broken into pieces and the Druun returns — soon, most of the population, including Raya's beloved father, are transformed into rock. Her only hope to save Kumandra is to find the last living dragon, Sisu (Awkwafina), and collect all the Gem fragments.
Directed by Don Hall (Big Hero 6) and Carlos Lopez Estrada (Blindspotting), Raya vividly renders its fantasy realm, alternating between the lush greens of bygone Kumandra and the desolate wasteland that now exists. Unlike Frozen or Tangled, there are no musical numbers, which is in keeping with Raya's slightly more mature tone, although the occasional goofy humour and adorable side characters our hero meets on her journey keep the proceedings from getting too dire.
However, this tricky tonal balance isn't always perfectly maintained. As lively a presence as Awkwafina is as the optimistic Sisu, the character sometimes seems like merely the latest variation on Disney's zany-comic-relief roles that have been a staple since Robin Williams' Aladdin genie. And while Raya's quest possesses the requisite suspense and action, viewers will be very familiar with this narrative arc from dozens of other family films.
Where Raya distinguishes itself is in its bighearted examination of Raya, who grew up a trusting soul. After being betrayed by Namaari (who tricked her into seeing the Dragon Gem, leading to Kumandra's downfall and her father's imprisonment in stone), she has become jaded and guarded. Raya wants to restore Kumandra, but through meeting Sisu, who may be naive but believes that people are inherently good, her cynicism will be challenged — as well as her assumption that Namaari is forever her enemy.
The filmmakers convincingly illustrate how terrifying life can be — the Druun is a disturbing cloud of unstoppable evil — and yet movingly demonstrate that unity and mutual respect can lead to a better world. Like Sisu, Raya may be dewy-eyed in its faith in humanity, but Tran makes that sentiment inspirational, voicing Raya in such a way that we never doubt that this young warrior hasn't permanently hardened her heart — she just has to relinquish her fear that bad things will happen if she lets people in.
Although not based on any specific country — the creative team toured nations such as Thailand, Vietnam and Singapore — Raya's fictional realm pays homage to Southeast Asian decor and fashion, resulting in one of Disney's most visually resplendent films in recent memory. The story's fable-like quality proves transporting, intensifying Raya's anguish over losing her father — an anguish, she comes to discover, that is shared by many other characters who have also lost loved ones because of the Druun. And as Raya reaches its tear-jerking conclusion, Hall and Estrada find a clever, piercingly emotional way to emphasise the importance of learning to trust. Sometimes, you have to be willing to be vulnerable to allow others to respond in kind.
Co-directors: Paul Briggs, John Ripa
Production company: Walt Disney Animation Studios
Worldwide distribution: Disney
Producers: Osnat Shurer, Peter Del Vecho
Screenplay: Qui Nguyen, Adele Lim, story by Paul Briggs, Don Hall, Adele Lim, Carlos Lopez Estrada, Kiel Murray, Qui Nguyen, John Ripa, Dean Wellins
Production design: Paul Felix, Mingjue Helen Chen, Cory Loftis
Editing: Fabienne Rawley, Shannon Stein
Cinematography: Rob Dressel (director of cinematography layout), Adolph Lusinsky (director of cinematography lighting)
Music: James Newton Howard
Main voice cast: Kelly Marie Tran, Awkwafina, Izaac Wang, Gemma Chan, Daniel Dae Kim, Benedict Wong, Joan Xiao, Sandra Oh, Thalia Tran, Lucille Soong, Alan Tudyk