A complicated, time-travelling narrative from Nabil Ayouch which runs bestween the Atlas mountains and Casablanca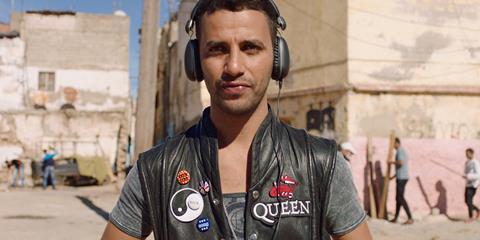 Dir: Nabil Ayouch. France/Morocco/Belgium. 2017. 119 mins
A complex and involving compound portrait of the upheaval caused by creeping theocracy and ingrained attitudes, Razzia skillfully adresses hypocrisy, ignorance, misguided religious fervour, sexual opression and the persistent tug toward greater personal freedom as experienced by a riveting cross-section of Moroccans in 1982 and in 2015. Brimming with visual and emotional rewards, Nabil Ayouch's powerful follow-up to Much Loved is a must for viewers interested in brave filmmaking intent on examining the underpinnings of current events.
Thwarted desires are a staple of tragic drama that Razzia taps into with a sure and modern hand
The Berber proverb "Happy is he who can act according to his desires" graces the screen before we're introduced to a touching galllery of individuals whose desires are thwarted most of the time. In the starkly arid Atlas Mountains in 1982, idealistic schoolteacher Abdallah (Amine Ennaji) is a passenger on a bus headed away from the village where he loved teaching science and poetry to boys and girls alike in their native Berber dialect. He is also leaving his romance with an independent-minded widow, Yto (Saadia Ladib), whose son Ilyas is a good pupil but stutters.
The seeds of his depature for Casablanca were planted the day an inspector from the city declared that henceforth all classes must be conducted in Arabic "the language of the Holy Koran." The teacher is driven to tears as theocratic rote learning gradually supplants authentic knowledge and discovery. Abdallah asks himself whether to stay and fight or admit he's licked. Throughout the film, the camera returns to shots of the bus on a winding road as he ponders the right tactic to take.
In the streets of Casablanca in 2015 crowds march chanting that Morocco is a Muslim country where men and women are not equal. Literally moving against the tide, confidently sensual Salima (co-screenwriter Maryam Touzani) in short dress and long uncovered hair makes her way to the home of now-elderly Yto (played by Nezha Tebbai). Women gather there to blow off steam by dancing joyously among themsleves. Yto takes one look at Salima and deduces she's pregnant.
Salima, we learn, lives in bourgeois comfort with a domineering man. She wants to get a job; he won't hear of it. The power balance in their relationship is still too retograde for her taste and it's not clear she'll continue her pregnancy. "If it's a girl, I can't let her be born here now," she says.
Now middle-aged, sweet Ilyas (Abdellah Didane) works at the restaurant Chez Jacques run by Joe (Arieh Worthalter), a secular Jew whose observant elderly father isn't well. Ilyas believes that the movie Casablanca was shot on location in Morocco and Joe kindly humours him. Although Joe couldn't care less about his own ethnic origins, they stymie his propsects for attracting women.
Twentysomething Hakim (Abdelilah Rachid) keeps a scrapbook about his hero Freddie Mercury, studies French from old cassette tapes and dreams of a music career in Europe. One of his friends jokes that Hakim has never been out of the medina. But Hakim is kind and talented and easy to root for. His little sister looks up to him but his father won't speak to him.
Fifteen-year-old Ines (Dounia Binebine) lives in a spacious modern house. Her mother is rarely home and her nanny is the steadiest adult presence she knows. Ines and her friends discuss whether having sex before marriage is advisable or a sin. Ines has a problelmatic crush.
With completely organic elan, most of the cast ends up either at the same party or in the same mean streets on the same night as mob violence breaks out.
Thwarted desires are a staple of tragic drama that Razzia taps into with a sure and modern hand. This ambitious, beautifully modulated film posits that dreaming of better horizons or the triumph of love is all well and good but few are strong enough or lucky enough to steer their own destiny against harsh social odds. Ayouch's strength is in showing how the knee-jerk enforcement of supposed Islamic dictates affects people of all ages, professions, faiths and classes. It's hard to move forward if your surroundings are stalled or backward. No good can come of the stark inequalities between rich and poor, portrayed here via memorably human characters
Production companies: Unité de Production, Les Films du Nouveau Monde, Artemis Productions, Ali n' Productions, France 3 Cinema
International sales: Films Distribution
Producers: Bruno Nahon, Patrick Quinet, Nabil Ayouch
Screenplay: Nabil Ayouchn, Maryam Touzani
Cinematography: Virginie Surdej
Editors: Sophie Reine, Marie-Helene Dozo
Production design: Hafid Amly
Music: Caroline Chaspoul, Eduardo Henriquez, Guillaume Poncelet
Main cast: Maryam Touzani, Arieh Worthalter, Amine Ennaji, Abdelilah Rachid, Dounia Binebine, Abdellah Didane