Riotous look back at an underground 1980s movement which 'terrified straight mainstream society'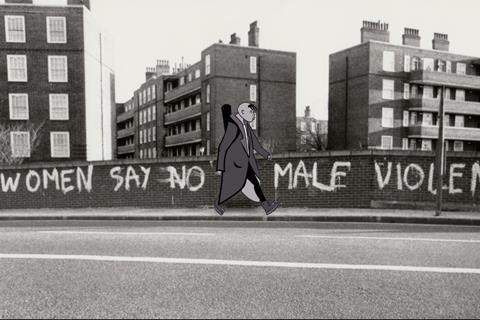 Dirs: Harri Shanahan, Sîan Williams. UK. 2021. 82 mins
This boisterous oral history of a little-known underground London lesbian scene which spawned from a collision between punk and feminism is a blast. Born out of the Greenham Common protests, the Rebel Dykes combined political activism and BDSM, leathers and chains and world class hedonism, all topped off with an in-your-face sex positivity which annoyed the Rad Fem lesbian movement and utterly terrified straight mainstream society. Interviews with key figures in this creative, disruptive and influential 1980s scene are combined with scrappy archive footage and rough-and-ready animation to bring the film a suitably unruly fanzine aesthetic.
Has value as a cultural document as well as a riotously entertaining film
The Rebel Dykes formed a de facto family community, crammed into overflowing squats in South London. And this film is a family affair, which draws on the talents of women like producer Siobhan Fahey and composer Ellyott who were part of the original scene. It's this, together with the quantity (if not always quality) of archive material, which gives the film its bracing honesty, and a sense of eavesdropping on the recollections of the women who were having the most fun (and, from all accounts, the most sex) of anyone in 1980s London. But the film goes deeper than personal reminiscences and contextualises the movement as a hitherto missing chapter in British queer cultural and political history. As such, it should figure highly on the wish lists of further LGBTQ themed festivals and events, and has value as a cultural document as well as a riotously entertaining film.
The queer cultural landscape which gave birth to the Rebel Dykes scene was one in which every aspect of lesbian culture, even down to the details of sexual activity, was highly politically charged. One woman describes feeling like a second class lesbian because her interest in women was motivated by lust rather than a radical feminist agenda. It was a landscape, pre the mass market BDSM of 'Fifty Shades', in which S&M was still a niche activity, and a time before the idea of 'kink shaming' had been recognised as an assault on personal sexual expression.
As such, the 'dykes on bikes' motorcycle gang, the Black Widows, and the women who gravitated to the lesbian BDSM night Chain Reaction, which featured an explicit cabaret of everything from live sex acts to spaghetti hoop wrestling, were criticised both by mainstream society and by elements within the broader lesbian community. Their response was to harness humour along with anger: photographer Del La Grace Volcano recalls Pythonesque performances which they describe as "so bad they were good." And when a range of non-phallic dildos were introduced to the British market, one of them was named after a radical feminist seperatist, who didn't see the funny side.
But when the Thatcher government enacted Section 28 in May 1988, the Rebel Dykes were at the forefront of the protests, giving a voice to the entire gay community. It was a group of women from the scene who abseiled into the House of Lords; shortly after, a band of renegade dykes broke into the BBC news studio and handcuffed themselves to Sue Lawley's news desk. There was a sense of mischief in their protests which dated back to Greenham Common, where they once broke into the squaddies bar and stole all their alcohol. But the fact that they were having fun while fighting doesn't diminish the impact and extent of their struggle for acceptance.
"Look at lesbian society now," says Debbie Smith, guitarist with Echobelly and Curve. "We did that. Be thankful."
Production Company: Bohemia Media
Contact: contact@rebeldykes1980s.com
Producer: Siobhan Fahey
Editing: Harri Shanahan, Sîan Williams
Cinematography: Harri Shanahan, Sîan Williams
Music: Ellyott