Dir: Danny Strong. US. 2016. 106mins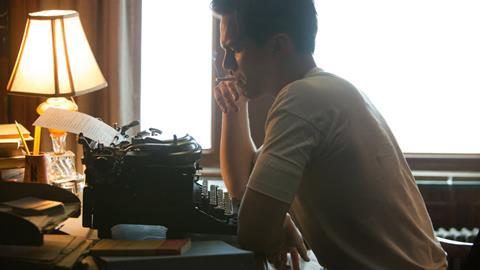 J.D. Salinger's life was as captivating and legendary as the book that made his name. Sadly, the biopic Rebel In The Rye can only scratch the surface. Boasting some strong performances and clever writing, this breezy overview of the author and his magnum opus, The Catcher In The Rye, fails to fully capture the magnitude of this brilliant author's struggle for greatness and then, later, his decision to walk away from literary stardom. Nicholas Hoult makes for a striking Salinger, but like the movie, he doesn't dig deep enough into the man's genius or complexity.
Strong gives the montages of Salinger banging away at the typewriter some excitement, believably distilling the agony and ecstasy of creativity
Premiering at Sundance, Rebel In The Rye should attract buyers thanks to two very attractive elements. First, there's the story of Salinger himself — and the fact that his most famous novel remains so popular more than 65 years after its publication. Then, there's a cast that includes not only Hoult but Kevin Spacey and Sarah Paulson. Reviews may be mixed, however.
Spanning about 15 years, the film shows Salinger (Hoult) as he dreams of literary glory by attending Columbia, where's he advised by his professor Whit Burnett (Spacey) to devote his life to writing — even if he never gets published. Salinger begins to have some success in the early 1940s, but his momentum stalls when he is drafted into the army during World War II, which ends up inspiring him to write his first novel, The Catcher In The Rye.
Based on Kenneth Slawenski's biography, J.D. Salinger: A Life, Rebel In The Rye is the feature directorial debut of screenwriter Danny Strong, a two-time Emmy-winner who co-created the television drama Empire. His movie has plenty of polish and confidence, moving succinctly across the different stages of Salinger's life.
Rebel is strongest when it's offering the familiar biopic pleasures of watching a talented but flailing artist put in the work to make his masterpiece. Hoult's boyish bravado is perfect for portraying the young Salinger's lively arrogance and deep insecurities. (As Salinger's disapproving father, Victor Garber is as close as Rebel gets to a proper villain, the old man consistently deriding his son's artistic ambitions.) Making a movie about a guy typing could be dreadfully dull, but Strong and editor Joseph Krings give the montages of Salinger banging away at the keyboard some excitement, believably distilling the agony and ecstasy of creativity.
Spacey is superb as Burnett, initially intimidating his pupil but soon treating him like an equal. It's clear that Burnett is the father figure Salinger never received at home, and the two actors enjoy a rapport which is full of tenderness and biting sarcasm. This is one of Spacey's more reserved performances, which makes Burnett's fall from grace all the more tragic once Salinger impulsively ends his friendship with the man.
The build-up to The Catcher In The Rye's publication is sufficiently entertaining, bolstered by Strong's snappy back-and-forth dialogue and a tart turn from Paulson as Salinger's loyal agent. But the filmmaker loses his way once Salinger becomes a sensation. In theory, the arc of this author's story should be bittersweet — he laboured for years to be published, only to ultimately decide that he had to stop publishing in orer to focus entirely on writing. But Rebel glosses over the post-Catcher years and the author's controversial choice to withdraw from the literary world. As a result, the film's ending lacks the pathos that's so inherent to this tale.
Part of the problem is Hoult, so charming and compelling as the younger Salinger, but who never shifts gears once the author becomes a recluse who feels imprisoned by Catcher's notoriety. As portrayed by Hoult, Salinger was an eternal man-child, which runs counter to the movie's assertion that Catcher caused him to rethink his life and his art. Rebel In The Rye is a passable re-creation of Salinger's career highlights. But when it strives for insight, it comes off as slightly phony.
Production companies: Black Label Media, West Madison Entertainment
International sales: Bloom, info@bloom-media.com
US sales: CAA, filmsales@caa.com
Producers: Bruce Cohen, Jason Shuman, Danny Strong, Molly Smith, Thad Luckinbill, Trent Luckinbill
Executive producers: Ellen H. Schwartz, Scott Ferguson, Matthew Salloway, Christina Papagjika
Screenplay: Danny Strong, based on the book J.D. Salinger: A Life by Kenneth Slawenski
Cinematography: Kramer Morgenthau
Production design: Dina Goldman
Editor: Joseph Krings
Music: Bear McCreary
Main Cast: Nicholas Hoult, Kevin Spacey, Victor Garber, Hope Davis, Zoey Deutch, Lucy Boynton, Sarah Paulson