Rashid Masharawi traces the history of Jaffa in this inventive, personal documentary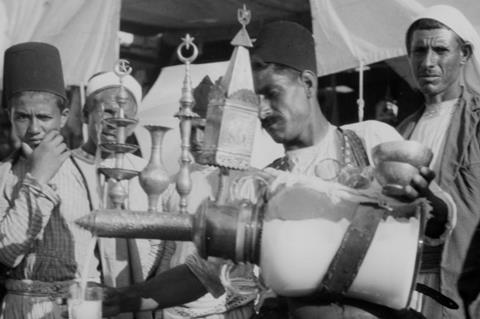 Dir/scr: Rashid Masharawi. Palestine. 2021. 60 mins.
The history of the port city of Jaffa between 1930 and 1948 is brought to vivid life by inventively used archive photographs, personal testimony and rich sound design in Rashid Masharawi's simple but effective documentary. The Palestinian director's latest film comes hot on the heels of his Paris-set lockdown feature Diary Of Gabrielle Street. Recovery, which has its world premiere at the Red Sea Festival and received help from its new Red Sea Fund earlier this year, is likely to find further interest at mid-length-focused documentary festivals elsewhere.
This is not simply one man's memories but a dialogue
Masharawi may be a quick worker, but there's no sense of being rushed in Recovery, which takes us on an absorbing stroll through the streets of Jaffa as remembered by Taher Al-Qalyubi, glimpsed here as an elderly man telling his stories direct to camera on VHS tape. Although Taher died six months before Masharawi says he "met him", we can feel the depth of the connection he has to this man who shared the same history as the director's own father and grandfather. Taher was born in the city in 1929 and lived there until his family tricked him into fleeing in April 1948, leaving along with thousands of others, as conflict raged in the Arab-Israeli War.
Taher is a natural storyteller and brimful of tales to tell, whether it's the history and cultural significance of a particular rock in the harbour or a memory of the various cinemas in the city and their price war, the glee of getting to see "three movies for two pennies" still evident in his voice. As his anecdotes unfold, we watch archival stills of parts of the port, some judiciously animated to give them a sense of movement, many packed with cultural goings-on.
All of this is infused with a blend of rich sound design from Viktor Epp and archive music. It's possible not just to listen to the sound of the ocean in photos of fishermen, but to pick out the clang of a goat bell as we look at an image of a gateway to the city — or, for that matter, the unmistakeable bubble of a shisha pipe above a gentle hubbub as another photograph shows a gathering of people around a board game. The memories are an eclectic delight, ranging from observations about the oranges being shipped to Britain and the printing of the paper they were wrapped in to the shipwrecks that washed unexpected treasure ashore. Taher also takes us on a journey out of the city, as he describes the summer camps where many Palestinians lived from June to September, with the illustrative pictures including the remarkable sight of an entire family of six aboard a single camel.
This is not simply one man's memories but a dialogue, as Masharawi allows his own recollections of his childhood in the Al-Shati refugee camp in Gaza to overlap those of the older man, layering in a melancholy that underpins much of the film. We sense a life he might have lived in other circumstances — as Masharawi puts it, "I belonged to a city that I didn't know and had never seen". This sense of loss grows stronger as Taher outlines the rising tensions in Jaffa through the 1930s. His voice breaks as he remembers the latter period there, the photos of happiness giving way to soldiers, protests, bombed buildings and the sight of people fleeing with all they own — something that retains plenty of resonance in the modern world.
It's easy to forget how important memories can be, not just to those who can recall events directly but to the generations who follow. Masharawi's humanistic and heartfelt film reminds us of their worth.
Production company: Cinema Production Center
Contact: Masharawi Films, look@masharawifilms.org
Producers: Rashid Masharawi, Mouhamad Keblawi, Laura Nikolov
Cinematography: Tobias Kim
Editing: Daniel Zlotin