An assured first feature from Israel charts a forbidden love affair between two teenage girls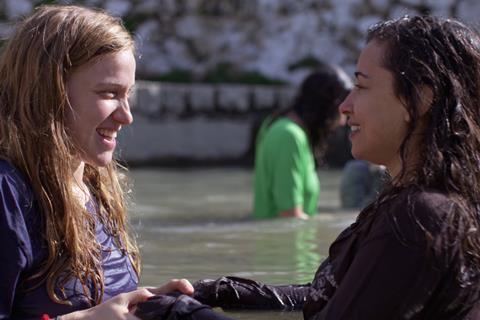 Dir/scr. Tsivia Barkai Yacov. Israel, 2018, 90 mins.
Israel's orthodox Jewish settlement provides the setting for a teenager's sexual awakening and ideological unravelling in Red Cow, a sensitive and assured first feature from Tsivia Barkai Yacov. In this emotionally mature and resonant coming-of-age story, the writer-director confidently steps into a community rarely explored on screen and relates the difficulties of being a young woman in a devout patriarchal system, while also relaying the complexity of burgeoning female desire and spinning a complicated queer romance.
The film vibrates with disarming authenticity
Bowing in Berlinale's Generation 14plus lineup, the film marks a return for Yacov, an alumnus of the festival's Talents program — and other stops on the global circuit are likely to follow. Certain to interest queer events and a contender for broader festival play as well, Red Cow also boasts arthouse potential with the right push. In its female-centric window into the Middle East, it should appeal to viewers of the Tel Aviv-set In Between, while its intimate insights into a girl defying societal expectations should reward fans of Tomboy and similar youth-oriented LGBTQ fare.
17-year-old Benny's (Avigail Kovari) outsider status is cemented from the outset, her androgynous name and blazing red hair instantly standing out in her settlement home of Silwan in Palestinian East Jerusalem. Thanks to introductory intertitles that explain the significance of the feature's title and its links to the Torah, audiences are attuned to the importance of her task caring for a newborn pure-red calf, and able to spot the potential parallels between the girl and the animal in her care. Although Benny and her extremist father Yehoshua (Gal Toren) might not realise it at first, both are beacons of change.
According to his beliefs, Yehoshua is convinced that salvation is now imminent. When Benny searches for her own faith beyond strict religious instructional classes with the community's other women and generally assisting her father, she finds it in a burning yearning for newcomer Yael (Moran Rosenblatt). A fast friendship soon turns to nervous clandestine flirting, and then to passionate secret trysts, with the forbidden tenor of their romance ever-present. And yet, the intensity of Benny's feelings surprises even herself; "my body is on fire," she tells Yael before things get physical.
It's with naturalism and nuance that Yacov, a native of an orthodox Jewish settlement herself, conveys the teen's tumultuous emotional state — a tempest of deeply-felt urges that threaten to overtake her entire life, as first love is want to do, while also clashing with the teachings she's increasingly beginning to abandon and placing her in a precarious position should the affair be discovered. Benny's growing distance from Yehoshua and everything he represents is also handled with subtlety, depicted as a relationship fracturing with each passing moment, but with slow and ragged rather than sharp and definitive cuts.
Astutely reflecting both situations via DoP Boaz Yehonatan Yacov, Red Cow subsequently moves between the use of walls, fences and shadows to stress the boundaries surrounding its protagonist, and mirroring her restless fervour in its jittery handheld camerawork. Paired with just the right mood — urgent in tone yet measured in pace — the film vibrates with disarming authenticity as a result.
In a savvy stroke of casting, standout debutant Kovari gives a performance first of internalised turmoil, then of uncontainable longing, that a veteran would be proud of. Her chemistry with Toren is palpable, their glances, be it shared, searching or unrequited, saying everything their characters can't.
Production company: Laila Films
World sales: Alma Cinema, sara@almacinema.com
Producer: Itai Tamir
Cinematographer: Boaz Yehonatan Yacov
Editor: Haim Tabakman
Composer: Karni Postel
Production design: Ehud Gutterman
Main cast: Avigayil Koevary, Gal Toren, Moran Rosenblatt, Dana Sorin, Uri Hochman