A pregnant, abandoned wife must fend for herself in Sharipa Urazbayeva's study of sexual violence and poverty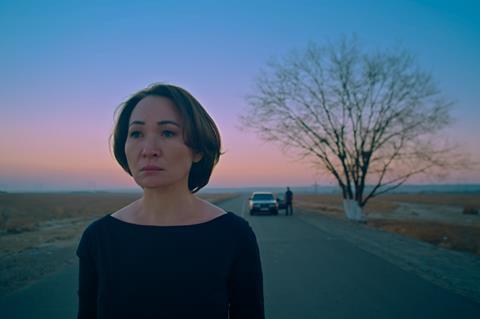 Dir/scr: Sharipa Urazbayeva. Kazakhstan. 2021. 113 mins.
Anar (Ainur Bermukhambetova) accepted, without question, her husband Marat's decision to move from the city to a small community on the Kazakh steppes. But life is hard. Anar's work has dried up since her laptop died; she is still struggling to fit into the role of stepmother to Marat's son Adil; her pregnancy is considered high-risk because of her age and her severe anaemia. Then Marat (a suitably weaselly Bolat Momynzhanov) goes missing, and Anar is forced to survive on her own, with Marat's creditors circling and the full extent of her husband's questionable life choices only beginning to become clear. The second film from Kazakh writer and director Sharipa Urazbayeva, Red Pomegranate is earnest in its attempts to shine a light on sexual violence, poverty and the plight of women in Kazakhstan's patriarchal rural communities. But the lack of polish in many aspects of the filmmaking may limit the picture's reach.
The film's main asset is the cinematography
Urazbayeva's debut feature, Mariam, dealt with similar themes, telling the real-life story of a woman whose husband disappeared, leaving her to raise their four children, before just as abruptly reappearing in her life again. Rather than recruit an actor for the central role, Urazbayeva decided to cast the woman on whose life the film was based, bringing a verisimilitude to the storytelling. Mariam screened at the Locarno, Toronto and Busan film festivals, among others, and won the Cyclo d′Or at the Vesoul International Film Festival of Asian Cinemas. It's unlikely that Red Pomegranate will have the same success, although it could resonate with programmers looking for female-led, issue-based filmmaking.
The film's main asset is the cinematography, which makes as effective use of the wide-open landscapes of the steppes as it does of the oppressively tight four walls of the new home shared by Amar, Marat and Adil. But there's a flatness to the filmmaking — the baggy editing, the mannered performances — which rather diffuses any tension which might have built. It's a pity, because there are plenty of components for a taut domestic drama present in the mix. Amar's worries about money are compounded by the threats of the debt collectors who make it clear, in no uncertain terms, that Marat's life is in danger.
Then there's an unpleasant incident involving Adil. Amar is determined that the guilty party should be punished for their crime against her stepson. But the guilty party is well-connected and Amar is both a newcomer to the town and a woman, so she holds little sway with the local law enforcement. Support from Marat is not forthcoming — he's either missing and incommunicado or, once back in the family home, obstructive, judgemental and inclined to side with the town's powerful men rather than his wife.
It's a sparse approach to filmmaking, with little in the way of score and just a rumble of thunder and a ticking clock to indicate moments of tension. This places an uncomfortable degree of emphasis on shots of Amar gazing sadly and wordlessly into the middle distance, and on performances in which the acting is a little too close to the surface.
Production companies/international sales: Sheri Film, Sheri.11@mail.ru; and Armandastar Films, Alikenmm@mail.ru
Producers: Duman Kozhahmetov, Sharipa Urazbayeva, Temirbek Amanzhol, Marzhan Bekmaganbetova
Cinematography: Zhandos Zhumabaev
Editing: Rustem Tuyakbaev
Music: Marina Makarova
Main cast: Ainur Bermukhambetova, Bolat Momynzhanov