This Blumhouse multiple timeline thriller stars a convincing David Oyelowo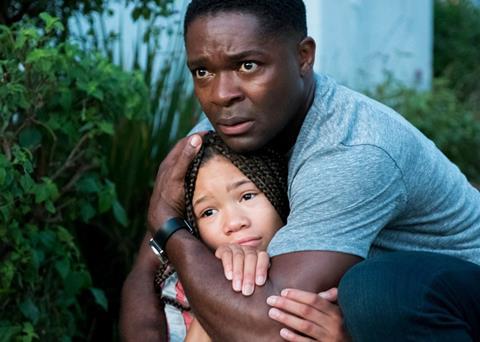 Dir: Jacob Estes. US. 2018. 103 mins.
In this unsettling supernatural thriller, Los Angeles police detective Jack Radcliff (David Oyelowo) finds his beloved niece Ashley and her family brutally killed in their home in an apparent murder-suicide committed by his brother. In the days that follow, a traumatised Jack desperately tries to piece together the events that led to the deaths—until he receives an unexpected call on his cellphone, from Ashley, alive and well, from just a few days earlier.
Relive builds to a disturbingly violent and genuinely unnerving climax, along with a cathartic resolution
It's an intriguing introduction, one that thrusts Jack (and the viewer) into a constantly shifting and unexpected mystery filled with questions. Is Jack going insane, stuck inside a nightmare from which he cannot wake? Or is Ashley a ghost, calling from the beyond in an effort to avenge her and her family's murders? Since we've seen those plots before, writer-director Jacob Estes (whose debut Mean Creek was a far moe subtle portrait of unease and suspense) has other plans, involving an inexplicable time-warping phenomenon that allows Jack and Ashley to communicate via cellphone along different timelines.
Produced by Blumhouse Entertainment, the highly successful horror producers of Get Out and Hallowe'en, Relive is a passable piece of suspenseful filmmaking, buoyed by the heartfelt relationship at its core between uncle Jack (a deeply fraught David Oyelowo) and his niece (A Wrinkle in Time's appealing young actress Storm Reid). It's also a refreshing choice to cast the film with mostly black actors, with no attending racial issues. While Relive is not likely to reach the heights of those previous Blumhouse hits, it should find receptive audiences, particularly those on digital platforms looking for a fast-moving genre fix.
Like other chronologically complex cinema, from Memento to Groundhog Day, Relive finds its troubled hero, initially, at least, unable to change his fate, and we watch Oyelowo's character fruitlessly try to impact the outcomes of the crime with little effect. But as the story goes on, and multiple timelines and perspectives unfold in unforeseen ways, Jack and Ashley eventually learn to work together, between past and future, to try to bend their destinies for the better.
The logic of these varying time shifts is never explained and some of the choices the characters make can strain credibility (it recalls Eddie Murphy's old joke, "Why don't they just get the hell out of the house?"). However it does afford Estes the ability to keep one step ahead of the audience. Relive's final act delivers yet another twisty revelation, in which Jack figures out those truly responsible for the murders. But it's also a bit of a stretch, not unlike those Law & Order 'eureka' moments in which everything conveniently makes sense, despite what we have seen come before it.
Still, Relive builds to a disturbingly violent and genuinely unnerving climax, along with a cathartic resolution, offering viewers some satisfying solace after what is an agonizing ordeal. Estes handily pumps up the tension, and keeps the story moving along at a brisk pace. There may be nothing particularly memorable about the filmmaking on display, but Relive is focused mostly on its actors. As Jack, Oyelowo offers a troubling portrait of incessant distress and grief, while Reid's teary-eyed, angst-ridden young face is impossible not to sympathise with. The strong bond between the two characters provides the emotional backbone to the picture.
Production Company: Blumhouse Productions
International sales: Blumhouse Productions
Producers: Jason Blum, Bobby Cohen, David Oyelowo
Production Design: Celine Diano
Editors: Scott D. Hansen, Billy Fox
Cinematography: Sharone Meir
Music: Ethan Gold
Main cast: David Oyelowo, Storm Reid, Mykelti Williamson, Alfred Molina, Brian Tyree Henry, Shinelle Azoroh