Dir: Omer Fast. UK/Germany/Canada, 2015. 103 mins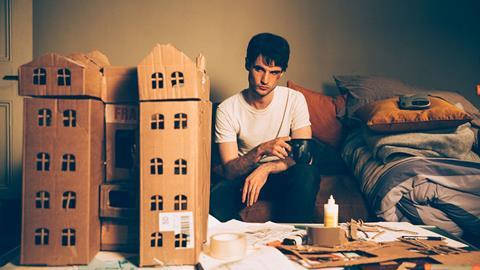 Not so much a psychological thriller as a conceptual one, Remainder is a tense puzzler that shows Israeli video artist Omer Fast making a confident transition to fiction feature making. His adaptation of the 2005 novel by British literary experimentalist Tom McCarthy is, in keeping with its source, very much a film of ideas, but it offers enough drama, sexiness and alluring mystery to hook an adventurous art-house audience, with potential for crossover to an upmarket genre constituency. Its hybrid nature won't make the easiest sell, but anyone who connected with genre-tweaking in the domain of, say, Pi, Upstream Color or The Usual Suspects will totally tune into Remainder's wavelength.
A boldly enigmatic ending will leave viewers scratching their heads – in the best, most tantalising way – and may persuade some to venture a second viewing
Fast made his name on the gallery and film festival circuits with video works such as Take a Deep Breath and Everything That Rises Must Converge, exploring philosophical questions regarding the construction of images, the artificial re-enactment of events, and the unreliability of appearance. McCarthy's novel is therefore a perfect fit for him.
The film begins with a young man, Tom (Tom Sturridge), desperately trying to get a taxi in London, ditching a mysterious suitcase in the process, and then wandering into a crowded atrium where a bizarre incident takes place – thanks to a genuinely startling piece of CGI trickery – which leaves him in hospital at death's door. Tom recovers to be told by compensation lawyer Daubenay (Nicholas Farrell, magisterially as a smooth legal cynic) that he has been awarded spectacular damages, on the condition that he keeps his mouth shut about the incident – in other words, forget all about it.
But Tom, now living in a stupefied hermit-like state, has forgotten too much about his life, and is obsessed with remembering – in particular, with pinning down the meanings of the few fragmentary memories he has. They involve a woman named Catherine (Cush Jumbo), with whom Tom might have had an affair – but Tom is even more fixated on such elusive minutiae as repeated images of an elderly woman and a young boy.
Attempting to rebuild his semi-erased mindscape, Tom uses his new wealth to stage a reconstruction. It involves buying a building, employing people to play its residents, and filling it with the stimulae that haunt him – for example, getting a pianist to play Chopin all day long, filling the air with the smell of frying liver and having cats permanently in place on a nearby roof. Some memories remain blurred, resulting in the bizarre sight of certain people wearing stocking faces to obscure their unremembered faces. With super-efficient fixer Naz (Arsher Ali) as producer, Tom becomes a highly exacting quasi-auteur, directing his private 'movie' with Kubrickian perfectionism, demanding his players loop their actions over and over, or even freeze in tableaux vivants for long stretches.
The novel's parallel between memory and artistry becomes even more pointed as Fast foregrounds the analogy between imagination and film-making (that Fast is also himself 're-enacting' McCarthy's narrative adds an extra level of complexity). Eventually, however, reality and reconstruction clash converge dramatically as Tom re-enacts a bank heist with the expert aid of a reformed villain (a nicely brash Danny Webb) who explains, "Bank robbery is like a play – there's a script, there's a stage and there are actors."
Finely tuning the balance between reality and reconstruction – both filtered through Tom's fractured consciousness – Fast brings the drama to a point where Tom's stagings start to invade the outside world, somewhat in the manner of Charlie Kaufman's similarly self-reflexive Synecdoche New York. A boldly enigmatic ending will leave viewers scratching their heads – in the best, most tantalising way – and may persuade some to venture a second viewing.
The elegant, meticulous execution – Fast is as much a perfectionist as his hero – is not entirely matched by the performances. Sturridge's slurred, stoned blankness is not always as compelling as it might be, while the awkwardly-defined characters played by Jumbo and Ed Speleers seem to have wandered in from a more mundane, generic thriller. Conversely, support players Webb, Farrell and Ali excel, the latter bringing a sleek, sardonic edge which perfectly fits the film's tone. Lukas Strebel's photography counterpoints the harshness of shabby street London with the steel-and-glass impersonality of other locales, while editor Andrew Bird balances narrative coherence with a constant undercurrent of temporal, spatial and perceptual fragmentation à la Nicolas Roeg. Electronic score by Schneider TM ramps up the unease in a subtle, sometimes near-subliminal fashion.
Production companies: Tigerlily Films, Amusement Park, BFI, Phi Films, Soda Film + Art
International sales: Match Factory: info@matchfactory.de
Producers: Natasha Dack Ojumu, Malte Grunet
Co-producer: Eve Gabereau
Executive producers: Phoebe Greenberg, Penny Mancuso, Etan Ilfeld, Markus Hannebauer, Jane Wright, Jane Hawley, Lizzie Francke
Screenplay: Omer Fast, based on the novel by Tom McCarthy
Cinematography: Lukas Strebel
Production designer: Adrian Smith
Editor: Andrew Bird
Music: Schneider TM
Main cast: Tom Sturridge, Cush Jumbo, Ed Speleers, Danny Webb, Nicholas Farrell, Arsher Ali