A vivid, emotionally-charged insider view of conflict and displacement from Syria's Diana El Jeiroudi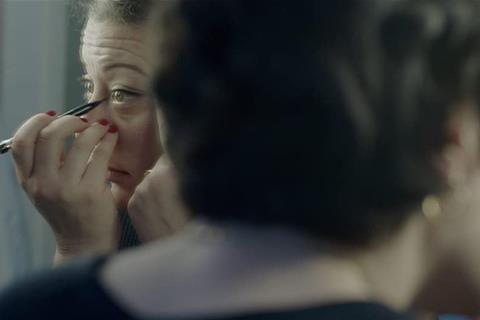 Dir. Diana El Jeiroudi. Germany/France/Syria/Qatar. 2021. 183 mins.

Spanning 12 years and jumping free-associatively between episodes and abrupt fragments, Republic Of Silence depicts the Syrian conflict from the point of view of activists in exile, and especially from the vantage point of director Diana El Jeiroudi. Rather than the film's central focus, she and her partner/collaborator Orwa Nyrabia are the film's point of entry into the turmoil of Syria's civil war, although viewers not familiar with recent events won't be able to rely on the film as an easy catch-up. Very much an inside story, Republic of Silence assumes a certain basic knowledge, and – together with its sprawling length - its refusal to provide a linear naartive or convenient signposts will limit its overall exposure. However, its uncompromising artistic voice and clarity of intent will make it essential viewing for festivals and platforms with current affairs, human rights and Middle East interests.
While 'Republic Of Silence' has a raw scrapbook feel, it is artfully put together
The primary viewpoint is El Jeiroudi's own. Her intimate thoughts are conveyed in white-on-black intertitles, but she only intermittently appears in the film, focusing rather on those around her - including fellow camera operator Guevara Namer - and on excerpts from reporting sorties. She and fellow film-maker Nyrabia are known for running the now-suspended Syrian documentary festival DOX BOX, and as co-producers of Silvered Water: Syria Self-Portrait, the 2014 film that assembled phone-filmed testimonies by Syrian 'citizen journalists' about conditions in the country (this film also incorporates footage shot on the spot by contributors who by necessity remain anonymous).
Republic Of Silence is a sprawling, unconventionally shaped example of a contemporary genre - less a documentary in the traditional sense, more what you might call a 'crisis diary', conveying a personal sense of what individuals and communities experience in states of conflict, other recent examples being the collective films to emerge from the Hong Kong protests and, of course, 2019's more narratively accessible For Sama.
Punctuated throughout by scenes of El Jeiroudi and Nyrabia as exiles at home in Berlin, the film also features written passages of the director's reminiscence, beginning with her father giving her a camera when she was seven. TV footage of Bashar al-Assad becoming Syrian president in 2000 establishes the film's time frame, and the stakes of its political content. Divided into four chapters, the film begins by focusing on the couple's friend Rami Abou Jamra, a geneticist seen in Syria on a research trip. In 2011, the film-makers are among those protesting the Syrian government's siege of the city of Daraa, and a visit to Syria reveals the horrors such sieges produce – like that in Homs, Nyrabia's hometown.
The film seems briefly to focus narratively when Nyrabia goes missing in Syria, and El Jeiroudi waits for him to show up – a sequence abruptly followed by images of Robert de Niro, Mohsen Makhmalbaf and other cinema luminaries demanding his return. But El Jeroudi doesn't tie up this thread in any conventional sense, and questions about this episode remain unanswered (detained in August 2012, Nyrabia was released the following month after protests).
This is a very much a film made within the documentarists' world – Orwa is seen at various festivals, drawing attention to Syria's plight, while some sequences have a self-reflexive slant, with subjects reminded that they are being filmed.
While Republic Of Silence has a raw scrapbook feel, it is artfully put together, not only in the elegance and polish of much of the footage (mostly shot by El Jeiroudi and Nyrabia) but also in the use of sound – from montages such as a late sequence using rhythmic industrial and street noises to unnerving percussive effect, to an intimate sequence in which El Jeiroudi records her partner grinding his teeth as he sleeps.
Skirting obvious concessions to the viewer, the film nevertheless offers a vivid, sometimes emotionally charged insider view, with anxiety and stress inseparable from the sense of compassion felt for compatriots at home and in exile – the film's dedicatees being the film-makers' friends and "all prisoners of silence."
Production companies: No Nation Films, Les Films d'Ici, Proaction Film
International sales: No Nation Films, info@no-nation.de
Producers: Orwa Nyrabia, Camille Laemlé, Diana El Jeiroudi
Screenplay: Diana El Jeiroudi
Cinematography: Sebastian Bäumler, Diana El Jeiroudi, Orwa Nyrabia, Guevara Namer
Editor: Katja Dringenberg, Diana El Jeiroudi
Main cast: Rami Abou Jamra, Orwa Nyrabia, Guevara Namer, Sandra Abou Jamra