Accomplished first feature from Peru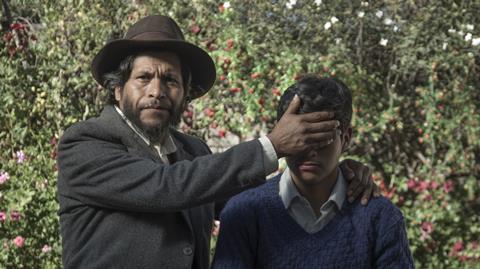 Dir/scr. Álvaro Delgado-Aparicio L. Peru/Germany/Norway. 2017. 101 mins.
As lovingly assembled as its titular hand-crafted altars, and as strikingly detailed as its stunning Peruvian Andes backdrop, Retablo understands a crucial coming-of-age truth: that young hearts and minds can only learn, grow and mature in response to the world around them.
A sensitive, slow-building but always immersive feature
In this emotionally astute debut from writer/director Álvaro Delgado-Aparicio L., 14-year-old Segundo Paucar (Junior Béjar Roca) moves from eager artisan-in-training to a boy searching for meaning after stumbling across a family secret. Having spent his life idolising his father Noé (Amiel Cayo) and preparing to follow in his footsteps in their patriarchal mountainside village, his entire sense of self quickly crumbles.
Sharing scripting duties with Héctor Gálvez (director of Paraiso, which Cayo also featured in), Delgado-Aparicio approaches his task with the same keen eye as his craftsman characters, who fashion likenesses of religious scenes and local events of importance. The art of making retablos relies as much upon observation as skill and dexterity, and Retablo's rendering of Segundo's struggles, the intimacies of his relationship with his father, and the unforgiving dynamics of his insular community resounds with intricacy and nuance.
As a result, the sensitive, slow-building but always immersive feature should continue to play well to festival crowds following its Festival de Cine de Lima premiere last August (where it won best Peruvian film) and subsequent Berlinale Generation berth (where it received a special mention from the 14plus youth jury). Developed through the Sundance Feature Film Program Lab, it boasts particular appeal to youth-focused programmers and the queer circuit. The film's broader theatrical prospects are less assured, even with The Milk Of Sorrow's Magaly Solier among its cast; however, wherever Retablo reaches audiences, it's certain to win an engaged and appreciative reception.
The feature opens with Segundo describing the scene in front of him to Noé. They're watching a large family pose together, which they'll later turn into an eye-catching retablo, and the closeness between them — not only their affection, but also their shared affinity for their trade — is immediately apparent. Further early sequences of the pair working, travelling and unveiling their altarpieces to happy locals cements this bond, making it all the more heartbreaking when the boy witnesses his father with another man, and doesn't know how to react.
Choosing to stay silent only works for so long; his mother Anatolia (Solier) notices the teenager's increasing sullen temperament, the growing distance between father and son, and Segundo's escalating desire to turn his back on the family business. Ultimately, the rest of the township forces Segundo to confront the complicated situation when their violent intolerance erupts — perhaps a little cartoonishly so at times.
In a memorable and moving performance from first-timer and Ayacucho native Roca, Segundo's tussle largely plays out through his face and tense posture — a portrayal that's just as revealing when he's literally flogging himself over his conflicted feelings, consoling his mother or later tending to the beaten Noé. Like the judiciously used melodic score by Harry Escott (Dark River), Roca hits the right beats with delicate composure, in what proves a measured, authentic and compelling turn.
The second standout of the piece is Mario Bassino's resplendent cinematography, which grounds the audience in Segundo's plight while never letting his vast surroundings disappear from view. Indeed, particularly effective is the film's frequent use of frames within the frame, placing its characters within doorways, windows and boxes that all-too-tellingly mimic the retablos themselves.
Production company: Siri Producciones
International sales: Heretic Outreach, outreach@heretic.gr
Producer: Enid "Pinky" Campos
Executive producers: Álvaro Delgado-Aparicio L., Enid "Pinky" Campos, Iris Roca Rey P., Lasse Scharpen, Menno Döring
Screenwriters: Álvaro Delgado-Aparicio L., Héctor Gálvez
Cinematographer: Mario Bassino
Editor: Eric Williams
Production design: Eduardo Camino
Music: Harry Escott
Main cast: Junior Béjar Roca, Amiel Cayo, Magaly Solier, Hermelinda Luján, Mauro Chuchón, Claudia Solís, Coco Chiarella