'Men & Chicken' director Anders Thomas Jensen delivers absurdist comedy with a very tough edge for Rotterdam's opening night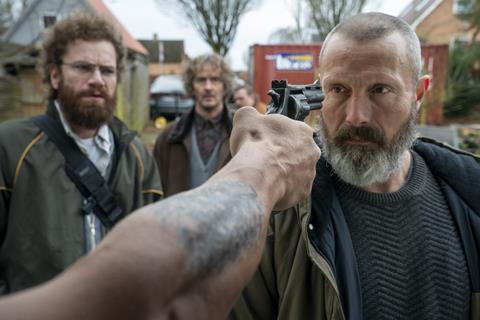 Dir/scr. Anders Thomas Jensen. Denmark. 2020. 115 mins.
Anders Thomas Jensen, the prolific Danish writer and most recently the director of the absurdist comedy Men & Chicken, rattles back into homes – and hopefully cinemas – with another defiantly dark and unclassifiable film involving mis-matched males, again with Mads Mikkelsen leading the fray. Not that Mikkelsen is recognisable here, though: the actor seems to have channelled Jean Reno from Leon to play a hair-trigger-tempered army veteran with unparalleled shooting skills and a pathological aversion to therapy.
Jensen revels in pushing the boundaries of what's in good taste – probably very little here, were it to be fully dissected
That's getting ahead of the plot, however, which tackles larger themes such as fate and coincidence and the meaning of life within the framework of a fatal explosion on a suburban train and its fallout. Riders Of Justice is salty, violent, transgressive, button-pushing, non-PC and laugh-out-loud funny at times – and when you're not gasping or laughing, it's only to wonder at the mind which pulled all of this together. Reuniting with his other Men & Chicken stars Nicolas Bro and Nikolaj Lie Klaas, Jensen moves to his own beat which can switch from point-blank murder into cuddly Christmas jumpers at – quite literally – breakneck speed.
A misty, seasonal prologue establishes a key role for a stolen blue bicycle in all that transpires. Now Mathilde (Andrea Heicke Gadeberg) can't get to school and, worse, her mother's car won't start. They take the train. So does Otto (Nikolaj Lie Klaas), a statistics and probability obsessive, who has just been laid off with his mangy-looking partner Lennart (Lars Byrgmann). Fate intervenes. The train explodes; Mathilde's mother dies and her father, the forbidding Markus (Mikkelsen), comes back from active duty to "look after her", which mostly involves drinking beer silently, sitting in his giant barn, and giving brutal pep talks about how the afterlife is a fiction. He even punches out her friend, the amusingly new age, blue-haired Sirius (Albert Rudbeck Lindhardt).
Otto, meanwhile, is convinced that the explosion was no accident, and enrols his hacker friends Lennart and Emmenthaler (Nicolas Bro) into proving a conspiracy by the brutal Danish biker gang Riders of Justice. That these people are misfits doesn't come close enough to describing the levels of dysfunction, especially when they all move in with Markus, joined by a trafficked Ukrainian prostitute who they pass off as a male au pair to Mathilde. After his 4,000 hours of therapy, Lennart claims he is qualified to treat Mathilde, who is suffering from mild PTSD. And when Markus decides he's going to avenge his wife, they all happily join in the purchase and assembly of machine guns, even though they'd previously only discussed draining the bank accounts of the Riders of Justice and "signing them up for lots of memberships".
Jensen revels in pushing the boundaries of what's in good taste – probably very little here, were it to be fully dissected. Yet there's a comic force at play, in particular to the raging, profane banter between Lennart and Emmenthaler, that sweeps all aside before it. That, and the overweening absurdity which these "overly intelligent charlatans" play with a straight face, help Jensen balance on a difficult tightrope between farce and tragedy for a longer running time than was perhaps strictly advisable. Riders Of Justice can stumble into repetitiveness, and the filmmaker's wildly ambitious changes of tone gears do grind – it's never clear here what to take seriously, and that can be tricky when it comes to the sky-high levels of violence.
But, in terms of deranged, unpredictable escapism, Riders Of Justice delivers. It's a strange adventure in the company of people you'd avoid in the flesh but enjoy spending time with here. Mikkelsen reins it in to give the film to his extrovert co-stars, in particular Nicolas Bro and Lars Byrgmann who are clear highlights. Newcomer Andrea Heicke Gadeberg plays Mathilde at exactly the right pitch, vulnerable, determined, and a straight young lady to Jensen's band of crazies.
Production company: Zentropa Entertainments3
International sales: TrustNordisk, info@trustnordisk.com
Producers: Sidsel Hybschmann, Sisse Graum Jorgensen
Screenplay: Anders Thomas Jensen, idea by Nicolaj Arcel
Cinematography: Kasper Tuxen
Production design: Nicolaj Danielsen
Editing: Anders Albjerg Kristiansen, Nicolas Monjberg
Music: Jeppe Kaas
Main cast: Mads Mikkelsen, Andrea Heicke Gadeberg, Nikolaj Lie Klaas, Nicolas Bro, Lars Byrgmann, Roland Moller, Albert Rudbeck Lindhardt, Gustav Lindh