Retro Japanese teen drama opens Berlin's Panorama sidebar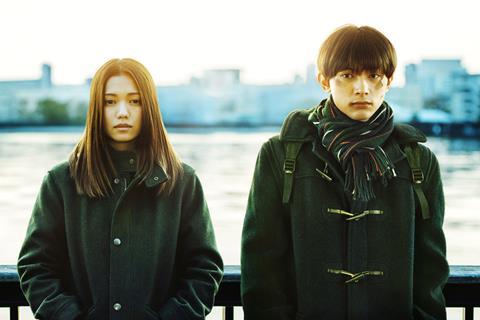 Dir. Isao Yukisada . Japan. 2018. 118 mins.
Teenage angst is one of the dependable universals of modern movie culture, and although Isao Yukisada's River's Edge gives the theme a distinctively Japanese spin, there's enough that's familiar about this intermittently gripping ensemble drama to leave you finally thinking: it's all just a phase they're going through. The source is an early 90s manga series by Kyoko Okazaki, and although there's no direct connection with the 1987 US film, the theme – the shared secret of a dead body – is close enough to suggest that Tim Hunter's movie must have influenced the comic.
Most of the characters have a strictly manga-level depth, and are all more or less archetypes
The cleverly constructed drama, compellingly acted by a charismatic young cast, is absorbing as it builds, but once things hit a hyperventilating climax, there are finally fewer surprises than promised. After opening the Berlin Panorama, this watchably retro piece from Yukisada - whose films include box-office topper Crying Out Love In The Center Of The World (2004) and last year's Narratage – is unlikely to make waves beyond Japan.
Set in an industrial waterside area of Tokyo in 1994, the story revolves around a group of variously troubled high-schoolers. Most balanced, and the film's more or less grounded emotional centre, is Haruna (Fumi Nikaidou), a strong-spirited young woman seen rescuing a young man from the locker where he's been bound and gagged naked. He's Ichiro (Ryo Yoshizawa), the moody, morbid, misunderstood class outsider, who is being victimised by Haruna's boyfriend Kannonzaki (Shuhei Uesugi), a rebellious bad boy with a violent streak. Behind Haruna's back, Kannonzaki is also meeting up for kinky sex with class vamp Rumi (Shiori Doi), whose private life brings home the film's highly conservative message that young sex is the royal road to big trouble.
Haruna becomes Ichiro's confidante; he confesses that he's secretly gay, and that he's only dating the bright and bushy-tailed ingenue Kanna (Aoi Morikawa) as a front. Hovering on the sidelines is Kozue (SUMIRE) a bored off-beat beauty and successful model, whose blasé attitude conceals her secret bulimia. As if they didn't all have enough woe to keep them busy – mercifully, there's no sense that they have any exams to work for – there are also grim clouds on the horizon, signalled by Ichiro's showing Haruna his secret 'treasure', a corpse that only he knows about, mouldering in a field of long grass by the river. The pair eventually bury it, with help, but the very same spot later becomes the scene for a violent incident that will bring the slow-burning drama to a drastic climax.
Most of the characters have a strictly manga-level depth, and are all more or less archetypes – Byronic sulker Ichiro, indefatigably perky Kanna – but are brought alive to various degrees by nuanced acting. SUMIRE and Nikaido emerge best, although other cast members push the emoting way into the red, to grating effect. The film's most individual card is Kenji Maki's atmospheric cinematography in Academy ratio, which makes the most of the sinister grassland and of the smoke-belching chimneys across the river.
The industrial landscape and the cadaver suggest a metaphorical dimension; director Yukisada has noted that the film is set during the run-up to a traumatic period in Japanese society, signalled by such events as the Tokyo subway sarin gas attack. But to most viewers, the main signifiers of historical specifics will be such grunge-era stylings as Haruna's baggy trousers. Brief inserts in which individual characters are quizzed by an off-screen interviewer add a touch of vérité freshness, but not quite enough to bring real distinction to an over-extended but otherwise involving drama.
Production company: Thefool
International sales: Kino Films, maki-shimizu@kinofilms.jp
Producers: Shinji Ogawa, Takahiro Yoshizawa, Shunsuke Koga, Tsuyoshi Sugiyama
Screenplay: Misaki Setoyama, based on the comic by Kyoko Okazaki
Cinematography: Kenji Maki
Production design: Naoki Soma
Editor: Tsuyoshi Imai
Music: Hiroko Sebu (sébuhiroko)
Main cast: Fumi Nikaidou, Ryo Yoshizawa, Aoi Morikawa, Shuhei Uesugi, SUMIRE, Shiori Doi