Matthew Warchus drives the Tim Minchin show from stage to screen for Working Title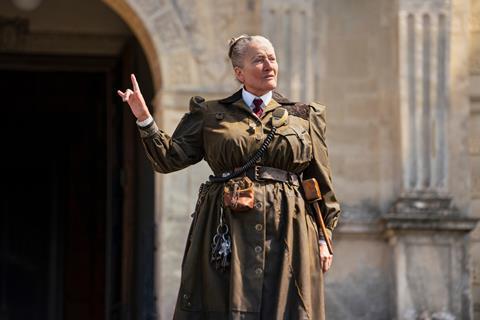 Dir: Matthew Warchus. UK. 2022. 117mins
'None of you are special' screams the sign in the hallway. It's a strange epithet for a motivational poster; even stranger for one hanging in a primary school. But this is Crunchem Hall, not so much a place of learning as a prison, ruled over by the headmistress/dictator Miss Trunchbull (Emma Thompson), perhaps one of Roald Dahl's most terrifying villains. And it's here that schoolgirl Matilda (Alisha Weir) — one of the author's most inspirational heroes — will finally find the courage to stand up for herself. While Dahl's story remains as resonant as when it was written in 1988, this visually colourful yet thematically dark adaptation of the West End's hugely successful Matilda: The Musical updates it anew.
This Matilda is not just a big movie about a little girl finding her voice, but about the need to speak up against injustice, wherever its found
Written by Dennis Kelly, directed by Matthew Warchus and with music and lyrics by Tim Minchin, Matilda: The Musical opened in London in 2010 and has won various awards including seven Oliviers. The built-in audience for this film is undeniably large as Warchus brings it to the big screen, and the casting of Thompson as Trunchbull — not to mention a healthy advertising campaign — could extend it further. After opening this year's London Film Festival, Roald Dahl's Matilda The Musical will be released in UK cinemas on November 25 by Sony Pictures UK, and then on Netflix globally in December, and should enjoy robust success on both formats.
As an adaptation of the musical, this version of …Matilda leans into the troubling aspects of a story that was handled rather more gently by Danny Devito's 1996 adaptation. That film also moved the action from the UK to America, something corrected here, while its Matilda was disliked by her parents, who treated her with sneering disdain rather than abject cruelty. Here, however, Mr and Mrs Wormwood (scene-stealing turns by Stephen Graham, with massive teeth, and Angela Riseborough, with massive hair) utterly despise and neglect Matilda (a superb Alisha Weir). They call her names, destroy her beloved books, and generally revel in her misery.
Matilda's brother Michael has been excised from this telling, so Mr Wormwood also blames her for not being the son he always wanted. In one scene, we see him physically hurl Matilda onto the floor of her pokey attic bedroom. That Matilda's home looks like it has been decorated by New Romantics on steroids — sumptuous production design by Christian Huband and David Hindle and costumes by Rob Howell taking full advantage of the 1980s setting — can't disguise the horrors that are happening within its leopard-print walls.
Nor does the film want to. The screenplay is not simply observing Matilda, it's intimately concerned with how she feels about her mistreatment. How she is compelled to lie to the world about her parents. How she finds small acts of rebellion — glueing her father's hat to his head, for example — that slowly grow into an open revolution. And when Matilda discovers that she can move things with her mind, it's overtly played as a culmination of her repressed fear and anger rather than a fun superpower resulting from her astonishing intelligence.
Matilda's defiance grows as she discovers that the bad behaviour of adults isn't just confined to home. This realisation comes in the imposing form of Crunchem Hall headmistress Miss Trunchbull, a former shotput champion played with relish by Thomson — with the help of some prosthetics and a wardrobe that deliberately dances on the line between intimidatingly domineering and Third Reich fancy dress. Thompson's terrific comedy timing is used to great effect, and there are some laugh-out-loud moments. But that does nothing to detract from the fact that her method of education is abuse, breaking the children down with insults and physical punishment so that they will toe the line without question.
Matilda's fight against authoritarianism is further explored in lavish song and dance numbers, with eye-popping choreography by Ellen Kane performed by an enthusiastic cast. Like Dahl, Tim Minchin has a gift for blending the horrible and the humorous so that neither overwhelms the other, and his songs confront difficult moments rather than attempt to gloss over them. Some, like Trunchbull's 'The Smell Of Rebellion' and the children's celebratory 'Revolting Kids' are energetic rabble-rousers; others, like Matilda's 'Quiet' and 'My House', performed by gentle teacher Miss Honey (a charming Lashana Lynch) are introspective and genuinely moving. (Miss Honey's own tragic backstory has been fleshed out, with her parents changed from doctors to circus performers; something of a dramatic license, but one that gives an opportunity for a lovely film-within-a-film).
This …Matilda is not just a big movie about a little girl finding her voice, but about the need to speak up against injustice, wherever it's found, and to find people who believe in you enough to lend their support. "If you always take it on the chin and wear it, nothing will change," Matilda notes; a compelling lesson in taking a stand which remains as relevant as ever.
Production company: Working Title Films
International distribution: Sony Pictures Releasing (UK), Netflix
Producers: Tim Bevan, Eric Fellner, John Finn, Luke Kelly
Screenplay: Dennis Kelly, based on the book by Roald Dahl
Cinematography: Tat Radcliffe
Production design: Christian Huband, David Hindle
Editing: Melanie Oliver
Composer: Tim Minchin
Main cast: Alisha Weir, Lashana Lynch, Emma Thompson, Andrew Riseborough, Stephen Graham