Taron Edgerton strides to the front of this Appian Way/Lionsgate franchise-in-the-making.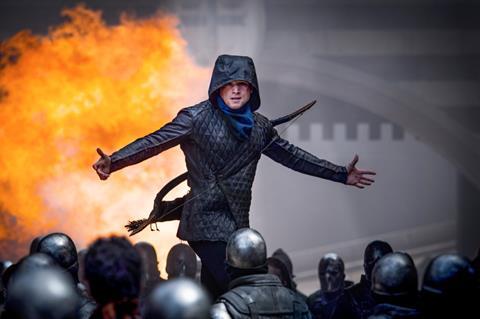 Dir. Otto Bathurst. US. 2018. 116 mins.
The latest version of Robin Hood takes its cues from modernised medieval epics to give audiences a high-energy dose of action, although nobody will feel particularly richer or poorer for it. Returning the folkloric figure to the big screen for the first time since 2010, this is a new, younger-skewing origin story rather than a rehash, with designs on setting up a new franchise. However, while the cast headlined by Taron Egerton, Jamie Foxx, Jamie Dornan and Ben Mendelsohn has genuine appeal and should attract audiences accordingly, the slick epic they're starring in always feels familiar.
One of the drawbacks of origin stories is that, if done in a routine manner, they often merely state the obvious
As a character, Robin Hood has swashbuckled with Errol Flynn, been parodied by both John Cleese and Cary Elwes, awarded a brooding interpretation by Kevin Costner and Russell Crowe, and even turned up as an animated fox — but it's the Game of Thrones-meets-Guy Ritchie vibe of this Leonardo DiCaprio-produced iteration that most firmly falls into been-there, done-that territory. Indeed, the memory of King Arthur lingers over Otto Bathurst's (TV's Black Mirror and Peaky Blinders) feature debut, which releases simultaneously on November 21 in the UK and US.
The film does have timeliness on its side; finding parallels with contemporary events and attitudes in Ben Chandler and David James Kelly's first-time screenplay. At a moment in cinematic history where superheroes now stave off the end of the world each and every month, this film is also savvy in its scope, depicting the ordinary masses rallying behind an everyman avenger fighting back against the power of wealth and religion. They're the 99 percent, Nottingham's favourite bow-slinger is their champion — as well as an army veteran returned from and impacted by an unjust and grueling conflict. How Egerton's Robin of Loxley segues from British Lord to the brazen thief his fans call "the Hood" is the film's primary focus, though it's a thoroughly straightforward tale. One of the drawbacks of origin stories is that, if done in a routine manner, they often merely state the obvious rather than give any extra flesh to a well-known figure, a trap that Robin Hood falls into.
After being sent off to the Crusades for four years, Robin falls afoul of his murderous commander (Paul Anderson) by saving an enemy, John (Foxx), from execution. Upon returning home he discovers that his property has been seized by the scowling Sheriff of Nottingham (Mendelsohn) and his great love, Marion (Eve Hewson), is in the arms of political aspirant and man-of-the-people Will Scarlett (Dornan). That leaves devoted Friar Tuck (Tim Minchin) as the disillusioned Robin's only ally, almost. Stowing away and making the trip to England, the battle-scarred John hatches a revenge plan against the thread of British corruption that weaves all the way to the church's highest reaches.
Egerton gives Sherwood Forest's hooded outlaw the swagger and charm he brought to the Kingsman franchise, and the actor is well-cast to suit the style of what will likely prove to be his next recurring series. He's joined by co-stars that similarly brandish their expected traits and little more. Hewson's Marion is as steely as the nurse she played in television series The Knick, and Minchin's Tuck is a suitably eccentric larrikin. And while fellow Australian export Mendelsohn is starting to corner the market in clear-cut, big-budget villainy thanks to Rogue One and Ready Player One, he once again sneers and schemes commandingly.
Less convincing is Robin Hood's rollicking approach, as lensed by George Steel (a fellow Black Mirror and Peaky Blinders alum) and edited by Chris Barwell with Oscar-winner Joe Hutshing (JFK). Grimly upbeat rather than merry, and relentless rather than frenetic, the film's gritty zest is splashed across the screen with momentum, but also to the point of overuse. It serves a late heist set piece well, yet wears thin in a sea of training, thieving and fighting montages elsewhere.
That said, the feature's overt insistence that this isn't the same old story — a statement that its introductory storybook narration underscores — inspires handsome technical contributions, courtesy of eye-catching production design from Jean-Vincent Puzos (The Lost City of Z) and modern-leaning costuming from Julian Day (Bohemian Rhapsody). Of course, simply looking the part is the antithesis of a hero famed for siding with the common folk over the well heeled, a notion that escapes this version's attention.
Production company: Appian Way
International sales: Lionsgate
Producers: Jennifer Davisson, Leonardo DiCaprio
Screenplay: Ben Chandler, David James Kelly
Cinematography: George Steel
Editing: Joe Hutshing, Chris Barwell
Music: Joseph Trapanese
Production design: Jean-Vincent Puzos
Main cast: Taron Egerton, Jamie Foxx, Ben Mendelsohn, Eva Hewson, Paul Anderson, Tim Minchin, F. Murray Abraham, Jamie Dornan