Documentarian Marina Zenovich gets under the skin of the legendary comedian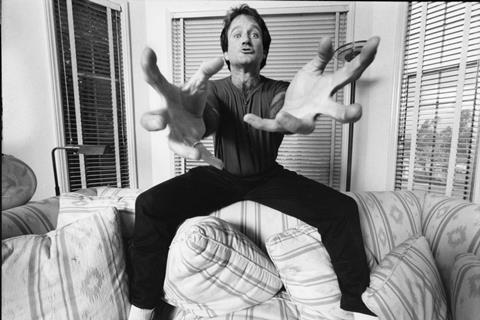 Dir. Marina Zenovich. US, 116 min. 2018
This competent tribute to the legendary actor and comedian begins, as might be expected, with one of Williams's legendary rapid-fire stream-of-consciousness monologues. When prompted by the Actor Studio's James Lipton about "the mental reflexes" inside his mind, Williams immediately stands up and delivers a tour-de-force of humor, swiftly jumping between characters, improvisation, straight-up jokes, and word-play like a true master of the form.
What the film does provide in spades, however, is some of the best comic antics of Williams' career.
Like the clip, the rest of Robin Williams: Come Insight My Mind, from veteran documentary filmmaker Marina Zenovich (Water & Power: A California Heist, Roman Polanski: Wanted and Desired, Richard Pryor: Omit the Logic), offers plenty of laughs and highlights from the star's comic career. But it also leaves the viewer wanting more than this traditional bio-doc can afford. Even those with only passing knowledge of Williams' challenges—with drugs, alcohol, and self-esteem—aren't likely to find any new revelations about the comic genius.
Still, Williams' stardom and the wonderful array of carefully edited hilarious excerpts won't disappoint fans. HBO should be pleased with having another celebrity doc in their lineup, as will other international broadcasters looking for a safe nonfiction bet which combines the standard twists and turns of a human life with gut-busting humor.
The film begins with Williams' early life, tracing his journey from a young boy in the Detroit area to San Francisco hippie-dom to a stint at Julliard in New York City and then during Los Angeles's comedy heyday in the 1980s. We get to see the hilarious genesis of his alien character Mork on TV's Happy Days, followed by his breakout show Mork & Mindy, and his swift rise to fame, fortune, and cocaine-fueled prominence. When his friend and fellow comedian John Belushi died of an overdose in 1982 at the Chateau Marmont Hotel just a day after partying with him, Williams was scared straight, effectively ending the first phase of his career.
When Williams's TV show ended, began to retreat into family life and reactivate his stand-up career. According to Come Inside My Mind, it was Williams' live comedy that gave him the most pleasure and satisfaction, giving him the feeling of love, acceptance, and assurance that he so desperately needed. As one manager effectively describes his entrance onto a stage, it was like he was "launched out of a rocket." As the film charts Williams' transition to the big screen, including clips from his first serious breakout film role Good Morning Vietnam to other subsequent significant performances (Dead Poet's Society, Awakenings, The Fisher King), the documentary continually returns to his stand-up routines, and the feelings of inadequacy that he tried to ward off through them.
The film includes many original interviews with Williams' famous confidantes (David Letterman, Billy Crystal, Steve Martin, Eric Idle), and by all account his enormous well of energy — "a light that didn't know how to turn itself off," says comedian Lewis Black — was renown, but so were his feelings of inner turmoil. But Come Inside My Mind never really gets to the source of Williams' sadness. One also wonders about his second wife Marsha Garces, and the two children he had with her, who are all absent from the film.
The comprehensive nature of the documentary also doesn't allow it to delve deeply into those key relationships that shaped him. There's some wonderful moments with Billy Crystal, who clearly had a very close connection to Williams, which could provide for an entire documentary all by itself.
What the film does provide in spades, however, is some of the best comic antics of Williams' career. Zenovich and her team unearth both largely unseen entertaining outtakes from TV episodes, movies and awards shows (watch for an extended humdinger at the 2003 Critics Choice Awards when he lost to Jack Nicholson and Daniel Day-Lewis) as well as well-known classic routines. His shtick on why he thinks God gets stoned ("look at the platypus") still brings down the house, as does an amazing improvisation with Whoopi Goldberg and Crystal at Comic Relief, in which he acts out Crystal's penis.
Ultimately, Come Inside My Mind provides a lively glimpse into the inner-workings of one of the world's funniest men, but one gets the sense there's still a whole lot more to glean.
Production Companies: Jigsaw, HBO Documentary Films
International sales: HBO
Producers: Alex Gibney, Shirel Kozak, Nancy Abraham
Executive Producers: Sheila Nevins, David Steinberg, Kristen Vaurio, Marina Zenovich
Cinematography: Nick Higgins, Jenna Rosher, Thorsten Thielow, Wolfgang Held
Editors: Greg Finton, Poppy Das
Music: Adam Dorn