Dir: Gareth Edwards. US. 2016. 134mins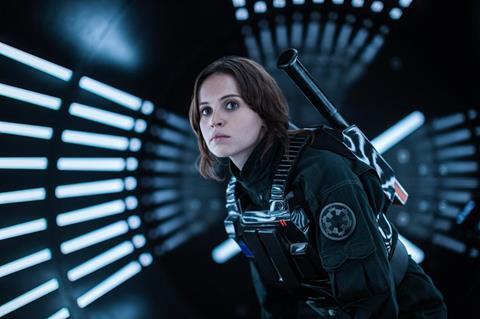 Star wars, indeed: the thrilling Rogue One brings a gritty combat-movie aesthetic to George Lucas's beloved space opera, but not at the expense of a thoughtful, emotional story about the foot soldiers who make sacrifices in the name of a movement. Perhaps the darkest, most action-packed Star Wars instalment, director Gareth Edwards' standalone adventure establishes its own rhythm, balancing fan demands with grand, poetic moments unlike anything this cinematic galaxy has previously achieved.
Rogue One may be the sole Star Wars movie in which the full, profound impact of death and self-sacrifice is truly felt.
Opening across most of the planet by December 16, Rogue One will benefit from its Star Wars association, although outside of a brief appearance from Darth Vader, it doesn't feature any of the series' central figures. A cast that includes Felicity Jones, Ben Mendelsohn and Mads Mikkelsen will help as well, but the $2.1 billion grossed by last year's The Force Awakens is probably out of reach for what is essentially a spinoff film.
Rogue One reveals the backstory behind a crucial plot point from the original Star Wars: we meet the rebels who uncovered the plans that revealed the fearsome Death Star's fatal design flaw. Jones plays Jyn, who has had to learn how to live on her wits after her scientist father Galen (Mads Mikkelsen) was taken prisoner by the evil Empire when she was a girl. Rescued from an Imperial labour camp by the Rebel Alliance, she is asked to team up with a ragtag group (including Diego Luna as the veteran resistance fighter Cassian and Alan Tudyk as the voice of the deadpan robot K-2SO) to go deep within Imperial territory to find Galen, who they believe has information about the Death Star's weak spot.
Reminiscent of ensemble war movies such as The Dirty Dozen, Rogue One gathers together a colourful collection of mismatched characters — including a blind warrior (Donnie Yen) and a rugged pilot (Riz Ahmed). Working from a screenplay credited to Chris Weitz and Tony Gilroy, British director Edwards (Monsters, the 2014 Godzilla remake) gives us just enough information about these rebels so that we're invested in their dangerous mission and recognise the unlikelihood that they will all survive.
If the constant complaint with modern franchise films is that they don't have endings — calculatedly leaving room for multiple sequels while assuring us that the main characters will survive — Rogue One's great gift is the uncertainty it creates. Because none of these people are "important" to the Star Wars franchise, their fates are undetermined, and Edwards lets that suspense permeate this tense, stripped-down drama, occasionally surprising us with who gets killed in the midst of combat.
That unpredictability doesn't just raise the stakes — Rogue One may be the sole Star Wars movie in which the full, profound impact of death and self-sacrifice is truly felt. There's also a whiff of commentary in this approach, the filmmakers suggesting that, befor Luke Skywalker and Han Solo could perform their heroic deeds, it required Rogue One's unknown rebels to risk their lives, only to be forgotten in the annals of Star Wars legend.
That impressive thematic weight sits comfortably side-by-side with Rogue One's occasional wry humour, although this movie is far less jokey than the typical Star Wars film. Sometimes the forced inclusion of a reference to the original trilogy — a sop to long-time fans — threatens to stall the momentum. But Edwards and Zero Dark Thirty cinematographer Greig Fraser have believably dressed their film in a darker, grimier texture, not just capturing the urgency of several impeccable battle sequences but also crafting a series of gorgeous shots that give Rogue One a majestic scope which we rarely see in this franchise.
Jones easily puts on the mantle of inspirational hero as the resourceful Jyn. Luna doesn't have the same movie-star aura, but he, Ahmed and Yen superbly essay these B-movie types, adding flesh and blood to the pulpiness. Unfortunately, Mendelsohn doesn't shine as brightly as the Death Star's malicious architect, overshadowed by the rare appearance of Darth Vader or, more remarkably, a digitally-created Peter Cushing (who died in 1994) as Grand Moff Tarkin from the original Star Wars. The effects work across the board is stunning, but Edwards tries to limit the wow factor so as to allow the CG to integrate more organically into his taut tale.
Production company: Lucasfilm Ltd.
Worldwide distribution: Disney, http://movies.disney.com/all-movies
Producers: Kathleen Kennedy, Allison Shearmur, Simon Emanuel
Executive producers: John Knoll, Jason McGatlin
Screenplay: Chris Weitz and Tony Gilroy, story by John Knoll and Gary Whitta, based on characters created by George Lucas
Cinematography: Greig Fraser
Production design: Doug Chiang and Neil Lamont
Editors: John Gilroy, Jabez Olssen, Colin Goudie
Music: Michael Giacchino
Website: www.starwars.com/rogue-one/
Main Cast: Felicity Jones, Diego Luna, Ben Mendelsohn, Riz Ahmed, Donnie Yen, Mads Mikkelsen, Alan Tudyk, Jiang Wen, Forest Whitaker