A teenage boy struggles to survive on the mean streets of Ho Chi Minh City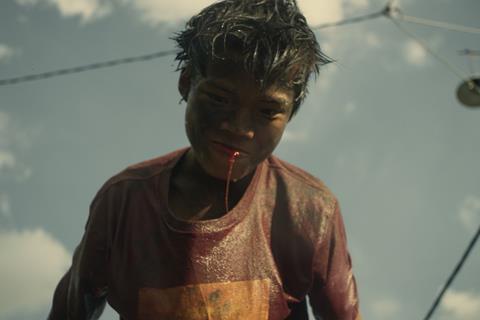 Dir/scr: Tran Thanh Huy. Vietnam. 2019. 79mins
There is a distinct flavour of Slumdog Millionaire to Rom as a teenage boy struggles to survive on the streets and waterways of Ho Chi Minh City (Saigon). Writer/director Tran Thanh Huy makes a lively, promising feature debut after a string of shorts that includes Golden Kite winner 16.30 (2012) which provides some of the inspiration for Rom. Festival invites should follow a world premiere at Busan.
Tran Thanh Huy keeps Rom lean and focused, with only an abrupt ending slightly disappointing
Rom (an engaging Tran Anh Khoa) survives by his wits. He scrapes a living placing lottery bets for his neighbours and selling news of the state lottery results. Everyone in the city slums lives for the possibility that their number might come up. Everyone is looking for some system or someone who can provide "lucky numbers".
Rom supplies numbers and is philosophical about the precarious nature of his profession: "When I win I get congratulated but when I lose it is normal that I get beaten up." And, like its lead character, the film never wallows in self-pity. Tran Thanh Huy tells Rom's story with a huge amount of energy and drive; Rom is frequently running from angry punters or scuffling with rivals. The sharp editing and frantic action scenes combine to create a breathlessly involving tale that hares along narrow alleys, spills across busy streets, takes to the rooftops, tumbles across vertiginous balconies and leaps through open windows with the same panache as a Jason Bourne chase.
Rom is awaiting the return of his long absent parents. The walls of his makeshift dwelling are filled with chalk drawings to keep his mother's image in his mind. Like Slumdog, there is a Dickensian sweep to a life that is measured in the characters Rom meets, the situations he survives and the way he is constantly at the mercy of fate. His optimism and trusting nature endure despite a growing sense that nobody in his world is to be trusted.
His rival and fairweather friend Phuc (Nguyen Phan Anh Tu) will betray him in an instant. The film's rough and tumble finds expression in their frequent, sometimes violent fights, and exhausting chases in which Nguyen Phan Anh Tu displays some of the grace and ahtleticism of a young Jackie Chan as he leaps, balances, tumbles and careers through the city. Rom is also befriended by lottery dealer Mrs Ghi (Do Nhu Cat Phuong), who comes to regard him as a surrogate son but even she will let self preservation trumph over less selfless instincts.
Tran Thanh Huy gives Rom's story social context. This is a dog eat dog world of cramped slum houses, rivers congested with pollution and people betting everything on the impossible dream of a lottery win. Gambling seems to be a universal addiction in a poverty-riven society where indviduals are powerless in the face of callous money lenders and corrupt landlords.
Tran Thanh Huy keeps Rom lean and focused, with only an abrupt ending slightly disappointing. There is no feel good fairytale here. He depicts a society where debt-ridden individuals take desperate measures and landlords clear inconvenient slums by any means necessary. Surviving another day may be the only reward that Rom can earn.
Production companies: HK Films, Red Ruby, East Films
International sales: East Films bao.nguyen@east-films.com
Producers: Tran Anh Hung, Nguyen Trinh Hoan, Bao Nguyen, Nguyen Hoang Diep, Nhat Tien
Production design: Gary Ng
Editing: Lee Chatametikool, Tran Dung Thanh Huy
Cinematography: Nguyen Vinh Phuc
Music: Ton That An
Main cast: Tran Anh Khoa, Nguyen Phan Anh Tu, Do Nhu Cat Phuong, Mai Tran