This prize-winner at Busan is also Afghanistan's entry for the Academy Awards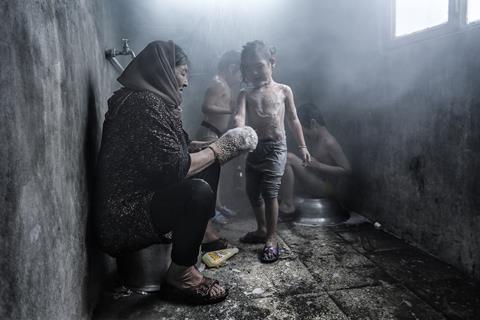 Dir/scr. Jamshid Mahmoudi. Afghanistan/Iran. 2018. 89 mins.
The life-and-death cost of cultural displacement comes into focus in Rona, Azim's Mother, the third Afghani Oscar submission in as many films from brothers Jamshid and Navid Mahmoudi. A solemn, heartfelt and movingly acted drama written, directed and edited by Jamshid (A Few Cubic Meters of Love) and produced by Navid (Parting), the feature does double duty as both an account of a Tehran-based Afghan man's desperate efforts to save his ill mother and a statement on a dislodged populace losing touch with its homeland.
The director crafts memorable images that remain steeped in the everyday
This combination is handled with sensitivity and, after sharing the Kim Jiseok Award in Busan upon its world premiere (with Chinese drama The Rib), further festival play is certain to follow.
Night-shift maintenance worker Azim (Mohsen Tanabandeh) would do anything for his mother Rona (Fatemeh Hosseini, captivating in her first screen role). In his own words, she's his first, second, third and 100th priority, taking precedence over his wife Asemeh (Fatemeh Mirzaei), his desire to become a father and the state of repentance he has entered until a baby is forthcoming.
Taking to his role as the eldest son with the utmost dedication, he organises for Rona to be smuggled out of Iran to Germany with his younger brother Faroogh (Mojtaba Pirzadeh) and family. Then Faroogh reneges at the last minute, tasks an uncle (Ollah Ahangaran) with delivering the news and leaves the elderly woman behind.
After saying a tender farewell to Faroogh, who Azim regards as shameful for his sudden refusal, Rona falls off of Azim's motorcycle on the way home. When a hospital doctor discovers that the matriarch's previously undiagnosed diabetes requires a kidney transplant, it's to Jamshid Mahmoudi's credit that what follows favours nuance over histrionics. With every decision conspiring against Rona — not only missing her opportunity to leave Tehran, but being an immigrant in a country that doesn't allow organ donation to foreigners — a more heightened approach would not have been out of place.
It's not that Mahmoudi doesn't make the grim weight of the situation felt, but rather that he recognises the inherent stress and power of such a difficult struggle without the need to shout about it. It's a tactic that mirrors the feature's protagonist; a man who is effusive when speaking in praise of the woman he's trying to save, Azim remains mostly silent as he confronts the worst challenge he's had to face, as well as the reality that a lifetime spent as refugees in another land has led him to this moment.
More than a decade after collecting his second acting credit on Jafar Panahi's Offside, Tanabandeh wears Azim's plight like the devastating blow that it is. Crucially, his empathetic naturalism is matched by the filmmaking around him, with Mahmoudi imbuing every lingering frame with the sorrow of the situation while never sacrificing reality. The director crafts memorable images that remain steeped in the everyday. A subtle score by Sahand Mehdizadeh (Atomic Heart) operates at a similar tenor, never overstating its sentiments.
Born in Afghanistan and forced to seek refuge in Pakistan and then Iran as children, the Mahmoudi brothers have focused their three features — all communal affairs, switching writing and producing credits — on the lives of Afghanis like themselves. It's a niche they're carving with poignancy and purpose. With Rona, Azim's Mother, they do so with deep-seated passion for laying bare the refugee life and its many perils, to quietly potent effect.
Production company/international sales: Noori Pictures, Katysh.01@gmail.com
Producers: Navid Mahmoudi
Screenplay: Jamshid Mahmoudi
Production design: Mehdi Moosavi
Editing: Jamshid Mahmoudi
Cinematography: Koohyar Kalari
Music: Sahand Mehdizadeh
Main cast: Mohsen Tanabandeh, Mojtaba Pirzadeh, Fatemeh Hosseini, Fereshteh Hosseini, Fatemeh Mirzaei, Ollah Ahangaran.