The future of cinema is addressed with unfiltered interviews inspired by Wim Wenders' 'Room 666'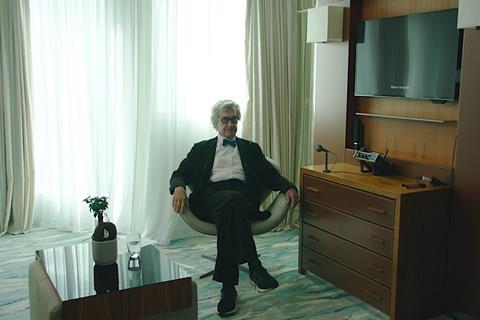 Dir: Lubna Playoust. France. 2023. 85 mins.
The death of cinema is one of filmmaking's ever-green topics of debate, and the cornerstone of generations of think pieces. Actor-turned-director Lubna Playoust tackles the subject anew in her debut feature, which uses Wim Wenders' 1982 documentary Room 666 as a jumping off point. Wenders' film, inspired by a tree he used to see every year on the road to Cannes Film Festival, had a simple set-up. During the festival, he placed 16 directors individually in a hotel room for up to 12 minutes, with the instruction to offer their thoughts on whether cinema "was a language about to be lost and an art about to die".
Not everyone predicts a grim future
Playoust's film operates under the same rules, although the savvy French director almost doubles the number of directors involved, to 30, which increases Wenders' original 45 minutes to a more film festival and distribution-friendly running time of 85 minutes. The enduring nature of the central question, coupled with a multinational roster including everyone from Wim Wenders and David Cronenberg to Lynne Ramsay, Claire Denis and Asghar Farhadi, should make it of potential interest to just about any cineaste after its world premiere in the Cannes Classics selection.
Wenders himself gets the honour of setting out the rules of engagement along with his own, rather bleak, thoughts on what the future of film holds. Playoust also returns to the German director's original tree, showing that the mighty has now fallen; chopped down because of disease. While Playoust herself notes she wants to avoid "falling into obvious metaphors", the sight of the cedar's trunk lying by the roadside lingers like fine sawdust in the air of the film.
As with Wenders' original, the directors face a fixed camera, although not all of them choose to sit in the chair provided – Leto director Kirill Serebrennikov even throws some shapes. As in 1982, there's a TV near the filmmakers, although this one – when switched on – shows an array of streaming options, whereas the one in Wenders' film played various television programmes. There's an engaging purity to this set-up that offers an unfussy intimacy between the director and the camera as they give their unfiltered opinions. It also allows for a surprising amount of freedom in terms of approach.
Perhaps inevitably, one of the considerations that arises repeatedly is our mode of consumption. When Wenders made his film, many of his contributors were preoccupied by the advent of home video – now it's streaming which repeatedly comes up. "The digital revolution is lethal," Wenders notes, while Pacifiction director Albert Serra goes further, branding streaming platforms "completely moronic". Others, like Happening helmer Audrey Diwan, voice concerns around changing approaches to rhythm or homogenisation. Talking about her children's generation, Diwan says, "It's as if my films don't match their pace". James Gray (Ad Astra) claims the audience "is being trained to want comic book and product and franchises" – a sentiment echoed by last year's Palm d'Or winner Ruben Ostlund, who laments a "narrowing of expression".
While Wenders' original film feels rather more playful, not least in its dramatic scoring which here is replaced by Pierre Rousseau's elegiac electronica, Playoust's response succeeds in other ways. One of the most engaging things about her approach is the range of voices she has gathered. While Cronenberg, at 80, is the oldest contributor, there are plenty of younger opinions, stretching down to British-Nigerian filmmaker Ayo Akingbade, who is now 29. Not everyone predicts a grim future. Akingbade insists, "Utlimately, we need to be optimistic" adding, "There's just so much to be explored", and the democratisation of filmmaking is also a recurrent positive note. Ramsay is among those offering a practical response and working to stop cinema dying, insisting, "There's still hope".
Despite the brief nature of each contribution, there are wide areas opened up for post-screening debate – not just in terms of cinema's language, but in practical terms, from the cost of attending the cinema, to the devaluing and protection of those who make it. Synonyms director Nadav Lapid observes, "The present is right because it won. The past no longer exists," adding, "We must evolve". Some things about the current language of cinema, it seems, may die, but there's plenty here to suggest that does not necessarily mean it's the end.
Production companies: MK Productions
International sales: Mk2, intlsales@mk2.com
Producers: Nathanael Karmitz, Elisha Karmitz, Rosalie Varda
Cinematography: Marine Atlan
Editing: Nicolas Longinotti
Music: Pierre Rousseau
Featuring: Wim Wenders, Audrey Diwan, Joachim Trier, David Cronenberg, Shannon Murphy, James Gray, Arnaud Desplechin, Lynne Ramsay, Asghar Farhadi, Nadav Lapid, Claire Denis, Davy Chou, Baz Luhrmann, Alice Winocour, Ayo Akingbade, Olivier Assayas, Paolo Sorrentino, Agnes Jaoui, Kirill Serebrennikov, Cristian Mungiu, Kleber Mendonça Filho, Albert Serra, Monia Chokri, Ninja Thyberg, Pietro Marcello, Rebecca Zlotowski, Ali Cherri, Ruben Ostlund, Clement Cogitore and Alice Rohrwacher