Dir: Lenny Abrahamson. Ireland/Canada. 2015. 118mins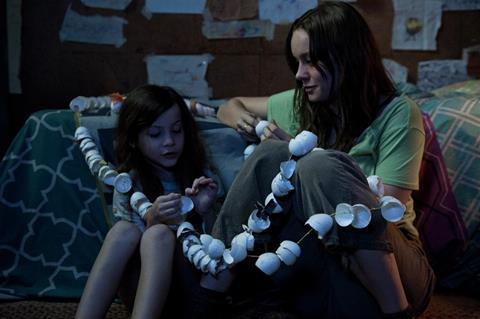 A survival tale in which the safe return home ends up being as harrowing as captivity, Room is a nuanced, minor-key portrait of trauma that very slowly stings. Based on Emma Donoghue's acclaimed 2010 novel about a young woman and her son held hostage, this intimate drama may not be particularly revelatory, its twists and insights delivered with gentle, melancholy inevitability. Nonetheless, director Lenny Abrahamson has made a deeply moving story about how adults try to explain the world to their children — even when they don't always understand it themselves. And Brie Larson gives a tremendous performance as a mother who must be strong for her boy, until she suddenly can't be anymore.
Sharply stirs understated emotions, his restraint accentuating the inherently combustible subject matter.
Room will open in the US on October 16, with distributor A24 no doubt hoping it has an Oscar contender on its hands. Regardless of its award-season showing, the film looks to be a potent art-house offering, with critics singing the praises of Larson's turn and fans of the book presumably on board as well.
Donoghue has written the screenplay based on her own book, which chronicles the strange odyssey of Jack (Jacob Tremblay), a five-year-old who lives happily in a small shed with his mother, whom he calls Ma (Larson). Told from the boy's naïve perspective, Room soon establishes that they are actually being held captive by a man known as Old Nick (Sean Bridgers), who kidnapped Ma seven years ago and has been sexually assaulting her ever since. (Jack, of course, doesn't realize Old Nick is his father.)
Running to two hours, Room shifts gears at the midway point as Ma hatches a risky plan to sneak Jack out of the shed and get help. The ploy works, and Jack and Ma are freed, the two of them returned to Ma's parents (Joan Allen, William H. Macy) while Jack begins to discover an outside world he's never known. (In fact, he grew up believing the whole world was the shed, which he called "room.")
Moving from the surreal, sneakily poignant Frank, Abrahamson has made what in some ways is a more conventional, tear-jerking drama, an examination of serious themes which is offset by a swelling, tasteful score from Stephen Rennicks. But within that refined framework, the filmmaker sharply stirs understated emotions, his restraint accentuating the inherently combustible subject matter.
His ally in this approach is Larson, who does a remarkable job suggesting little of her character's inner life. In the film's first half, she must normalise their horrendous situation, creating a whole universe for Jack within their small prison. But Larson subtly reveals the cracks in Ma's psyche, the realisation that this living hell can't continue. When Room moves out into the larger world, Larson's job is perhaps even more challenging, as Ma (whose real name is Joy) starts to unravel, her assumed happiness from escaping actually leaving her unable to cope with a life that has changed in the last seven years.
Throughout, Larson internalises her emotions, and it's a superb job of showing a character's helpless, confused implosion, a kind of slow-motion tragedy that Ma never could have anticipated.
The film's other central performance belongs to Tremblay, and the newcomer eschews cute-kid shtick to play Jack as an open, responsive boy who only knows what his mother has told him. Once out in the world, after a terrific escape sequence crafted by Abrahamson and editor Nathan Nugent, Jack must, too, adjust, but what's intriguing is that his culture shock is far less acute than his mother's. One of Room's darkest ironies is that Jack may have grown up being sheltered, but perhaps that's less jarring than having known something else first and then trying to return to it.
Production companies: Telefilm Canada, Film4, The Irish Film Board, The Ontario Media Development Corporation, Element Pictures, No Trace Camping, Duperele Films
International sales: FilmNation Entertainment, info@filmnation.com
US distributor: A24, www.a24films.com
Producers: Ed Guiney, David Gross
Screenplay: Emma Donoghue, based on her original novel
Cinematography: Danny Cohen
Editor: Nathan Nugent
Production design: Ethan Tobman
Music: Stephen Rennicks
Main cast: Brie Larson, Jacob Tremblay, Joan Allen, Sean Bridgers, Tom McCamus, William H. Macy