A glossily-executed noir from the Thai director of 'Last Life In The Universe'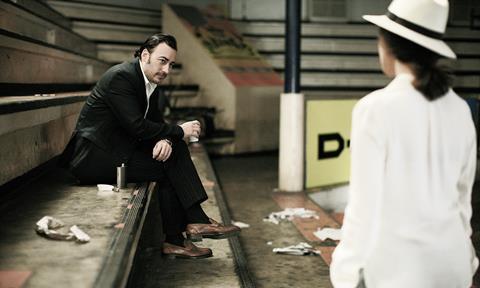 Dir: Pen-ek Ratanaruang. Thailand/Germany/Norway. 2017. 108 mins
Pen-ek Ratanaruang's glossy, decidedly lurid Samui Song may be an ingeniously executed neo-noir, crypto-noir or meta-noir, or a knowing combination of all three. But, as is often the risk with such self-reflexive exercises, it's not always easy to tell whether it is genre conventions or audience credibility that are being mocked, and Samui Song ultimately comes across as a slightly lofty venture in bad faith, refusing to pay off our investment in the drama.
Much of the film's thrust is built on the director nudgingly reminding us that we're watching a fiction
Eventually spiraling towards diminishing returns, it provides a few De Palma-esque surprises on the way, and no small amount of wit. But Samui Song is unlikely to restore Ratanaruang the international attention he gained from the emotionally direct Mon-rak Transistor and Last Life in the Universe.
The story begins in black and white, as a woman crashes her car at night trying to avoid a body in the road. Shifting into colour, the action moves to a hospital where the woman meets a rakish young man – Guy Spencer (David Asavanond), a devoted son who is having trouble raising money to tend to his elderly invalid mother.
A flashback reveals that the woman is Viyada, or Vi (Chermarn 'Ploy' Boonyasak), an actress languishing in a dysfunctional marriage to Jerome, a wealthy Frenchman (renowned music video director Stéphane Sednaoui). He is an acolyte of the Holy One (Vithaya 'Pu'Pansringarm), leader of an alternative Buddhist sect for which Vi has only contempt. Things come to a nasty head when, with Jerome's collusion, the Holy One rapes Vi; she then hires Guy to kill her husband. What looks set to become a classic Double Indemnity scenario comes undone when Guy muffs the killing, leading the Holy One to set a couple of goons on him.
After some grand guignol frenzy, things take a left turn into the seemingly unconnected romance between a single mother and a teenage girl in the balmy island setting of Koh Samui. All is not what it seems - although we may well guess what it really is from some metafictional clues scattered throughout, so that when Ratanaruang knocks down his house of cards with a final flourish, the effect is bathetic rather than surprising.
Much of the film's thrust is built on the director nudgingly reminding us that we're watching a fiction. Vi is a successful soap opera actress specialising in playing strident mean girls. She's ambitious and aspires to work with a well-known auteur. But he's so boring, a friend complains; one of his films is just about a man walking around on a ship – a wink at Ratanaruang's own Invisible Waves.
Some of the satirical barbs at consumerism and spurious nouveau Buddhism pay off tartly. There's a nicely bizarre comic moment when the Holy One's acolytes, attended to by an eagerly hospitable Jerome, spurn his tasteful Chopin in favour of a manic pop number about eating liver.
Uneven acting rather jars, despite the knowing mix of realist and self-conscious registers: speaking in English, Sednaoui never transcends an awkward smoothness, while Asanavond's wolfish outsider doesn't convince that he has the stuff of a ruthless desperado. Boonyasak, however, gives a muted, teasing performance that plays nicely on Vi's apparent passivity, increasing inner steeliness and her skills as an actress, while Pansringarm (seen in The Hangover II and Nicolas Winding Refn's Only God Forgives) makes a memorably nasty faux-guru - half glib philosopher, part slickly-styled gangster patriarch.
Production companies: Bluering Company Limited, Cinema22, Augenschein Filmproduktion, Tenk.TV
International sales: Urban Distribution Intl, sales@urbangroup.biz
Producers: Raymond Phathanavirangoon, Rasarin Tanalerttararom
Screenplay: Pen-ek Ratanaruang from a story by Ratanaruang and Raymond Phathanavirangoon
Cinematography: Chankit Chamnivikaipong
Production design: Pawas Sawatchaiyamet
Editor: Patamanadda Yukol
Music: Koichi Shimizu
Main cast: Chermarn "Ploy" Boonyasak, David Asavanond, Vithaya "Pu" Pansringarm, Stéphane Sednaoui