Matthew Somerville tracks the mighty river over its full course of almost a thousand kilometres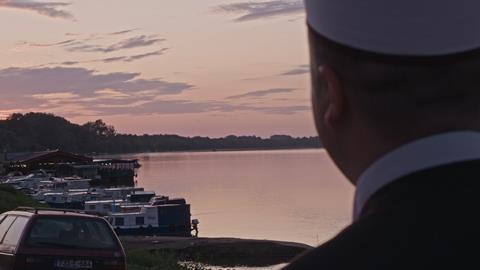 Director: Matthew Somerville. UK/North Macedonia/Slovenia/Serbia/Czech Republic/Croatia/Bosnia & Herzegovina. 2021. 71 minutes
The flow of history and humanity is lyrically evoked in Sava, British multi-hyphenate Matthew Somerville's poetic-essayistic feature-length debut. Tracing the streams of the eponymous river over its full 990km from a quasi-Alpine valley in Slovenia to its confluence with the mighty Danube in big-city Belgrade, the film asserts the importance of a watercourse which has seldom enjoyed significant renown beyond its own area.
Sweeping, sometimes breathtaking vistas
Sava is a relatively accessible slice of socio-geographical cinema that bucks current austere trends in landscape-oriented film such as those pioneered by American maestro James Benning. Lacking in any particular directorial stamp, it appeals primarily as a small-screen proposition; its sweeping, sometimes breathtaking vistas do however cry out for cinematic exposure, and further festival play is indicated.
Somerville's picture, made in close collaboration with co-writer and co-cinematographer Dan McCrum, will logically exert particular appeal in the four countries through which the Sava passes: Slovenia, Croatia, Bosnia & Herzegovina and Serbia. And despite the running time clocking in at a bare minimum for feature length (credits roll at the 68-minute mark), arthouse play is conceivable in each of these territories with proper handling.
The UK, North Macedonia and Czech Republic are also officially listed as production countries, emphasising the pan-continental nature of an enterprise initiated when Somerville's native land was still part of the European Union (the most obvious British antecedent here is William Raban's 1987 Thames Film.) Such political definitions and distinctions are deliberately downplayed in McCrum and Somerville's screenplay, co-written with the recently deceased Croatian performer Mira Furlan — her prominent contributions defusing any idea that we are seeing the Balkan region through foreign, Anglo-Saxon eyes.
Best known internationally for her long runs in Babylon 5 and Lost, Furlan here rousingly "plays" the voice of the Sava, delivering first-person self-definitions ("my body moves in the rhythm of chaos"), airy ruminations and assertive proclamations ("I belong only to myself" … "They call me Sava!") in the style of Mikhail Kalatozov's influential 1964 Soy Cuba. Furlan's audio presence also nods to classic Yugoslavian-era cinema, the star having enjoyed a major breakthrough in Emir Kusturica's 1985 Palme d'Or winner When Father Was Away On Business.
The Sava was Yugoslavia's longest river, passing through four of the socialist country's six constituent states (the Danube, considerably more storied and longer overall, only connected Croatia and Serbia). Somerville's work is on one level an elegy for this lost republic: "We were all one family; back then we were all like brothers," a Slovenian elder ruefully remarks in the early stretches.
Divided into discrete sections announced by elegant captions noting the distance from the river's source ("247km. Zagreb, Croatia"), the film empathetically gathers first-person interviews with those living on the banks of the river or close by. Many of these have known the Sava since their earliest years, and have developed a palpable bond with and affection for its beauty and bounty. Perhaps surprisingly, the focus is entirely on landlubbers; nothing is seen or heard from those many folk who ply this river on private or commercial vessels. Somerville and company are more concerned with ecological matters, with the painful breakup of Yugoslavia at least yielding the side-benefit of reduced industrial pollution.
Gracefully combining ground-level and drone photography, editor Gorjan Atanasov himself largely achieves and maintaines appropriate flow, with one jarring exception at the 672km mark during footage shot in the Republika Srpska area of Bosnia & Herzegovina. A conversation with a dissatisfied local is immediately followed by an interview with the same fellow shot six years later; a similar time-hop elision occurs with another interviewee shortly after (production notes specify that the bulk of the shooting took place during a long road-journey undertaken by Somerville and McCrum in 2013.)
These two interpolations shatter the illusion that what we are experiencing is one logically chronological itinerary, and might better have been inserted as post-credits sequences. But, leaving aside the occasional intrusiveness of Robin Schloctermeier's score, this is the only significant mis-step in a production whose modest style proves a comfortable fit for the grand expansiveness and ambition of its geographical and sociological scope.
Production company: Sava Films
International sales: Sava Films, London, info@savafilms.com
Producers: Matthew Somerville, Tibor Keser
Screenplay: Dan McCrum, Matthew Somerville, Mira Furlan
Cinematography: Dan McCrum, Matthew Somerville
Editing: Gorjan Atanasov
Music: Robin Schloctermeier
Cast: Mira Furlan