Two Bangkok teens rap about their lives in the Klong Toey slum in this empathetic documentary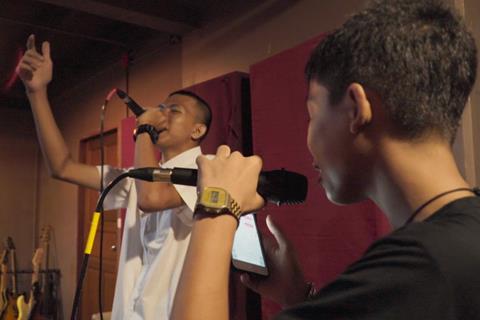 Dir: Wattanapume Laisuwanchai. Thailand. 2020. 120 mins.
Introducing School Town King's subjects, two boys who rap separately about life in Bangkok's Klong Toey slum, requires explaining their numerous names. Sporting an 18-year-old's confidence, Thanayuth Na Ayutthaya is better known as Book, but adopts the stage moniker Elevenfinger. His quieter pal, 13-year-old Nontawat Toma, is called Non by his loved ones and Crazy Kid when rattling off rhymes. The teens attempt to process their experiences through their music; however, just like knowing what to call them, that proves a complicated task. This empathetic documentary is similarly intricate and multilayered, meandering at times but equally championing and observing its central duo.
School Town King always keeps viewers dreaming alongside Book and Non
Initially (and distractingly) styled to resemble rap videos — splashing scrawled titles across the screen, favouring swift edits, loosely jumping between its key pair and set to a beat — the film premieres in Busan's documentary competition. While that is unlikely to be its sole festival stop, School Town King feels primed for streaming. The two boys express their desire to find fame by gaining online prominence and, by blending its music focus, coming-of-age tale and slice-of-life insights, this film could garner word-of-mouth via digital platforms.
In Book's case, modest attention has already come his way, as director Wattanapume Laisuwanchai chronicles using news footage, online clippings and the boy's music videos. But the teen is constantly dreaming bigger. As he is fond of telling everyone, Non and the camera included, he would rather chase rap stardom than finish the studies his father and his grandmother value. At first, this seems a typical schoolboy fantasy, but School Town King quickly stresses how easy it would be for Book to veer down another path. Also, how troubled that outcome could be: in an early detour, the film meets a fellow Klong Toey adolescent, who candidly admits that he expects to be a drug dealer or imprisoned by age 30.
When Laisuwanchai cuts to this third-party chat, it feels out of place and blatant, interrupting Book and Non's stories to underline how others do not have the same chance to escape into music. Viewers can sense their heartstrings being pulled, but the second-time filmmaker (after Phantom Of Illumination) does not let his documentary wallow. Rather, School Town King is committed to laying bare the reality of Klong Toey life to demonstrate what Book and Non are rapping about and why they each come to very different decisions about their futures. Both boys are determined to dispel pervasive stereotypes about their home, its inhabitants and living in poverty — not to mention call out injustice and inequality. But the fact that their frenetic, poetic lyrics do not always match their actions is not meant to escape notice.
Including freestyle and practice sessions, plus prerecorded clips, School Town King makes ample time for the urgent words in Book and Non's music, which does more than give the film its soundtrack and shape its mood. Showing that pursuing a passion brings out a person's brightest traits is an easy cliche, but Book and Non have a genuine glow when they spout their unfettered raps. The audience is instantly drawn to them as a result; they are born performers, using their skills to help navigate a tough situation, and their efforts are arresting.
In a touch as natural as the weaving on-the-ground cinematography co-shot by Laisuwanchai — including lengthy, unbroken wanders down Klong Toey's cramped alleys — School Town King always keeps viewers dreaming alongside Book and Non, hoping they will earn a happy ending. Nothing about the boys' tales is ever that simple, of course, but this engaging documentary successfully balances celebrating the duo's talents with thoughtfully surveying and unpacking their reality.
Production company/international sales: Eyedropper Fill, bowsupatcha@gmail.com
Producers: Nuntawat Jarusruangnil, Supatcha Thipsena
Editing: Harin Paesongthai
Cinematography: Jiramate Ngowsiri, Wattanapume Laisuwanchai
Music: Wuttipong Leetrakul