For all its cheeky self-reflexivity, this 'Scream' actually has a lot on its mind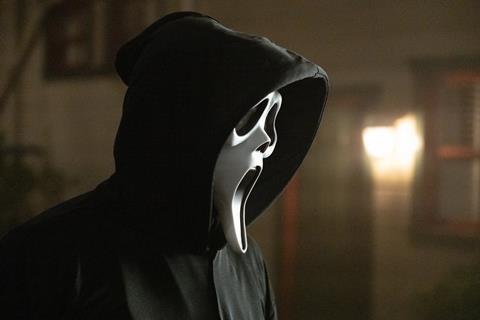 Dirs: Matt Bettinelli-Olpin, Tyler Gillett. US. 2022. 114 mins.
In 1996, the original Scream revitalised the slasher genre by skewering it mercilessly, sending up the cliches while delivering a fresh take on familiar tropes. Twenty-six years later, the fifth instalment in the franchise, also titled Scream, takes aim at the modern horror world, critiquing toxic fandom, pointless sequels and the Scream films themselves. This clever, heavily meta picture has fun both mocking its own existence and trying to find enough twists to justify itself. The result is a film which is superficially appealing even if it is ultimately undone by the contortions necessary to keep the irreverent sleight-of-hand going.
Strong grosses seem assured at a time when most studios are avoiding theatrical releases due to Omicron
Scream hits the UK and US on January 14, catering to horror fans who don't have much else to choose from at the multiplex. The sequel offers the reliable pleasures of the series — including the return of franchise stalwarts Courteney Cox, David Arquette and Neve Campbell — and strong grosses seem assured at a time when most studios are avoiding theatrical releases due to Omicron.
The film takes audiences back to the quiet California community of Woodsboro, where once again a young woman, Tara (Jenna Ortega), is attacked in her home by a knife-wielding maniac wearing the Ghostface costume. She barely survives, prompting the reappearance of her estranged older sister Sam (Melissa Barrera), who skipped town years ago for murky reasons. Along with her boyfriend Richie (Jack Quaid) and Tara's friends, Sam must find out the killer's identity, and also make peace with her shameful, mysterious past.
Wes Craven, who died in 2015, directed the four previous instalments, with Ready Or Not filmmakers Matt Bettinelli-Olpin and Tyler Gillett taking over here. Working from a screenplay by James Vanderbilt and Guy Busick, the directors take as a given that audiences are familiar with the original Scream, not to mention the contemporary horror genre in general. (Certainly, viewer knowledge of terms like 'elevated horror' and 'requels' will be helpful with some of the script's running jokes.) But even more so than the original 1996 picture, this sequel is a commentary on itself, not just re-explaining the rules of how to survive a horror picture but also joking about the lengths musty franchises will go in order to stay relevant.
These winking observations can sometimes be tedious, but the filmmakers often avoid self-indulgence by exuding a playful, endearingly geeky tone. And, of course, there's the patented whodunit narrative as, like with previous Scream pictures, a group of characters work together to decipher which one of them is Ghostface. The new film keeps us off-balance, making us wonder if, say, the resident horror expert Mindy (Jasmin Savoy Brown) could be the killer — or perhaps it's Tara's protective best friend Amber (Mikey Madison). Indeed, everyone's a suspect, and Ghostface strikes enough times, slaying myriad possible culprits, that it's hard to be sure wh is behind the murders.
Unfortunately, the reunion of Cox, Arquette and Campbell — who reprise their roles as, respectively, sweetly dopey cop Dewey, calculating TV journalist Gale and steely survivor Sidney — only underlines how insipid these new characters are. Sam's inner anguish isn't especially compelling — which is surprising since so much modern horror is a metaphor for personal trauma — and the film's suspects aren't particularly riveting. Consequently, the new Scream suffers from the same problem as many horror sequels, revisiting past strengths, creating a sense of deja vu which is not as winning as the original scares.
Speaking of which, Bettinelli-Olpin and Gillett deliver plenty of kills, but these sequences tend to be competent rather than inspired. (A notable exception involves a sneaky subversion of a setup we usually see before a slasher villain strikes. The whole scene is a nifty exercise in drawn-out anticlimax.) Even the return of the franchise's trademark masked killer lacks the shock of what came before — quite simply, we've grown accustomed to his Ghostface.
As the film reaches its final reels and the murderer is revealed, Scream does become a more muscular action-thriller, with several of the remaining characters battling for their lives. The actual reveal isn't all that stunning — nor is the explanation especially satisfying. But that doesn't stop the filmmakers from offering some real-world commentary about how women can live in daily fear of being assaulted — or how franchises' creative decisions are often dictated by rabid, myopic online fanbases. For all its cheeky self-reflexivity, this Scream actually has a lot on its mind, even if the series' ideas and kills used to cut much deeper.
Production company: Project X Entertainment
Worldwide distribution: Paramount Pictures
Producers: William Sherak, James Vanderbilt, Paul Neinstein
Screenplay: James Vanderbilt & Guy Busick, based on characters created by Kevin Williamson
Production design: Chad Keith
Editing: Michel Aller
Cinematography: Brett Jutkiewicz
Music: Brian Tyler
Main cast: Melissa Barrera, Kyle Gallner, Mason Gooding, Mikey Madison, Dylan Minnette, Jenna Ortega, Jack Quaid, Marley Shelton, Jasmin Savoy Brown, Sonia Ammar, Courteney Cox, David Arquette, Neve Campbell