An Irish fishing trawler encounters a bizarre creature in forbidden waters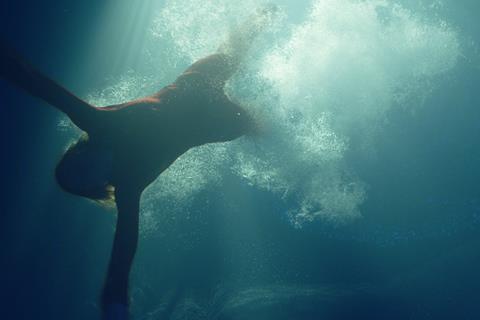 Dir/scr. Neasa Hardiman. Ireland/Sweden/Belgium. 2019. 91 mins
A creaky old Irish fishing trawler provides a lurching, atmospheric setting for Neasa Hardiman's debut film Sea Fever, a solidly-competent eek-from-the-deep thriller given some extra ballast by the appearance of Dougray Scott and Connie Nielson in supporting roles. Added saltiness comes from the story's ecological bedrock and a multi-cultural cast of seamen who bravely face up to the inevitable fact that they're only here as fish fodder. Lacking the currently vogueish social bite that might distinguish this drama theatrically outside of its home territory, the enjoyable Sea Fever can still look forward to a well-seasoned life on streaming and is a solid calling card for its veteran director, previously known for her TV credits.
There's a great deal of fun to be had watching Hardiman play out her cards
Young British actress Hermione Corfield dials up the red hair and Irish accent to play Siobhan, a smart but socially awkward young marine scientist and PHD student who is forced out on a boat in order to complete a series of mandatory tasks for her research qualification – including, ominously a deep sea dive. The trawler is a magnificently makeshift affair, manned by a seen-better-days husband-and-wife couple (Scott and Nielsen) with secrets to hide; Scott has a blast with a Cork accent while Nielson is steadfastly Scandic here. Another casting delight comes with the appearance of Olwen Fouere, hidden away in the ships galley. There's a sense that Hardiman's ship can't come too far aground with this team at the helm.
When the trawler sets out for the Atlantic, the viewer already knows that this creaky vessel is in the financial drink, so it's no surprise when Scott's navigator charts it into waters which have been strictly forbidden by the Irish coast guard in the hopes of an extra-special catch. Siobhan may have warmed up to her fellow crew members – and they to her, especially when they discover her scientific talents – but when the vessel suddenly stops dead and some surprisingly low-fi purple slime starts to ooze through its timbers, the audience knows this is not going to be good news for anyone on board.
There's a great deal of fun to be had watching Hardiman play out her cards; we know the hand she's holding, but it's a nice-looking deck nonetheless. On the downside, the special effects in this creature-feature aren't quite spectacular enough to hold water with today's more savvy audiences while Corfield doesn't have a handle on her character in the same way as salty old sea dogs Scott and Nielsen. But there are also rewards to be gleaned from watching a savvy young student figure out the moves long before her seniors. Much talk is made of her red hair jinxing the boat, but she may be the only one who can save this crew from themselves.
Production company: Fantastic Films
International sales: Epic Pictures Group
Producers: Brendan McCarthy, John McDonnell, Borje Hansson, Eddie Dick, John-Yves Rubin
Screenplay: Neasa Hardiman
Cinematography: Ruari O'Brien
Production design: Ray Ball
Editing: Barry Moen, Julian Ulrichs
Music: Barry Moen, Julian Ulrichs
Main cast: Hermione Corfield, Dougray Scott, Connie Nielson, Olwen Fouere, Jack Hickey