Sam Rockwell and Saoirse Ronan investigate a murder in 1950s London in Tom George's aggressively clever debut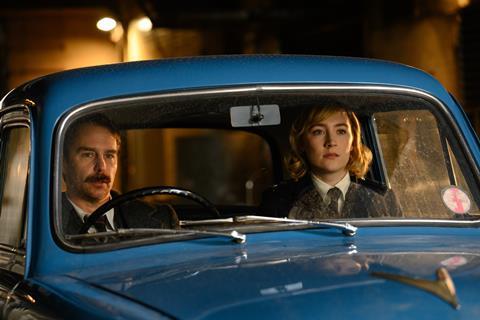 Dir: Tom George. US. 2022. 98 mins.
An irreverent riff on murder mysteries, See How They Run is strenuously committed to its cheeky, aggressively clever approach, which results in a film that can't stop reminding you how much fun it's having playing with genre tropes. Making his feature debut after directing the acclaimed BBC mockumentary series This Country, Tom George takes us back to London's West End in 1953, when the killing of a pompous filmmaker backstage during a successful run of The Mousetrap ends up with eerie similarities to Agatha Christie's plot. But despite a spirited cast led by Saoirse Ronan and Sam Rockwell bringing plentiful energy, there's no denying the strained sense of whimsy that stifles nearly every scene.
Practically giddy in its enthusiasm, each twist and turn delivered with crowd-pleasing gusto
Arriving in UK theatres on September 9, with a US rollout planned for the following week, the film hopes to capitalise on the popularity of Christie-style whodunits in recent years. (Kenneth Branagh's remake of Murder On The Orient Express grossed roughly $353 million worldwide, while Knives Out earned an Oscar nomination and spawned a franchise.) See How They Run should appeal to mystery fans and adult audiences, although reviews may be decidedly mixed for this starry ensemble piece.
The murdered filmmaker in question is Leo Kopernick (Adrien Brody), who is planning an adaptation of The Mousetrap – if he can stop feuding with his snooty writer, Mervyn Cocker-Norris (David Oyelowo). But after Leo is killed in Act One, Inspector Stoppard (Rockwell) must work with an eager young constable, Stalker (Ronan), to solve the crime. Their suspects are everyone who attended an afterparty for The Mousetrap, which includes the play's brash star, Richard Attenborough (Harris Dickinson).
Screenwriter Mark Chappell knows the narrative architecture well, essentially telling two whodunits simultaneously. One consists of flashbacks in which the suspects explain how the filmic adaptation of The Mousetrap was progressing — and, in the process, detail that play's plot — while the second involves Stoppard and Stalker uncovering clues to Leo's killing. See How They Run is practically giddy in its enthusiasm, each twist and turn delivered with crowd-pleasing gusto. "Fan service" is often used to describe studios catering blockbuster franchises to their most ardent supporters, but See How They Run could be said to do something similar; inviting viewers to savour the skewering of murder-mystery conventions and the introduction of Christie-esque supporting characters.
Production designer Amanda McArthur and cinematographer Jamie D. Ramsay conspire to craft a 1950s London that's meant to seem impossibly dreamy. Whether it's Stoppard's police station or the opulent theatre where The Mousetrap is staged, this world is always visually inviting, with Daniel Pemberton's jaunty score only further establishing the knowing unreality of the proceedings.
On occasion, George's fastidious construction and quirky comedic tone can recall that of Wes Anderson, a feeling amplified by the presence of Anderson veterans such as Ronan and Brody in the cast. Plus, both Rockwell and Ronan play the sort of lovable eccentrics who populate Anderson's pictures: Stoppard is a bumbling, somewhat melancholy drunk, while the inexperienced Stalker obsessively writes down everything she hears and sees during their investigation in her pocket notebook, just in case any of it ends up being important. They're more caricatures than characters, and the two actors don't concern themselves with giving their roles an emotional grounding. Like the film as a whole, the performers' studied silliness is the point, mocking whodunit cliches while relishing what still makes them deeply enjoyable.
But George works so hard to consistently dazzle us — boldly hinting at his ending early on in the film, impishly pointing out tired tropes as they're happening — that See How They Run starts to feel theoretical rather than engaging. For all its showy, whirring machinations, the film isn't especially light on its feet — and its murder mystery isn't very engrossing. There are moments when George's crosscutting can build excitement, reminding us that there's nothing quite like the thrill of figuring out who the villain is, but ultimately the self-conscious referencing and weak jabs at egocentric actors and self-important Hollywood elites don't amount to much.
And of all the ways to pay tribute to Christie's big-screen adaptations, it's unfortunate that See How They Run chose their least-admirable tendency, which is stranding fine actors in tiny roles: Ruth Wilson, Shirley Henderson and This Country's Charlie Cooper have precious little to do. Perhaps that's intentional (perhaps one of them is the murdere?) but, for a film so besotted with the whodunit, it's despairing how anticlimactic the reveal of who dun it actually is.
Production company: DJ Films
Worldwide distribution: Walt Disney
Producers: Damian Jones, Gina Carter
Screenplay: Mark Chappell
Cinematography: Jamie D. Ramsay
Production design: Amanda McArthur
Editing: Gary Dollner, Peter Lambert
Music: Daniel Pemberton
Main cast: Saoirse Ronan, Sam Rockwell, Adrien Brody, Ruth Wilson, Reece Shearsmith, Harris Dickinson, Charlie Cooper, David Oyelowo