Female-centric story from France about teen consent is fearless and funny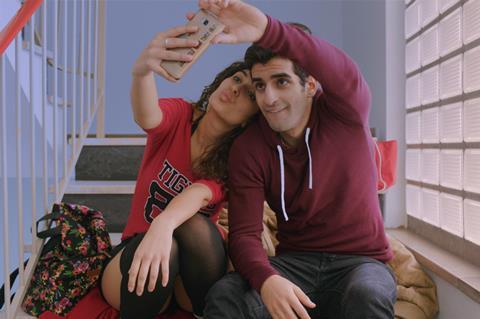 Dir: Antoine Desrosières. France. 2018. 98mins
The currency of modern French relationships still rises and falls on who holds the most power. But in 2018, the mathematical possibilities among two mutually adoring sisters and their respective boyfriends are steered in large part by that ubiquitous device, the smartphone. In fact, the phones are smarter than the guys in Sextape (A Genoux les gars), a joyously irreverent and inventive romp jet-fuelled by dynamite performances co-written by the film's fearlessly self-affirming young actresses about the congenitally sexist males in their orbit.
A funny, transgressive and ultimately touching tale
That their antics take place during Ramadan and the protagonists are all Muslim teens and young adults is a point of interest, as is the fact that the story is gleefully female-centric but directed by a man. This funny, transgressive and ultimately touching tale somehow sidesteps the sleaze factor while confronting blow jobs, cunnilingus and spectacularly visible hard-ons. If that sounds crude, wait til you hear how the cast talks - and in a super-slangy French that isn't taught in language schools.)
An invaluable and frank conversation-starter in the arena of what constitutes sexual harassment and what can be done about reducing it, Sextape stands out. After its Cannes premiere in the Un Certain Regard sidebar, it will carry the relatively rare over-16 rating when released in France on June 20th. Which is unfortunate since the film has excellent lessons to convey to the young about consent.
Rim (Inas Chanti) and her younger sister Yasmina (Souad Arsane) are preternaturally close. They sleep in the same bed in a working class high-rise in Strasbourg and tell each other everything. Rim mimics the sounds and facial expressions of an approaching orgasm when Yasmina grills her about what her handsome boyfriend Majid (Mehdi Dahmane) "does" to her. "It's not what he does to me – it's how it makes me feel," says Rim.
Yasmina's considerably more dorky boyfriend Salim (Sidi Mejai) and Majid are best buddies. The two couples hang out together and engage in pithy conversations about everything from fellatio to homosexuality. (The guys are militantly in favor of being serviced by female mouths but find homosexuality disgustingly unacceptable.)
When Rim goes away for a week, Majid and Salim smooth-talk Yasmina into doing something they represent as being a sort of public service for Rim. When it transpires that there's a cell phone video with massive blackmail potential, Yasmina finds herself in incredibly awkward, uncharted waters.
The banter and machinations – both exploitative and protective – never let up. The original French title, which translates as "Get Down on Your Knees, Boys" is the title of a French pop tune of the early 1960s, i.e. pre-sexual revolution. Girl group pop of that era is an amusing counterpoint to the action.
The actors – whose dialogue is the fruit of four months of collaborative improvisation in rehearsal – are terrific. Elis Gardiole makes a lasting impression as a part-time drug dealer who spends a consistently surprising evening with Yasmina when she's at her most confused.
What makes the tale refreshingly modern is that while lines are crossed and feelings are hurt, the injured parties figure out how to tilt the balance of power in their favour and grow stronger and smarter along the way. Conclusion? The patriarchy had better watch out. All that without a conventional "white" character in sight.
Production company: Les Films de l'autre cougar
International sales: Films Boutique, louis@filmsboutique.com
Producer: Annabelle Bouzom
Screenplay: Antoine Desrosières, Anne-Sophie Nanki
Production design: Laurent Le Corre
Editing: Nicolas Le Du
Cinematography: George Lechaptois
Main cast: Souad Arsane, Inas Chanti, Sidi Mejai, Mehdi Dahmane, Elis Gardiole