Upbeat documentary set in Rotterdam over one summer now heads to Berlin's Generation Kplus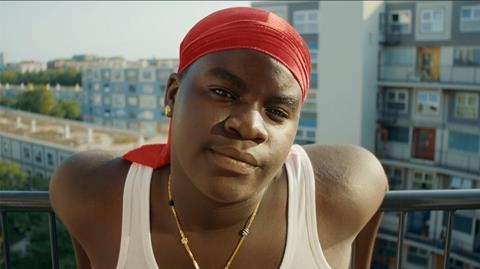 Dir/scr: Shamira Raphaela. Netherlands. 2021. 75 mins.
A fame-hungry Rotterdam teenager becomes the star of his own big-screen show in Shamira Raphaela's second feature-length work Shabu, a crowdpleasing evocation of the Dutch city during one sun-dappled summer. Included in Rotterdam's new sidebar RTM (for films about the port-metropolis itself) after its IDFA premiere, Shabu now heads to a slot in the Kplus competition at Berlinale where it will chiefly be of interest to festivals and channels showcasing material for junior and YA audiences.
Shabu is aimed at a specific youth demographic and should primarly be assessed on those terms
Front and centre throughout is Sharonia "Shabu" Abisoinia, a bulky, effervescent lad of 14 who looks and sounds significantly older: at one point he comments that most people think he's 19, which is a conservative estimate. Despite his physical precocity, Shabu is — at least during the film's first half — immature in terms of behaviour and emotional development. The action begins in the turbulent midst of a family crisis: Shabu is firmly in the doghouse after he took a joyride in his grandmother's car that ended with the vehicle being written off.
Castigated by his beloved grandma via Skype from the family's ancestral homeland, Suriname, Shabu must somehow come up with €1,200 to replace the car before she returns to Rotterdam at the end of the summer. In between hanging out with his girlfriend Stephany and his best pal Jahnoa, he semi-reluctantly takes various low-paying jobs. Eventually he hits upon the more lucrative idea of staging a block party in his neighbourhood of De Peperklip — an architecturally striking 1980s development mainly occupied by low-income families from a range of ethnic backgrounds — and charging for admission.
This old-fashioned-showbiz solution to his woes makes sense as budding impresario Shabu is himself an aspiring rapper of reasonable talent, considerable drive and sky-high ambition. The jamboree duly provides a rousingly raucous finale, whose emotional impact is elevated by the arrival of an unexpected star guest. Editors David Verdurme (highly experienced) and Lykle Tuinstra (feature-length debut) somewhat harshly restrict the party to only the closing four minutes. Likewise, the picture would have benefited from sketching in more details about Shabu's immediate family and their African-influenced Surinamese culture. Instead, we get rather a lot of the puppy love between the protagonist and his "wifey" Stephany, their relationship imperiled in the picture's second half by Shabu's sullen jealousy.
Given the generally upbeat tone of the picture, however, there is never any real doubt in the viewer's mind that everything is going to be alright, including in terms of Shabu's development beyond his earlier stage of man-child irresponsibility. The optimistic mood is heavily underlined by the inclusion of brief snatches from a guitar-driven song with the actual refrain "Everything's gonna be alright" at regular intervals throughout. Indeed, Aruban-Dutch director Raphaela (2019's Our Motherland) seems almost incapable of letting any development go without some kind of musical accompaniment via Michael Varekamp's score.
She is also fond of occasional sound-design embellishments, part of the overall ploy to give documentary material the slick sheen of mainstream narrative movies. Many scenes feel somehow contrived; the presence of the camera and crew is never acknowledged, and indeed is concealed by familiar editing techniques. It's easy to imagine a much more unvarnished, hard-knock version of Shabu's tale, one rather less indulgent of his criminal misdeeds, preening vanity and self-absorption. Then again Raphaela's Shabu is aimed at a specific youth demographic and should primarly be assessed on those terms.
Production company: Tangerine Tree
International sales: Reservoir Docs, doc@reservoirdocs.net
Producers: Nienke Korthof, Willem Baptist
Editing: David Verdurme, Lykle Tuinstra
Cinematography: Jefrim Rothuizen, Rogier Timmermans, Jurgen Lisse, Gregg Telussa
Music: Michael Varekamp