Dir: Mikael Håfström. US/China. 2010. 104 mins.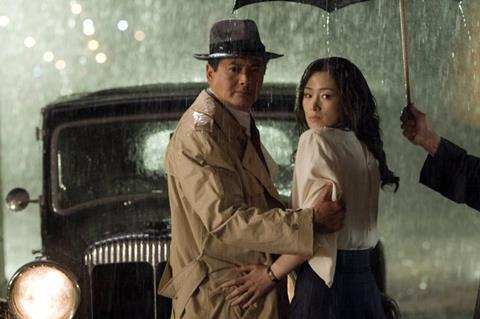 There'll be no happy ending to the protracted saga of Shanghai, one of the most beleaguered movies of recent times. Opening in the US this week seven years after it was shot and five years after its cursory Chinese premiere, the World War II mystery thriller will struggle to recoup its estimated $50 million budget. Despite its rich visual evocation of the eponymous port city as a simmering cauldron of vice, corruption, and barbarity, director Mikael Håfström's film is undone by its tortuous plot, wooden characterisation, absence of narrative tension, and emotional nullity. It simply lacks conviction.
Veteran producer Mike Medavoy, who was born in Shanghai in January 1941, instigated the project seemingly to honor on an epic scale the hardboiled Warner Bros vibe of 1940s Humphrey Bogart classics like The Maltese Falcon and Casablanca. Scripted by Hossein Amini (Drive, Wing Of A Dove), the film was specifically conceived as a serpentine retro-noir, one that would re-import to Medavoy's birthplace the Sino-American exoticism and skullduggery of Roman Polanski's Chinatown and Wim Wenders's Hammett. It got off to a disastrous start when the Chinese government, wary of its political content, evicted the entrenched production from Shanghai just before shooting began in 2008; it was expensively relocated to Bangkok, London, and Twickenham.
Following the First Anglo-Chinese Opium War (1839-42), Britain, America, and France took up concessions in Shanghai, but Japan became the dominant power there in the 1930s. Unfolding in the lead-up to Japan's bloody occupation the day after the attack on Pearl Harbor, the film depicts the dogged quest of an American spy (John Cusack) to discover who murdered his friend and fellow agent Connor (Jeffrey Dean Morgan). Working undercover as Paul Soames, a pro-Nazi reporter for the Shanghai Herald, he is answerable to two bosses: his unflappable intelligence chief (David Morse) and his contemptuous English editor (Hugh Bonneville).
Paul suspects no good of the alliance between the local Japanese imperialist leader Captain Tanaka (Ken Watanabe) and the crime boss Anthony Tan-Ling (Chow Yun-fat), but he becomes friendly with the latter after extricating him from a clash between Japanese officers and Chinese resistance fighters led by Anthony's conflicted wife Anna (Gong Li), who is otherwise a glamorous but aloof socialite.
As Paul and Anna fall (tepidly) in love, he helps her search the opium dens and back alleys for Tanaka's beloved mistress Sumiko (Rinko Kikuchi), an ailing junkie who'd been seduced by Connor into passing on Japanese naval secrets. The beheading of Paul's sweaty go-between (Benedict Wong, excellent), who'd been desperate to leave Shanghai, invokes the fate of Peter Lorre's desperate Ugarte in Casablanca.
Attempting to rescue both Sumiko and Anna, Shanghai casts Paul in the role of Bogart's chivalrous gumshoe Philip Marlowe in The Big Sleep, which was equally convoluted but buoyed up by Howard Hawk's wit, fleet storytelling, and penchant for screwball sexiness. Swedish helmer Håfström, who directed Cusack in 1408, demonstrates no such qualities. His set pieces are admittedly spectacular, though the combination of Jim Clay's dirty-beautiful period sets and Benoît Delhomme's fluid cinematography can't compensate for Håfström's flat direction of the actors.
The script is partly culpable. Cusack – burdened with an expository voiceover narration – admirably doesn't sentimentalise Paul, but as a protagonist he's a tough-minded operator with no apparent neuroses or need to evolve, which means the story doesn't develop on an emotional level either. While it would have been a cliché for him to be a cynical or brooding romantic gradually humanised by other people's plights, one can't help wondering if a Paul played by Clive Owen or the latterday Matthew McConaughey might have elicited more viewer empathy.
It's doubtful, however, if any co-star could have lit a spark under Gong Li, whose performance in a dynamic role is curiously evasive; there's zero chemistry between her and Cusack. Kikuchi fares better making Sumiko's opium withdrawal credible, while Chow and Watanabe are pleasing as tender-hearted villains betrayed by the women they love.
Production companies: Living Films, Phoenix Pictures, TWC Asian Film Fund, The Weinstein Company
International sales: The Weinstein Company
Producers: Kelly Dennis, Mike Medavoy, Barry Mendel, Jake Myers
Screenplay: Hossein Amini
Cinematography: Benoît Delhomme
Editor: Peter Boyle, Kevin Tent
Production designer: Jim Clay
Music: Klaus Badelt
Main cast: John Cusack, Gong Li, Chow Yun-fat, Ken Watanabe, Rinko Kikuchi, David Morse, Hugh Bonneville, Jeffrey Dean Morgan, Franka Potente, Benedict Wong