Rebecca Miller's wry, knotty drama about a composer and his new muse opens the Berlinale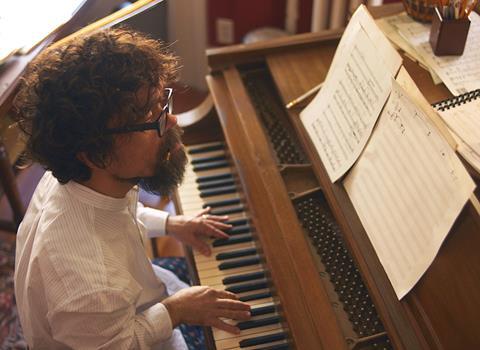 Dir/scr: Rebecca Miller. USA. 2023. 103mins
A creatively blocked opera composer (Peter Dinklage) gains a muse in the form of a female tugboat captain (Marisa Tomei). A sanctimonious court stenographer (Brian d'Arcy James) threatens to bring statutory rape charges against the boyfriend of his 16-year-old stepdaughter. The composer's psychiatrist wife (Anne Hathaway) realises that her passion for aesthetic minimalism is, in fact, a religious calling. There's an awful lot of story crammed into Rebecca Miller's wry love-knot of a screenplay, and not all of it fully connects. But there is a bruised charm to this screwball-inspired New York story. The combination of a first-rate cast, a rippling, frequently witty score and a highly-strung, madcap plot — which itself wouldn't be out of place in a comic opera — makes for a quirky, offbeat spin on the relationship drama.
There is a bruised charm to this screwball-inspired New York story
It's Miller's first film since her comic love triangle Maggie's Plan in 2015. She Came To Me, with its multiple storylines and locations (including a working tugboat), two separate original operas and a scene-stealing French bulldog, is a markedly more ambitious work. It's also less satisfyingly focused. But both are linked by Miller's knack for creating believably messy relationship dynamics and pushing them to the very brink of credibility, to droll comic effect. Premiering in the opening slot of Berlin, She Came To Me is a low-key crowd-pleaser.
\When we first meet Steven (Dinklage), he is attempting to hide in a shrub. At a glad-handing, glitzy arts event, he wears his failure to write another hit opera like a dunce's cap. His wife, and former therapist, Patricia (Hathaway), sweeps in to save him from his spiralling paranoia but her polished perfection, and her patronising pat on his shoulder, only serve to plunge him further into self-loathing.
Not a fan of mess in any shape or form, Patricia instructs her unravelling husband to take a walk, accompanied by Levi the dog, and look for inspiration. He finds it, in a bar at 11am. Tugboat captain Katrina (Tomei) is unlike anyone he has ever encountered before. She's earthy, full-blooded – the rich tones of her living space on the boat reflect her personality – but also a little erratic, as indicated by the switch to handheld camera whenever we enter her domain. Bryce Dessner's lovely, fluid score adds to the magic of Steven and Katrina's encounter.
Meanwhile, Patricia's 18-year-old son from a previous marriage, Julian (Evan Ellison), is in a relationship with fellow science geek Tereza (Harlow Jane), whose mother Magdalena (Joanna Kulig, doing her best with an underwritten role) coincidentally takes a job as Patricia's cleaner. The chemistry between the teen couple is appealing, and both Dinklage and Tomei flesh out their flawed, slightly broken characters satisfyingly.
Less successful is Patricia's trajectory, which feels like the Marie Kondo makeover of religious awakenings. And Tereza's pedantic Civil War battle-re-enacting racist stepdad Trey (d'Arcy James) seems, at times, more like a collection of foibles rather than a fully rounded person. But, for all the potential leaks in the plotting, the film stays buoyant; its minor key ultimately tempered by a note of bittersweet optimism.
Production companies: Round Films; Killer Films
International sales: Protagonist Pictures info@protagonistpictures.com
Producers: Damon Cardasis, Pamela Koffler, Christine Vachon, Rebecca Miller, Len Blavatnik, Anne Hathaway, Cindy Tolan, Ged Dickersin
Cinematography: Sam Levy
Production design: Kim Jennings
Editing: Sabine Hoffman
Music: Bryce Dessner
Main cast: Peter Dinklage, Marisa Tomei, Joanna Kulig, Brian d'Arcy James, Anne Hathaway, Harlow Jane, Evan Ellison