Dir. Farren Blackburn. US. 2016. 91mins.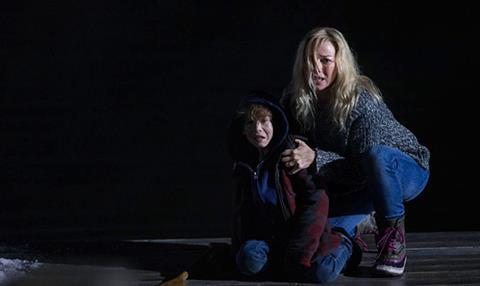 For a while, it looks like Shut In might develop into a vaguely Hitchcockian psychodrama with Naomi Watts standing in for one of the Master of Suspense's frequent blonde leads. But before long, this disappointingly limp thriller devolves into something much more generic, relying on slasher movie tropes and a wildly improbable plot twist for its effect.
Most of the story's credibility goes out the door with the big plot twist.
Watts and a decent supporting cast lend the proceedings a bit of class, but that isn't nearly enough to salvage this EuropaCorp/Lava Bear production. Offering little in the way of shock and gore, Shut In looks unlikely to make much of a mark with its wide November 11 US opening through EuropaCorp. The film's style might be slightly better suited to the international marketplace, where independents will distribute during November and December.

Watts – a genre fan favourite most recently seen in the Divergent series – plays Mary, a widowed child psychologist living in an isolated (but very picturesque) New England home with her paralysed and vegetative son Stephen (played by Screen Star of Tomorrow Charlie Heaton, currently getting noticed in Netflix's Stranger Things). When a troubled young boy (Room's Jacob Tremblay) she was treating goes missing and is presumed dead, Mary, already wracked with guilt over Stephen's fate, becomes convinced that the boy's ghost is haunting her house.

Based on a well-regarded screenplay that was on the 2012 Black List from UK-born exec-turned-screenwriter Christina Hodson, and steered by British TV director Farren Blackburn (best known for BBC miniseries The Fades), the film builds its suspense very slowly, watching Mary's anguish increase as she prepares to put her son in a home. When Mary begins witnessing the missing boy's dead-of-night appearances, her online supervising therapist (Oliver Platt) suggests "sleep parasomnia". But before he can start treatment, an approaching snow storm cuts off the house, leaving Mary to deal with her apparitions alone.

Most of the story's credibility goes out the door with the big plot twist and thereafter the film becomes a pretty standard home-invasion shocker, with Mary pitted against a hammer-wielding psycho. There are nods to genre classics – particularly Stanley Kubrick's The Shining, also, of course, set in an isolated snow-bound location – but the whole sequence feels oddly half-hearted, as if it was bolted on to give what might have been a relatively subtle psychological suspense tale a late boost of commercial appeal.
Production companies: EuropaCorp, Transfilm International, Lava Bear
US distribution: EuropaCorp
International sales: EuropaCorp, www.europacorp.com
Producers: Ariel Zeitoun, Claude Leger, Christine Haebler
Executive producers: Tory Metzger, David Linde, Lisa Ellzey, Jonathan Vanger, Romuald Drault, Trish Dolman
Screenplay: Christina Hodson
Director of photography: Yves Belanger
Production designer: Paul Denham Austerberry
Editors: Baxter, Maryline Monthieux
Costume designer: Odette Gadoury
Music: Nathanial Mechaly
Website: www.shutinmovie.com
Main cast: Naomi Watts, Oliver Platt, Charlie Heaton, Jacob Tremblay, David Cubitt, Clémentine Poidatz