Benicio Del Toro and Josh Brolin return to the violence of the Mexican border in this sequel to the 2015 critical hit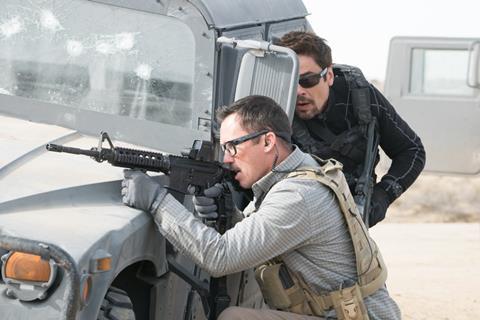 Dir: Stefano Sollima. US. 2018. 122mins.
Like its violent antiheroes, Sicario: Day Of The Soldado (also known as Sicario 2: Soldado) is ruthlessly efficient but also morally conflicted. This sequel to the 2015 war-on-drugs drama which premiered at Cannes is often gripping, and yet the filmmakers' cavalier attitude to this story about American operatives dispensing brutal justice along the border casts a pall over the proceedings.
Screenwriter Taylor Sheridan is back, continuing his exploration of moral rot
No matter how commanding Benicio Del Toro and Josh Brolin might be, Soldado is a less inspired or thoughtful redo of its predecessor, jettisoning nuance for amped-up nihilism. Opening June 29 in the UK and US, Soldado has a decent shot of matching (or surpassing) Sicario's $85 million worldwide haul. With Del Toro and Brolin reprising their roles, the sequel has sufficient star power, and a cachet after the Denis Villeneuve-directed original.
Emily Blunt's idealistic FBI agent is nowhere to be seen in Soldado, which shifts the focus to Matt Graver (Brolin), a no-nonsense CIA operative who recruits the mysterious enforcer Alejandro Gillick (Del Toro) to join him on a top-secret mission. Aiming to start a war between the notorious Mexican cartels, they kidnap Isabela (Isabela Moner), the young daughter of one of the kingpins. Once their plan goes awry, Matt and Alejandro run afoul of the American government, putting their lives and Isabela's in danger.
Soldado isn't just missing Blunt's presence: this sequel doesn't boast either the same director (Villeneuve), cinematographer (Roger Deakins) or composer (the late Jóhann Johannsson) as the 2015 original. Italian director Stefano Sollima works with D.P. Dariusz Wolski and musician Hildur Guđnadóttir (a protégé of Johannsson's) to create a stirring facsimile of Sicario's ominous soundscapes and visual design, once again plunging us into a world of shadows and paranoia.
Screenwriter Taylor Sheridan, who wrote the first film, is back, however, continuing his exploration of moral rot, which was also at the centre of his script for Hell Or High Water and his directorial debut Wind River. Soldado boasts some of the same fascinating detail as Sicario, giving the viewer a sense of the desperation and lawlessness on the US/Mexico border. Although Sheridan crafts a few tense action sequences, they're not as thrillingly staged as in the first film. And unlike Sicario's harrowing descent into ethical quandaries — which questioned America's might-makes-right attitude toward winning its drug war — Soldado seems largely unconcerned with its characters' roughshod tactics to get the job done.
As a result, the sequel rarely seems critical of Matt and Alejandro's cowboy bravado, essentially adopting the stance that their amorality is justified because of the bureaucratic ineptitude of the US government and the repugnance of the cartels. Even if Sicario's handwringing over the limits of American intervention could occasionally be heavy-handed, Soldado's relatively uncomplicated embrace of vigilante law-enforcement tactics feels like a diminishment of the first film's principled inquisitiveness. In Soldado, the bloody violence has no sting or resonance — it is well executed, but in a mechanical, superficially rousing manner.
Del Toro and Brolin add some moral shading. Alejandro will unexpectedly form a bond with Isabela — Moner brings a surprising steeliness to the role — and Del Toro shows flashes of the humanity that has been stripped away due to personal tragedy. As for Brolin, he exudes cocky machismo, although his role as a rugged antihero is far too one-note to really captivate.
Sollima demonstrates a flair for gut-punch action, keeping the audience off-balance as to when the next jolt may occur. A subplot involving a few impoverished border-town residents proves important as Soldado rolls along, yet the director fails to give it the proper urgency. And as is too often the case with contemporary studio films, Soldado doesn't so much end as it suggests avenues for further sequels. Three years later, the grim wariness of Sicario has been coldly transformed into franchise-ready product.
Production companies: Columbia Pictures, Black Label Media, Thunder Road Pictures
International sales: Lionsgate
Producers: Basil Iwanyk, Edward L. McDonnell, Molly Smith, Thad Luckinbill, Trent Luckinbill
Screenplay: Taylor Sheridan, based on characters created by Taylor Sheridan
Production design: Kevin Kavanaugh
Editing: Matthew Newman
Cinematography: Dariusz Wolski
Music: Hildur Guđnadóttir
Main cast: Benicio Del Toro, Josh Brolin, Isabela Moner, Jeffrey Donovan, Manuel Garcia-Rulfo, Matthew Modine, Catherine Keener