A Chinese village is beset by a series of violent crimes in this drama based on true events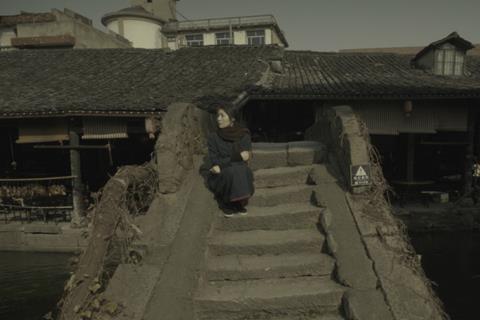 Dir/scr. Miaoyan Zhang. China-France. 2017. 101mins.
Inspired by a real-life series of unsolved attacks, filmed with bleak naturalism and steeped in the thriller genre, Silent Mist immerses viewers in the day-to-day reality of modern-day Chinese society; its rhythms and routines, as seen in a southern waterfront village, as well as the increasing influence of greed, power and corruption at a community level.
Like the seeping fog that cloaks its setting in weary shades of grey, the film launches into its story quietly and gradually
It proves an intriguing, mostly compelling combination for Miaoyan Zhang, who brings both fluid images and firm commentary to his fourth feature after 2007's Xiaolin Xiaoli, 2009's Black Blood and 2014's A Corner of Heaven. With the filmmaker directing, co-writing, producing, shooting and editing, the Busan-debuting effort — and recipient of post-production support from the festival's Asian Cinema Fund — is as much a showcase for his talents as a slow-building portrait of a fast-evolving society.
Accordingly, given the modest international play that Zhang's work has enjoyed to date — including collecting a Netpac award in Rotterdam for his sophomore title — further festival berths should beckon. While his previous feature earned three Asia Pacific Screen Award nominations, Silent Mist deserves to garner the multi-skilled talent further attention; visually and emotionally, it's assured, ambitious and involving, though sometimes overstated.
Like the seeping fog that cloaks its setting in weary shades of grey, the film launches into its story quietly and gradually, but with its dark details soon inescapable. Hypnotic tracking shots first peer along the side of a small-town canal by boat, then follow villagers strolling through the adjacent markets, establishing a baseline of life's ebbs and flows that will soon be disrupted.
As well as offering an introductory glimpse of the locale before trouble encroaches, the sequence captures the entrance of an elderly travelling musician. An omen of the impact of change and the ripples that come with it, his arrival coincides with a rapist's stalking of local victims and a businessman's victimisation of shopkeepers striving to make a living.
Captured in lengthy shots by Zhang and his fellow cinematographer Xu Zhiyong, the fallout from these predatory men's escalating activities is unsurprisingly destabilising and dispiriting. In the action that fills its frames, the town's sense of normality starts to unravel; forever altered by both public and clandestine altercations. In the frames themselves, the film either waits or weaves with unnerving purpose. If it isn't ducking through alleyways or moving with the characters in its view, setting its pace by their mood, it's pausing and watching for the next incident to happen.
Indeed, as befitting an effort that doesn't feature dialogue for its first 15 minutes or rely upon it for much of its running time, Zhang's imagery burrows deep — down lanes, into shadows and, by staring at their faces, into the pain of the various preyed-upon women. Some of these moments border on indulgent, but in expressing the inner turmoil that lingers like the titular mist, they're always effective. Some struggles are best chronicled in dim-lit spaces and with heightened camera angles; some by patiently charting a mournful walk along a tauntingly bright wall.
Only four cast members are credited — Chulan Hu, Zhao Zuojun, Yang Xiaojiang and Wang Gufu, making their presence known on both sides of the perpetrator-victim divide — though more help flesh out the film's microcosm of a decaying community. Together, enacting a script by Zhang, his regular collaborator Rice Zhang, assistant director Quge and Wang Lianggui, they paint a portrait of insidiousness tied to the winds of progress. Silent Mist might not ultimately prove subtle in demonstrating the devastating toll that pursuing individual gains can have, but it finds several avenues to make its message plain.
Production companies: Rice Production, Arizona Productions
International sales: Pascale Ramonda, pascale@pascaleramonda.com
Producers: Miaoyan Zhang, Guillaume De Seille, Chunlan Hu
Screenwriters: Rice Zhang, Wang Lianggui, Miaoyan Zhang, Quge
Cinematographers: Miaoyan Zhang, Xu Zhiyong
Editor: Miaoyan Zhang
Cast: Chulan Hu, Zhao Zuojun, Yang Xiaojiang, Wang Gufu