A priest investigates the brutal murder of a young boy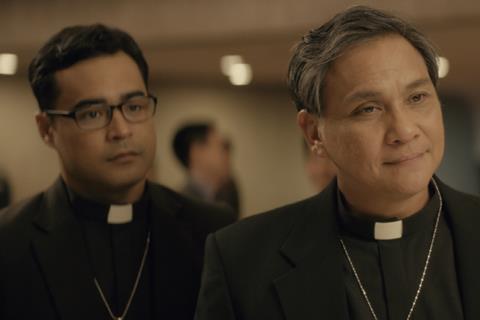 Dir. Raya Martin. Philippines. 2016. 112 mins
After the mutilated body of a boy is found on a local rubbish dump, a pair of crime-fighting Jesuit priests are recruited to help with the investigation. It soon becomes clear that the murder is not an isolated case, and a serial killer is preying on the children who work as rubbish pickers in order to survive.
The backdrop, a murkily atmospheric Patayas, is appropriately sordid
Soapy in style and luridly exploitative in its approach to violence, Smaller And Smaller Circles is perhaps not sophisticated enough to appeal to fans of the crime genre outside of the domestic market. The profile of the source material – the film is based on an award-winning novel by F. H. Batacan – should, however, help the picture connect with the Filipino audience.
Father Gus Saenz (Nonie Buencamino) is a controversial and outspoken figure within the church. A forensic pathologist and psychological profiler as well as a teacher and a priest, he is a thorn in the side of the superiors who would prefer to turn a blind eye to crimes committed by members of the clergy. One particular child-abusing priest, Father Ramirez, crops up in conversation throughout the film, however he is not developed as a character and seems to be more a red herring than anything else.
Gus's right hand man is the broodingly handsome Father Jerome (heartthrob actor Sid Lucero). "Jesuits are getting cuter these days," observes TV journalist Joanna, played by vlogger and actress Carla Humphries. A heavy drinker, who helps unearth a vital clue while stomping over a crime scene with a camera and shooting footage of the carved up body of a boy, Joanna is one of the more complex characters on offer.
Otherwise, characterisation is somewhat schematic, with the forces of corruption represented by a sneering attorney and a Cardinal who smiles a shark's smile and delivers loaded lines like, "You must remember, the Holy Mother Church has ways of keeping her house in order."
The backdrop, a murkily atmospheric Patayas, is appropriately sordid, although director Raya Martin tends towards prurience in his handling of the crimes. The decision to show the tortured bodies of children in graphic detail is highly questionable, and certainly not necessary to convey the horror of the attacks.
A climactic scene, which places Father Gus in the role of a priest taking confession from the troubled and unpredictable killer, is curiously sluggish in pace, after the nighttime chase scene which precedes it. The score, an eerily ethereal choral moan, builds to a crescendo which doesn't quite chime with the lack of action on screen.
Production company: TBA Studios
Contact: TBA Studios tfp@tba.ph
Producer: Ria Limjap
Screenplay: Moira Lang, Ria Limjap
Cinematographer: J.A Tadena
Editor: Jay Halili
Art Director: Ericson Navarro
Music: Lutgardo Labad
Main cast: Nonie Buencamino, Sid Lucero, Carla Humphries, Bembol Roco