Henry Golding stars in this awkward attempt to reboot the GI Joe-verse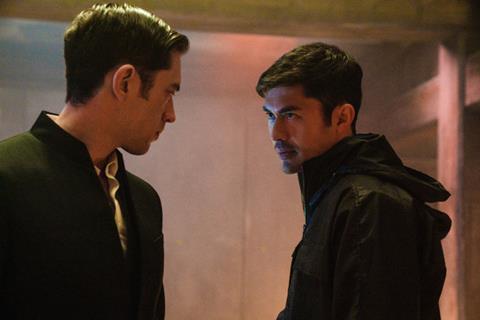 Dir: Robert Schwentke. US. 2021. 121 mins.
One of the most popular characters in the GI Joe universe gets his own origin story with Snake Eyes, a wan action film that seems unlikely to relaunch this cinematic series. Henry Golding has demonstrated plenty of suave sex appeal in earlier roles, but as the titular loner haunted by childhood trauma, he struggles to animate a gloomy hero who fails to command the screen. Slavishly obeying the rules of a would-be franchise starter — including crafting an open-ended finale that leaves room for sequels — Snake Eyes features plenty of martial-arts mayhem but very little actual excitement.
If the recent Mortal Kombat reboot unabashedly offered ultra-violent martial-arts action, Snake Eyes is its gore-free mirror image, but without any giddy pleasure to its punching and kicking
The US rollout for Snake Eyes begins July 23, with the UK release taking place mid-August. Golding's profile has risen in recent years thanks to Crazy Rich Asians, but it's hard to know how much pent-up demand there is for a new GI Joe picture. (Indeed, the last instalment, 2013's GI Joe: Retaliation, grossed just $376 million worldwide in better times for exhibition.)
Identifying himself only as Snake Eyes, a young man (Golding) has devoted his life to hunting down the person who assassinated his father when he was a boy. During his travels through the criminal underground, Snake Eyes saves the life of Tommy (Andrew Koji), the soon-to-be-leader of the Arashikage, a noble clan of ninja fighters at war with yakuza boss Kenta (Takehiro Hira). Tommy invites Snake Eyes into their inner circle, never suspecting that his new friend is actually working for the yakuza, who want him to steal a jewel with magical powers that the Arashikage is guarding. In exchange, Kenta promises to find the hitman who murdered Snake Eyes' father.
In GI Joe mythology, Snake Eyes is a silent ninja whose face is obscured by a black mask, which only adds to his aura of mystery and irrepressible cool. Snake Eyes proposes to explain how the character became that person, and director Robert Schwentke brings a bland professionalism to the proceedings, overdoing the supposed edginess of Snake Eyes' world. But whether it's the uninspired dialogue or the toned-down violence — there's barely a drop of blood in the entire film — Snake Eyes feels like tame, anonymous product, saddling its main character with a tepid tragic backstory in the hopes that it will add poignancy to his narrative arc.
This Snake Eyes is able to speak, but as hard as Golding tries, he can't imbue this aspiring warrior with much presence. Once Snake Eyes joins the Arashikage, he must complete three tests to prove his worthiness, but there's nothing especially intriguing about these tasks, which are meant to teach him valuable life lessons. An appealing romantic lead in Crazy Rich Asians and Last Christmas, Golding proves less successful as a brooding action hero — particularly one who realises that the Arashikage are a force for good, while Kenta is the picture's true villain.
There's no shortage of hand-to-hand combat and sword fights — not to mention a lengthy chase involving cars, motorcycles and trucks — but the sequences tend to be both over-edited and dully conceived. If the recent Mortal Kombat reboot unabashedly offered ultra-violent martial-arts action, Snake Eyes is its gore-free mirror image, but without any giddy pleasure to its punching and kicking.
The supporting cast seems as lethargic as Golding, with Koji doing his best to portray Tommy, who bonds with Snake Eyes before circumstances drive a wedge between them. Especially frustrating is the lack of screen time for Iko Uwais, the dazzling star of the Raid pictures, who plays another member of the Arashikage but is quickly sidelined so that Snake Eyes' story can take centre stage.
Not surprisingly, Snake Eyes teases the viewer with possibilities of a larger GI Joe universe, introducing a few other characters from the franchise along the way. But the obligatory nature of these references further drains the picture of energy — similarly, the cliffhanger finale lands with a thud, hinting at future drama that, thus far, has hardly been worth investing in. What always made Snake Eyes such a beloved figure was that, behind that mask, he revealed nothing — he was simply a perfect, unflappable soldier. Snake Eyes attempts to humanise that soldier, but he's quickly reduced to one more slab of intellectual property to plunder.
Production company: Di Bonaventura Pictures
Worldwide distribution: Paramount Pictures
Producers: Brian Goldner, Erik Howsam, Lorenzo di Bonaventura
Screenplay: Evan Spiliotopoulos and Joe Shrapnel & Anna Waterhouse, story by Evan Spiliotopoulos, based on Hasbro's G.I. Joe characters
Production design: Alec Hammond
Editing: Stuart Levy
Cinematography: Bojan Bazelli
Music: Martin Todsharow
Main cast: Henry Golding, Andrew Koji, Ursula Corbero, Samara Weaving, Haruka Abe, Takehiro Hira, Iko Uwais