Denis Cote delivers - or declaims - an oddity for Berlin's Encounters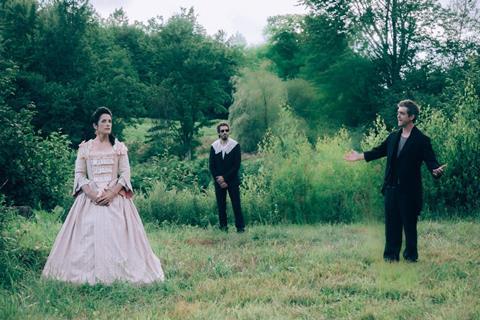 Dir/scr. Denis Cote. Canada. 2021. 76 mins.
Feeling very much like a between-films kind of film, Canadian director Denis Cote's latest to land at the Berlinale positively defies its audience to find it pretentious. Centred on a hapless male slacker and the women who try – unsuccessfully – to change him, it's a droll exercise in filmed theatre, shot as a series of stiff, declamatory dialogues in woodland or meadow settings. Conceived well before the current global pandemic, it nevertheless comes across as a strange child of these times, not only in the social distancing of its characters – who strike rigid, stagey poses in the manner of French classic theatre – but also in its mood, suspended out of time and in a strange, empty world, one which has been reclaimed by nature.
Strange enough to succeed in its own very small way
This is the kind of curio that might just surface on Mubi or Criterion Channel one day; in the meantime, it could make a few more festival appearances after its debut in Berlin's Encounters section. It is strange enough to succeed in its own very small way. Though there are times when it aggravates, Social Hygiene is an odd, original take on the idea that men and women live on different planets.
Aside from a few bridging sequences, the film consists entirely of long shots in which we see Maxim Gaudette's character Antonin standing in a bucolic setting, engaged in dialogue with one of five women. Some, like Antonin himself or his sister Solveig (Larissa Corriveau) wear more or less modern dress, while others, including Antonin's estranged wife Eglantine (Evelyne Rompre) are dressed in period clothes – in her case a standard-issue props department French 18th-century gown (Antonin's own garb, dark and nondescript, hovers between antique and contemporary). Solveig's first words to her brother, declaimed in the sort of sonorous pitch that actors in serious plays by Racine or Corneille once adopted, set the tone for what will follow "Antonin – your silence is heavy!". But though the style of dialogue is archaic, its content is contemporary: the characters live in a world of Facebook and McDonalds, one which is, however, never once glimpsed in the film, only talked about.
Quebecois actor Gaudette's stylised role here could not be more different from the Montreal gunman he played in the film that first brought him to international attention, Denis Villeneuve's Polytechnique. And yet Antonin too, it is gradually revealed, is something of an outsider. He sleeps in the car of a friend who is his partner in crime – they are pickpockets and small-time thieves. He's fond of grand statements about life and humanity. He talks of a film he's trying to write that sounds even stranger than this one.
Eglantine, who Antonin hasn't lived with for years, is having an affair, but seems open to getting back with her husband, if only he would change. Love interest Cassiopee (Eve Duranceau), with whom Antonin had a dalliance that he would like to repeat, has other, better offers right now. Solveig berates her brother for being, basically, a waste of space, while a dumpy official whose taste in clothes and accessories takes a cue from her name, Rose (Kathleen Fortin), harangues him for not paying his taxes. Aurore (Eleonore Loiselle), an androgynous sprite of a girl who is seen in a couple of woodland bridging scenes before her 'duet' with Antonin, wants him to return some things he stole from her car.
Is Social Hygiene, deep down, just a man's rant about how, if only women would leave him alone, he could be a contender? Deep down, despite Antonin's glaring flaws and our sympathy with the women he has infuriated, maybe it is. But formally, it is more interesting than that; and tonally, it is often quite funny, in a very deadpan sort of way. An anamorphic lens that blurs and smudges the edges of the picture and a sound design that plays up bird song and nature noises that seem wrong for the Canadian setting all help to dislocate, disconcert and intrigue.
Production companies: Inspiratrice & Commandant, Greenground Productions
International sales: Andreas Mindritzki, Greenground Productions, andreasm@greenground.ca
Producers: Denis Cote, Andreas Mindritzki, Annie St-Pierre, Aonan Yang
Editing: Nicolas Roy
Cinematography: Francois Messier-Rheault
Main cast: Maxim Gaudette, Larissa Corriveau, Eve Duranceau, Evelyne Rompre, Kathleen Fortin, Eleonore Loiselle