Impressive debut from Peru about a pregnant young mother has clear parallels with 'Roma'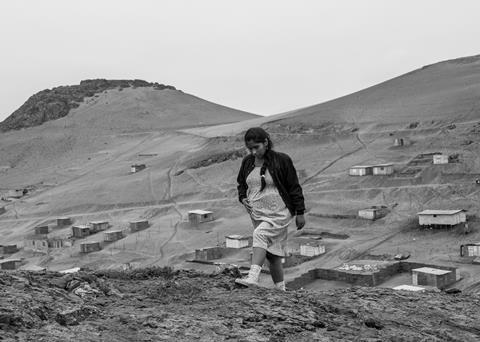 Dir Melina León. Peru, Spain, USA. 2019. 97 mins
Georgina and Leo trudge from their shack in the Andes to Peru's capital city, Lima, in search of a better life for their unborn child. The ritual songs of their ancestors call upon the mountain spirits to protect them, but it turns out that the mountain spirits are no match for the corruption festering in the city during the country's calamitous 1980s political crisis. Lured by the promise of free healthcare, Georgina gives birth at what turns out to be a fake clinic. Her newborn baby is stolen. This accomplished first feature from Melina León is based on harrowing real events; León's father was one of the journalists who investigated the case.
A potent account of a period in Peruvian history which has left scars which persist to this day.
There are similarities here with Alfonso Cuaron's Roma which go beyond the striking black and white photography. Both films deal with social hierarchies in Latin American countries which divide the population along racial lines; both feature wrenching depictions of interrupted motherhood. The film's premiere in the Directors' Fortnight selection at Cannes should serve as a launchpad for further festival screenings and the picture is distinctive and technically assured enough to catch the eye of arthouse distributors. However, a vexingly unresolved open ending might mute some of the word of mouth which could otherwise boost the picture's breakout potential.
Peru in the 1980s is a country which is failing its people. Inflation is rife; a crackling anger at the injustice fuels a Marxist terrorist organisation, Shining Path. A lack of opportunities, and the violent tactics of Shining Path, drives the mountain communities to the cities, but the situation there is little better. The choice of a boxy 4:3 aspect ratio echoes the sense of entrapment and claustrophobia which is a fact of daily life for Peruvians struggling to survive. And León employs a repeated motif of Georgina (Pamela Mendoza) hauling her pregnant bulk up precipitous hillsides – her existence is literally an uphill struggle.
It's a wonderful, physically expressive performance from Mendoza, with her pained, plodding walk capturing the ache of loss and the empty agony of not knowing if she will ever hold her daughter. After several demoralising rounds with various disinterested police and officials, Georgina turns to the press. She meets Pedro Campos (Tommy Párraga), a newspaper reporter who shares her Andean heritage and whose tenacity drives the investigation. A slightly underdeveloped subplot touches on a tentative relationship between Pedro and his male neighbour Isa (Maykol Hernández), a theatre actor whose gregarious, inviting nature contrasts with Pedro's measured restraint. Meanwhile Leo is drawn to the rhetoric of the Marxist revolutionaries – violence is a way of being heard when other means are muted by the indifference of those in power.
An atmospheric score by Peruvian experimental composer Pauchi Sasaki combines traditional instruments with the soundscape of the country – sometimes it's not clear whether we are listening to haunting stringed instruments or the low moan of human voices. And there's a similarly abstract quality to some of the photography, by Inti Briones, collaborator of Walter Salles and Raoul Ruiz and also a producer on this project.
The main issue comes at the end – not so much the fact that the film side steps any resolution but the way that the storytelling momentum fizzles out while doing so. Still, this is a potent account of period in Peruvian history which has left scars which persist to this day.
Production companies: La Vida Misma Films
International sales: Luxbox fiorella@luxboxfilms.com
Producers: Inti Briones, Melina León, Michael J. White
Screenplay: Melina León, Michael J. White
Editing: Melina León, Manuel Bauer, Antolín Prieto
Cinematography: Inti Briones
Music: Pauchi Sasaki
Main cast: Pamela Mendoza, Tommy Párraga, Lucio Rojas, Maykol Hernández, Lidia Quispe