She danced on ice and ruled the box office; Norwegian skater and film star Sonja Henie is profiled in warts-and-all biopic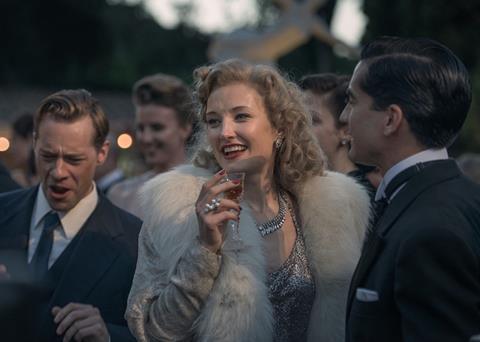 Dir Anne Sewitsky. Norway. 2018. 114 mins
There's nothing like a biopic to produce an outstanding performance from a good actor: a triple-axle to the awards podium, then, for newcomer Ine Marie Wilmann playing Sonja Henie, the Norwegian Olympic champion skater who popularised ice shows in North America and whose films ruled the box office for Twentieth Century Fox in the 1930s and 40s. Like her subject, Wilmann gives it everything she's got and will draw cheers wherever this Mommie Dearest-style warts-and-all feature goes. Although, in a similar fashion to Sonja herself, The White Swan doesn't quite know when to hang up its skates.
Wilmann delivers an athletic, confident performance, and attacks the alcoholic sequences with gusto. Even though she behaves dreadfully, her Sonja still manages to be a sympathetic presence - occasionally.
Like Alan Bennett's quip on history – "it's just one thing after another" - biopics are by nature heavily compressed abridgements of complex lives. Character development for secondary players is almost always lost in the mix. Wilmann's Sonja is a transfixing character, a spoilt, competitive and mostly obnoxious presence, although the question of what made her such a self-centred termagant still perplexes after two hours. Already on release at home in Norway, The White Swan has racked up solid pre-sales for Trust Nordisk prior to a Sundance premiere. Lavishly soapy, it should draw those who enjoy Hollywood tributes such as the recent My Week With Marilyn or Trumbo. Like I, Tonya, the ground may be frozen, but it's certainly not pristine.
Director Anne Sewitsky, whose Happy Happy won the Sundance World Cinema Competition back in 2011, starts the film with the child Sonja taking her first steps on ice with the help of her brother Leif. She skips the Olympic medals in 1928, '32, and '36 – although Sonja is seen singing along cheerfully at the Nazi-run Winter Games – to start the film properly when the skater signs a tour contract with manager Arthur M. Wurtz and moves to the US with her family.
They're a tight-knit unit, all at Sonja's service, and team Heine is expanded when Sojna hires an Irish assistant, Connie (Valene Kane), who acts as an entrée to their lives and a reason to speak in English. A meeting with Darryl F. Zanuck opens the doors to a contract at Fox and her films are astonishingly popular, making Sonja a household name in the Golden Age of Hollywood.. (A known Nazi sympathiser, she offers to telephone Goebbels to sort out distribution problems in Germany.) The money comes in fast and furious – and is driven down to Mexico to a safe-deposit box – and Sonja, who retains creative control on all the ice sequences, is happy to support her family at first. However, when her father dies, champagne and sex enter the mix and her greediness runs unchecked. She's shown to be a woman of considerable appetites.
The studio forces a marriage (one husband is left out of the mix) and Sonja suddenly starts to listen to her new beau's advice instead of sticking with Wurtz. It's clear that Leif is going to come a cropper and that the last woman standing will be Connie, but taking jewelry off her dead mother's still-warm corpse is an interesting touch.
Sewitsky delivers a busy film which never, at any point, looks like it shot in Hollywood, but is enjoyably lavish nonetheless. Most taxing is the modern EDM soundtrack which intermittently pops up in the middle of the 1930s, a device also used last year in Vita & Virginia to a decidedly cool reception. Costumes, hair and make-up, and recreations are all absorbing, with interesting details about production back then - the ice was painted black and flooded on studio sets which must have suffered Arctic conditions. But the main force here is Ine Marie Wilmann, a EFP Shooting Star at the upcoming Berlinale. She delivers an athletic, confident performance, and attacks the alcoholic sequences with gusto. Even though she behaves dreadfully, her Sonja still manages to be a sympathetic presence - occasionally.
Finishing the film with Sonja still in full-on shrew mode requires a hasty clamber down off some skates. Sewitsky wraps Sonja with some head-scratching title cards which seem to imply a complete change of character in later life.
Production company: Maipo Film
International sales: Trust Nordisk, info@trustnordisk.com
Producers: Cornelia Boysen, Synnove Horsdal
Screenplay: Mette Marit Bolstad, Andreas Markusson
Production design: Lina Nordqvist
Editing: Christoffer Heie, Martin Stoltz
Cinematography: Daniel Voldheim
Music: Ray Harman
Main cast: Ine Marie Wilmann, Valene Kane, Eldar Skar, Anders Mordal, Pål Sverre Hagen, Aidan McArdl