DreamWorks animation franchise takes its cue from the recent Netflix series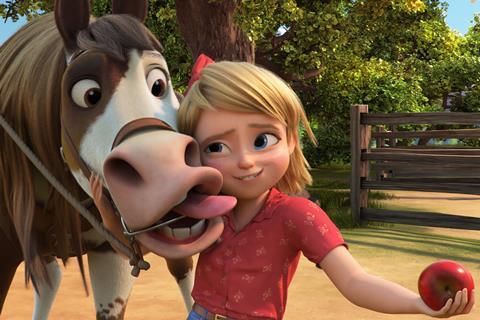 Dir: Elaine Bogan. US. 2021. 87 mins.
A girl-and-her-horse adventure that never really hits its stride, Spirit Untamed offers undemanding family entertainment alongside some easily digestible life lessons. The latest instalment in a franchise that began with 2002's Spirit: Stallion Of The Cimarron follows a young lady still mourning the death of her mother who befriends a mustang as wild and solitary as she is, resulting in heartfelt bonding and some mild attempts at tearjerking pathos. This diverting animation targets younger viewers but isn't particularly funny or emotional, although it will surely tickle the fancy of budding equestrians.
Earnest, uncomplicated storytelling
Opening in US theatres on June 4, with a UK rollout planned for late July, Spirit Untamed caters to fans of the recent Netflix series Spirit Riding Free by repurposing the setting snd central characters. Julianne Moore and Jake Gyllenhaal voice two of the adults, and the fearless protagonist is played by Isabela Merced, the star of 2019's Dora And The Lost City Of Gold. But notices may not be glowing, and as a result this DreamWorks release might lose the family crowd to more high-profile fare such as Luca.
The free-spirited tween Lucky (Merced) lives on the East Coast with her protective Aunt Cora (Moore), moving there from the frontier West after the accidental death of her mother Milagro (Eiza Gonzalez) while working as a stunt horse rider. Going back home for the summer after a few years away, she reunites with her loving father Jim (Gyllenhaal), but feels out of place until she encounters a powerful, untamed stallion she dubs Spirit. Instantly forging a connection with the horse, she must fight to protect him from Hendricks (Walton Goggins), an evil wrangler who wants to abduct Spirit and sell him to the highest bidder.
Director Elaine Bogan makes her feature debut in a film that espouses the importance of friendship, the need to embrace life and a respect for animals. Those are laudable positions, to be sure, but one wishes they'd arrive in a more stirring package. With a few exceptions, Spirit Untamed's animation lacks the dynamic design and indelible detail that are the hallmarks of Pixar's pictures — although, as with the rest of the Spirit franchise, it's refreshing that Spirit and his fellow horses aren't given human voices. Rather, there's a serene grace to these creatures that echoes their majestic real-life counterparts.
Lucky soon meets two local girls, Pru (Marsai Martin) and Abigail (Mckenna Grace), who also adore horses and help her to thwart Hendricks' plan. We sense that Lucky has often been a loner, but Pru and Abigail's cheerful demeanour brings her out of her shell — it's a pity, then, that Aury Wallington and Kristin Hahn's screenplay doesn't do enough to develop their bond or establish their individual characteristics. Merced gives an energetic voice performance, but Lucky is a little too formulaic in her construction, whether she's being saddled with grief for a dead parent or forming a relationship with this horse because she has a tough time around humans. Perhaps over the length of the Netflix series there was more time to beef up the character, but an 87-minute film leaves her feeling a little shapeless.
Gyllenhaal may overdo the doting-father routine as Jim, but he's nonetheless sweetly dorky in the role. Moore acquits herself better, endearingly conveying Cora's exasperation at having to keep an eye on the wilful Lucky. And Goggins proves to be a nicely dastardly Hendricks, whose callous treatment of the horses puts him in stark contrast to the film's other characters, who revere the natural world and its creatures.
Without question, Spirit Untamed seems intended for viewers about the same age as Lucky, and the film's earnest, uncomplicated storytelling celebrates female empowerment while ensuring that the suspense is never too intense. Even so, this is a film that touches on death and loss, and Bogan's gentle approach is almost too meek for the occasionally somber subject matter. Perhaps not surprisingly, then, Spirit Untamed is most enjoyable when Lucky and her pals are just riding their horses, without a care in the world — in those moments, the filmmakers happily give the target audience exactly what it wants.
Co-director: Ennio Torresan, Jr.
Production company: DreamWorks Animation
Worldwide distribution: Universal Pictures
Producer: Karen Foster
Screenplay: Aury Wallington and Kristin Hahn
Production design: Paul Duncan
Editing: R. Orlando Duenas
Music: Amie Doherty
Main voice cast: Isabela Merced, Marsai Martin, Mckenna Grace, Walton Goggins, Andre Braugher, Eiza Gonzales, Julianne Moore, Jake Gyllenhaal