Will Ferrell and Ryan Reynolds take the Dickens for Apple TV+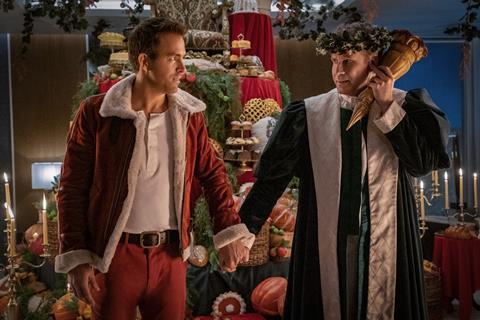 Dir: Sean Anders. US. 2022. 127mins.
Christmas seems to bring out the sweeter side of Will Ferrell. The Saturday Night Live star launched his big-screen career with the 2003 smash Elf, and he's once again in a warm yuletide mood for Spirited – a very hit-or-miss musical comedy which riffs on A Christmas Carol, telling the story from the perspective of the spirits. Playing an earnest Ghost Of Christmas Present, Ferrell faces off against a snide executive played by Ryan Reynolds. Although the film struggles to balance sincerity and snarkiness, director Sean Anders approaches the beloved tale without cynicism, delivering plenty of good cheer despite the uneven execution.
The film sets out to be a touching, song-filled holiday film
Spirited will see some limited theatrical play in select markets (the US from November 11, the UK on the 18th, for example) before immediate streaming on Apple TV+. The combined star power of Ferrell and Reynolds, bolstered by vibrant songs from the Oscar-winning team of Benj Pasek and Justin Paul, should make this an attractive option for family audiences throughout the holidays.
The film's conceit is that the Dickens story about the miserly Ebenezer Scrooge was only one example of the work done by a secret spirit society that visits dastardly individuals around Christmastime, showing them the error of their ways so that they'll change. The current Ghost Of Christmas Present (Ferrell) — Present for short — has been doing the job for centuries. But he may have met his match when he decides to haunt Clint (Reynolds), a master manipulator whose marketing firm preys on people's worst impulses in order to elect disreputable politicians. Present quickly discovers that Clint isn't interested in becoming a better person, questioning why Present is so devoted to getting him to repent.
Anders, who directed Ferrell's Daddy's Home and its sequel, makes it clear early on that Spirited won't just be a musical; it's an entirely unironic musical, with La La Land composers Pasek and Paul providing boisterous numbers energetically choreographed by Chloe Arnold. Ferrell and Reynolds' singing voices — along with the vocal talents of some of their costars — may not be particularly strong, but the film leans into the charm of that limitation. Indeed, the leads bring such enthusiasm to their songs, never winking to the audience, that the musical sequences have a joyful innocence which is quite fetching.
In films as different as Casa De Mi Padre and Eurovision Song Contest: The Story Of Fire Saga, Ferrell has gleefully embraced bizarre comedic concepts that he plays astonishingly straight, and so it's tempting to assume that this sentimental yuletide picture is something of a put-on as well. But perhaps Spirited's best joke is that it isn't: no matter the amount of oddball humour and satiric jabs at A Christmas Carol, the film sets out to be a touching, song-filled holiday film. This is even more surprising considering that Reynolds has built his stardom on mocking emotional sincerity but, although his wisecracking Clint is a familiar type for him, the actor tones down his patented glibness as an unlikely friendship develops between the two characters.
Of the supporting players, Octavia Spencer is especially endearing as Kimberly, an executive at Clint's company who begins to disapprove of her boss' cutthroat, amoral techniques to help his clients. Present finds himself attracted to her — although he's anxious since he hasn't had a girlfriend for a couple of centuries — and the tentative love story allows Ferrell to be a credible romantic lead, exuding a nervous, puppy-dog rapport with Spencer. As the unprofessional Ghost Of Christmas Past, Sunita Mani gets a few funny moment (in particular when her character has a tough time containing herself around the hunky Clint), but the character ends up being too one-note to fully satisfy.
Anders' screenplay, cowritten with frequent collaborator John Morris, wants to subvert elements of Dickens while simultaneously honouring its message about the importance of kindness and second chances. Unfortunately, the busyness of the plot and the density of the inconsistent jokes — not to mention the film's tonal inconsistency between being heartwarming and hip — frequently overwhelm the actors' likeable chemistry.
But more often than not, the stirring tunes and the genuineness of the proceedings help paper over Spirited's rough spots. A couple of twists are well-handled, and Ferrell's performance as a dutiful ghost who suddenly questions his (after)life choices reveals a vulnerability which is disarming. In Elf, he radiated goofy big-kid energy, leading to a series of popular roles as larger-than-life buffoons who mocked a particular breed of clueless, entitled masculinity. Now in his mid-50s, Ferrell seems to be trying out a more modest register. Spirited's Present may not be as wild and crazy as Ferrell's past creations, but he's no less lovable.
Production companies: Maximum Effort Productions, Gloria Sanchez, Two Grown Men
Worldwide distribution: Apple TV+
Producers: Sean Anders, John Morris, David Koplan, George Dewey, Will Ferrell, Jessica Elbaum
Screenplay: Sean Anders & John Morris
Cinematography: Kramer Morgenthau
Production design: Clayton Hartley
Editing: Brad Wilhite
Music: Dominic Lewis
Main cast: Will Ferrell, Ryan Reynolds, Octavia Spencer, Sunita Mani, Patrick Page, Marlow Barkley, Tracy Morgan