Inspired by the Covid-19 pandemic, Urszula Antoniak explores the power of human connection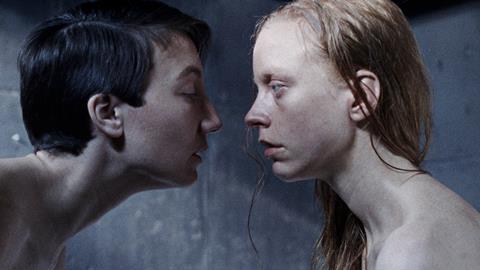 Dir/scr: Urszula Antoniak. Netherlands. 2021. 78mins
Two female lovers wash up on the beach of a deserted island, fleeing from an unknown crisis. Finding an abandoned house, they hunker down and attempt to carve out a life; purifying water from the shore, eating crabs they dig up on the beach. Survival — and the lengths we will go to secure it — is at the heart of Polish-Dutch filmmaker Urszula Antoniak's striking sixth film, which is buoyed by strong performances and an arresting visual style.
Audiences who do invest in Antoniak's vision will be rewarded
Making its debut in Rotterdam's Big Screen competition, Splendid Isolation should play well at further festivals, particularly as Antoniak has long been a regular on the circuit with films like Nothing Personal (which won multiple awards at Locarno and others), Code Blue (a Cannes C.I.C.A.E nominee) and Beyond Words (which played in competition at San Sebastian). As a slow-burn, allegorical drama, her latest work may be a tougher sell to wider audiences, but could benefit from the attentions of an arthouse streaming platform. (September Film will distribute in the Netherlands).
Audiences who do invest in Antoniak's vision will be rewarded. Given no context for Hannah (Anneke Sluiters) and Anna's (Khadija el Kharraz Alami) arrival on the windswept beach, we are forced to live in the moment with them. There are many questions, some of which remain unanswered. Why are drones following them over the island? Who does the house belong to? Why is there a soundproofed basement? And what ails the clearly very unwell Hannah, who is cared for with patience and adoration by Anna. (The fact that the two can never touch, and that Anna wears gloves at all times, indicates some form of virus; Antoniak was inspired to write the film by the Covid-19 pandemic.)
Soon, though, we settle into a routine of sorts, with normal tasks such as hair washing and water-gathering filling up much of the time. But there is a growing sense of unease. Hannah is unsettled by decaying structures on the beach and plagued by night time sweats; Anna is reluctant to let go of the rifle she found under the bed, patrolling the island like a military guard. (Indeed, the phrase "splendid isolation" is a British army term from the late 1800s that refers to avoiding permanent alliances, a notion which comes into sharp focus by the film's end). And when a mysterious figure (Abke Haring) appears on the beach, the devastating realities of the situation become clear.
While the narrative's central conceit — the desperate fight to save a stricken loved one — strikes a deep emotional tone, a great deal of the film's power lies in its craft and, particularly, its evocative harnessing of opposing elements. The colour palette is predominantly black and white, contrasts of light and dark are in everything from a teapot and paintings on the wall to the red hair and pale skin of Hannah, who spends a great deal of time wrapped in a white sheet, and the all-black outfit of the darker-haired Anna.
The house itself is angular and foreboding, the landscape bleak and inhospitable, yet it provides the girls with much-needed sanctuary. The constant use of reflective surfaces like mirrors, glass doors and the domed eyes of surveillance cameras indicate we may not be able to trust what we're seeing. And the haunting soundscape blends the raw sounds of nature (wind, bird calls, crashing waves) with the elegiacal, harmonious tones of choral song.
This yin and yang, push-pull motif is at the heart of Splendid Isolation — as it is at the heart of most of life's choices. Indeed, this is a film that could be seen to symbolise much of human experience: the desire to escape to a better, freer life (Anna and Hannah are clearly refugees of a sort); the need to put down roots but also to explore; the scrabble for survival, to live another day, even in the most horrendous of circumstances; the belief in a higher power without any evidence of such. Fundamentally, however, it's a fittingly dichotomous exploration of the restorative power of human connection, and an acknowledgement that even true love has its limits.
Production company/international sales: Family Affair Films, info@familyaffairfilms.nl
Producers: Floor Onrust, Chris Stenger, Noortje Wilschut
Production design: Ben Zuydwijk
Editing: Milenia Fiedler
Cinematography: Myrthe Mosterman
Sound design: Mark Glynne, Tom Bijnen
Main cast: Anneke Sluiters, Khadija el Kharraz Alami, Abke Haring