The Force's latest finale is "disappointingly nondescript"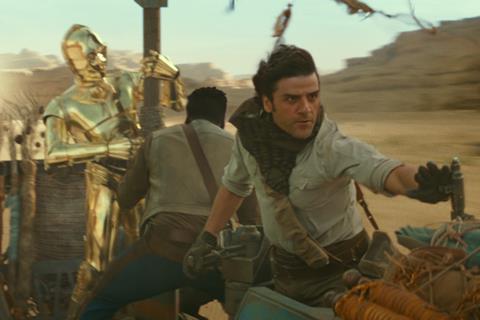 Dir: J.J. Abrams. US. 2019. 142mins.
Identity is at the heart of Star Wars: The Rise Of Skywalker, a film that doesn't have much personality of its own beyond frequent callbacks to previous instalments, a liability that only highlights what is lacking in this tepid, oddly disjointed sequel. Daisy Ridley continues to be the latest trilogy's most dynamic character — the searching young Jedi Rey who will finally unlock the mystery of her lineage — but for a picture which is meant to cap the so-called Skywalker saga, Rise doesn't have the emotional resonance or superb action sequences that have made this franchise so indomitable over the last 42 years. What we get instead are echoes, nostalgia and a frustrating sense of déjà vu.
A fairly standard and overstuffed blockbuster — sprawling but impersonal
Opening across most of the globe this weekend, the Disney release hopes to best 2017'sThe Last Jedi ($1.3 billion worldwide) and maybe even 2015's The Force Awakens ($2.1 billion). which was also directed by J.J. Abrams. The disastrous showing for the 2018 standalone film Solo ($393 million) may cause some concern, but galactic grosses for Rise do seem assured.
After the divisive fan reaction to The Last Jedi, ambitiously written and directed by Rian Johnson who slyly subverted some of the franchise's mythos, Rise feels like an attempt to deliver a more straightforward and muscular action-adventure film. Learning that the evil Emperor Palpatine, who supposedly died at the end of Return Of The Jedi, is still alive and building an unstoppable army, the brave Resistance (led by John Boyega's Finn and Oscar Isaac's Poe) must try to thwart his plans. Meanwhile, Rey (Ridley) knows that she will once again have to confront Kylo Ren (Adam Driver), whose nefarious First Order will be joining forces with Palpatine to form this frightening new Empire.
Yet for all the lightsaber battles and other Star Wars minutiae, Abrams' new movie doesn't possess much of the DNA of George Lucas' original vision. Instead, it's a fairly standard and overstuffed blockbuster — sprawling but impersonal — that just so happens to reference plenty of lines and incidents from earlier Star Wars films.
Rise is where this most recent trilogy's newest characters really take centre stage — Han, Luke and Leia from the original trilogy are all dead or on the sidelines — and they largely fail to bring the same charisma and depth as their predecessors. Rey's tortured journey to learn where she came from has some resonance — and she's a gripping figure in the heat of combat — but neither Boyega nor Isaac proves particularly compelling. Even more troublesome, Rise is built on the idea that these three will learn the importance of teamwork to destroy a formidable foe, but there's not much rapport between the actors.
It's not just the dubious return of Palpatine that marks Rise as a blockbuster recycling past franchise strengths. After recapturing the swashbuckling spirit of the original trilogy with the playful, moving Force Awakens, Abrams (who co-wrote Rise's screenplay) strains to craft a proper send-off to this nine-movie storyline. Not only is the plot underwhelming, it largely repeats themes and twists from past instalments without adding much that is new to say. Where Luke Skywalker's arc in the first three films comprised a classic hero's journey, Rey's is more of a soap opera, with reversals and surprises that are contrived instead of shocking. And no amount of grand space shootouts and life-or-death stakes can distract from the fact that the Star Wars series has done all of this before, and better.
Among the new cast members, Richard E. Grant suavely plays a First Order general fully confident of his intellect and instincts. But some returning ensemble players, especially Kelly Marie Tran and Lupita Nyong'o, are abandoned in order to focus on franchise favourites that don't even get their best moments in this final film. (As the tormented villain, Driver is given little of the room to shine that he enjoyed in the previous two movies.)
There are pockets of humour and occasionally stunning locations — not to mention a few lump-in-the-throat moments for those who have grown up with Star Wars. But unlike The Force Awakens and The Last Jedi, which were energised by the prospect of returning to Lucas' galaxy, Rise feels obligatory and uninspired. Rey may learn who she really is, but this unengaging franchise finale remains disappointingly nondescript.
Production companies: Lucasfilm Ltd., Bad Robot Productions
Worldwide distribution: Disney
Producers: Kathleen Kennedy, J.J. Abrams, Michelle Rejwan
Screenplay: Chris Terrio & J.J. Abrams, story by Derek Connolly & Colin Trevorrow and Chris Terrio & J. J. Abrams
Production design: Rick Carter, Kevin Jenkins
Editing: Maryann Brandon, Stefan Grube
Cinematography: Dan Mindel
Music: John Williams
Main cast: Carrie Fisher, Mark Hamill, Adam Driver, Daisy Ridley, John Boyega, Oscar Isaac, Anthony Daniels, Naomi Ackie, Domhnall Gleeson, Richard E. Grant, Lupita Nyong'o, Keri Russell, Joonas Suotamo, Kelly Marie Tran, Ian McDiarmid, Billy Dee Williams