A homeless mother and son struggle to keep up appearances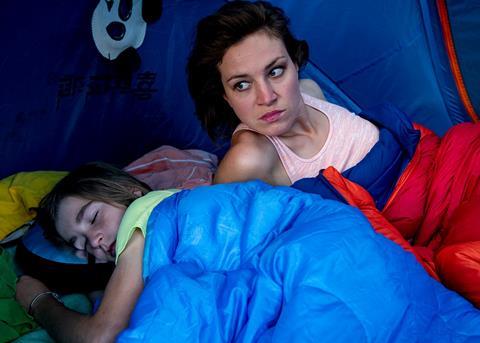 Dir. Christina Ebelt. Germany. 2019. 98 mins
Christina Ebelt's solid made-for-television drama depicts the homelessness crisis as a kind of rot which has spread to lives which would previously have been insulated from this level of desperation. Single mum Mellanie has a job, albeit a probationary one. She works as an air stewardess on short haul flights. She is confident, attractive and crisply turned out. But she and her son Ben are temporarily homeless, forced to sleep in a tent concealed in a patch of woodland scrub on the fringes of the city. It's a precarious situation at the best of times, but one piece of bad luck can have far-reaching consequences when you are clinging to the appearance of a 'normal' life. The workmanlike filmmaking doesn't lessen the sense of righteous indignation which simmers throughout, but it may mean that the film could struggle to engage to the same extent as other, more cinematic, explorations of similar subject matter.
One of the main issues with the picture is that it aims for a naturalistic performance style but doesn't always achieve it
The standout portrait of the lives of the 'hidden homeless' of recent years would be Sean Baker's The Florida Project. But with its maternal focus and emphasis on the need to maintain appearances at all costs while scrambling for shelter on a day to day basis, Stars Above Us has more in common with Paddy Breathnach's Rosie, which demonstrated that audiences can take some persuading to engage with the bleak realities of life without a roof for the night. Further festival screenings should follow, however, before it moves to its original small screen destination.
Ebelt resists the temptation to over-explain Mellanie's (Franziska Hartmann) situation. We learn that her lease was cancelled, that she has debt problems and a poor credit rating. We see that her mother, hospitalised with dementia, is in no position to help. But we know nothing about Ben's (Claudio Magno) father and why he is not available to offer support. We experience the situation as Mellanie and Ben do, moment by uncertain moment, unable to plan for the future or dwell in the past.
One of the main issues with the picture is that it aims for a naturalistic performance style but doesn't always achieve it. Hartmann is a forceful presence but the moving parts of her acting are too frequently on display, particularly when the stress fractures in her capable, unflappable facade start to show. The relationship between Mellanie and her son is persuasive throughout, though. For Ben, the opportunity to camp out in the woods is an adventure. He embraces the role of his mother's protector, saving her from the snails and frogs which invade their tent. When she offers him the chance to do whatever he wants on her last day off before she starts work, his choice is to stay in the woods and build "a protective barrier" to save them from wild boars.
However, the biggest threat to their security doesn't come from rampaging pigs. Well-meaning teachers and welfare officers have started to notice that something is amiss with the family unit, and a home inspection is threatened. A jittery score, heavy on snare drums, sounds like a panicked, racing pulse. And the camera's constant motion captures the sense of Mellanie's fate – forever racing to catch up, but falling further and further behind with every passing day. It's only a matter of time, the film suggests, before the stars above slip out of alignment and the balancing act of Mellanie's life collapses around her.
Production company: 2Pilots Filmproduction
Contact: 2Pilots 2pilots@2pilots.de
Producers: Harry Flöter, Jörg Siepmann, Regina Jorissen
Screenplay: Christina Ebelt, Franziska Krentzien
Cinematography: Bernhard Keller
Editor: Florian Riegel
Production design: Jochen Dehn
Music: Benjamin Drees, Jakob Ilja
Main cast: Franziska Hartmann, Claudio Magno, Kai Ivo Baulitz, Nicole Johannhanwahr, Davina Donaldson, Elias Reichert